'Westworld' Season 2 Assigns Talulah Riley New Role As Series Regular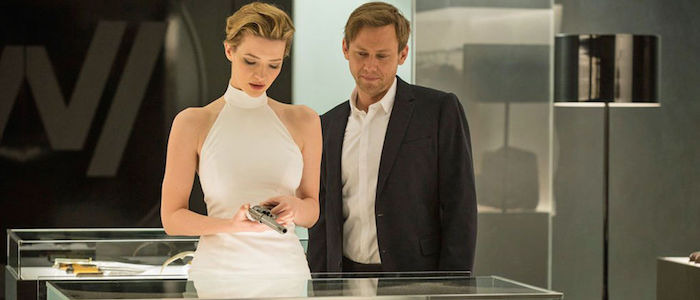 We probably won't see Westworld season 2 until 2018 at the earliest, but that doesn't mean there won't be any interesting developments between now and then. For starters, Talulah Riley, a supporting actress in the show's first season, has been given an upgrade to regular cast member for season 2. Let's talk about what that could mean.
The news of Riley's promotion comes to us via Deadline, who have no details beyond that. Riley appeared in six episodes of the 10-episode first season, so while this doesn't guarantee her being in every episode of season 2, it certainly implies that she'll be in a few more.
As you may remember, Riley played Angela in the first season of Westworld, which means she really played three characters. Chronologically speaking, we first meet Angela is the earliest days of the wild west-themed robot theme park, when she was among those hosts first being tested by Arnold and Dr. Ford. A few later, she's promoted to park greeter, meeting newly arrived guests and helping them get their bearings as they pick out costumes and weapons for the vacation ahead. This is technically the first time we see her in the show – she helps Jimmi Simpson's William prepare for his ill-fated first trip to the park in the second episode. Decades after that, she's once again on duty in the park itself, playing the role of a villain in Dr. Ford's "Wyatt" storyline.
Since the first season concluded with (spoilers, obviously) the hosts finally breaking free of their programming and declaring war on the humans in their midst, it's easy to imagine what kind of role Angela may have in the season ahead. While Evan Rachel Wood's Dolores, Jeffrey Wright's Bernard, and Thandie Newton's Maeve seemingly positioned to lead that rebellion, we're going to need eyes on the ground as well. That's where characters like Rodrigo Santoro's Hector and Riley's Angela will probably come in. And since we'll need some familiar faces amongst the rebellious robots, why not give more time to a recognizable performer whose character already has deep ties to the park's history?
While we don't know too much about Westworld season 2, everything we do know has been compiled into one handy article, which you can read right here. With season 2 apparently focusing on chaos instead of control, we can probably expect Angela to learn a lot more about her existence...and probably get pretty angry about it.