'Zombieland 2' Update: The Sequel Is Still In Active Development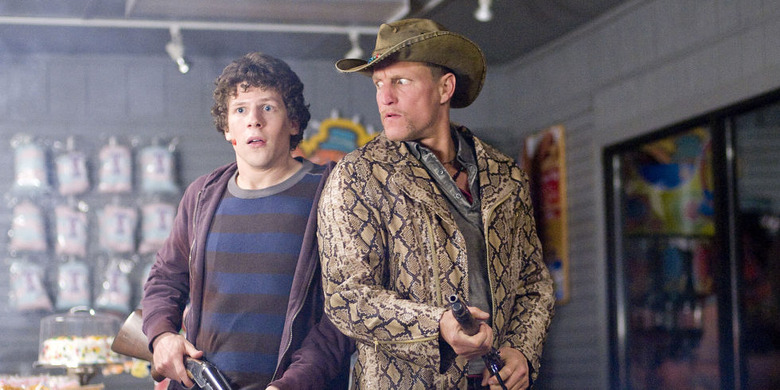 It's time for the yearly checkup on Zombieland 2's pulse. The sequel to Ruben Fleischer's (30 Minutes or Less) kindhearted post-apocalyptic zombie comedy has been talked about and sometimes doubted for the last eight years now. During that time, the stock of film's stars has risen. Emma Stone recently won an Oscar after the world went nuts for La La Land, while Woody Harrelson starred in The Hunger Games franchise and has a role in the new Han Solo film.
They're more sought after and naturally more expensive to hire. According to the screenwriters Rhett Reese and Paul Wernick behind the 2009 film and Deadpool, paying them what they're deserved while staying reasonable is a part of the next steps on the sequel, which makes it sound a little more likely than it has before.
Below, get the latest Zombieland 2 update.
After Dave Callaham had written a draft of the script, Reese and Wernick shared last year they were back on writing the sequel. While promoting their new film, Life, ComicBook.com asked the duo for an update on Zombieland 2. According to the duo, it's still in development with Fleisher still attached to direct:
It is [in active development]. We're trying to get it going. All of our cast have read the script and love it. Ruben [Fleischer] is signed on. It's just a matter of making our cast deals and making it for a budget number. All the cast have become superstars now so, we made Zombieland with 20 million, so it's trying to fit that financial model into the sequel model so it makes sense for the studio and being able to pay the actors what they now get paid and deserve to paid.
They're going to keep talking to the chairman of Sony Pictures, Tom Rothman, about making the sequel happen:
We're pestering him the way we pestered Fox on Deadpool. We're not letting it go. We really want to see Zombieland 2.
The two didn't discuss any story details. Plot info has always been light on the sequel, although Fleischer did once say the threat Columbus (Jesse Eisenberg), Tallahassee (Harrelson), Witchita (Stone), and Little Rock (Abigal Breslin) would face in the sequel would be different than just zombies. That was over three years ago when he cast doubt over the sequel, though. He told Collider its chances were slim, but Reese and Wernick make it sound as if things are finally looking up for Zombieland 2.
Their new film, Life, by the way, is a very fun and lean thriller. The refreshing simplicity the screenwriters achieved with Zombieland and Deadpool is a part of its charm. While the world already plenty of bloated, overlong blockbusters, Life, a movie that doesn't waste time, isn't one of them.