New Harry Potter Rides Coming To Universal? These Patents May Give Us A Glimpse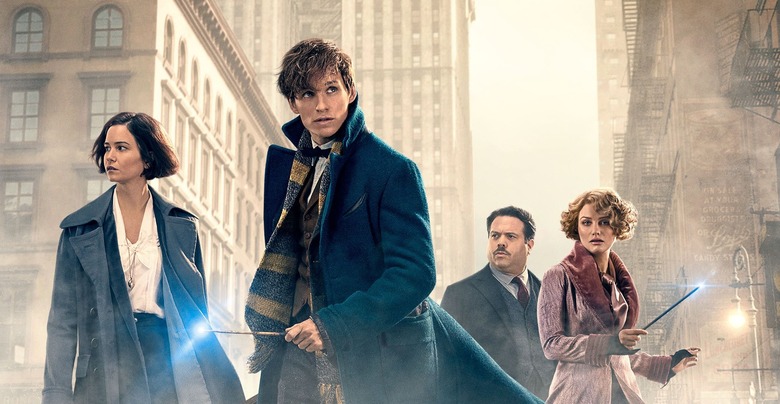 Universal Studios has been granted a couple of exciting new patents and they look like they could be for new Harry Potter-themed attractions being planned for their theme parks. Rumors continue to circulate that the Dragon Challenge coaster in Universal Islands of Adventure may be replaced with a new ride (or rides) based on the Harry Potter spin-off Fantastic Beasts and Where To Find Them. Check out these crazy new patents and ponder whether or not they're for new Fantastic Beasts rides below!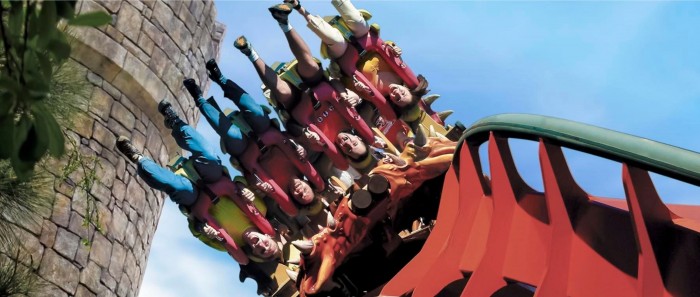 It has been long rumored that the Boliger & Mabillard Inverted roller coaster in The Wizarding World of Harry Potter would be replaced by a new attraction based on the new Fantastic Beasts and Where To Find Them franchise. At the time, the rumor mill claimed that Universal would close the coasters at the end of the summer, which never ended up happening.
This new BizJournal report suggests that this rumored ride would "do away with the entire coaster approach and go with more of an indoor/outdoor dark ride concept using approaches made popular by other rides." Here's more:
"From what I was told, it may have a portion as if you are in a forest — with part of the ride outside — and other parts indoor designed to make you feel like you're outside. It sounded more like a dark ride using technology like The Amazing Adventures of Spider-Man as opposed to a true coaster where the G-forces guests feel come from the track."
The Dragon Challenge is still a great ride, but park guests seem more interested in the other rides in the park (lines have been very short for a few years). Also, the two coasters are no longer dispatched simultaneously due to past incidents where riders' belongings have hit other riders, which totally ruins the "dueling" aspect of the attraction. If Universal were to remove the Dragon coaster, that would give them a rather significant amount of land to play with. Let's take a look: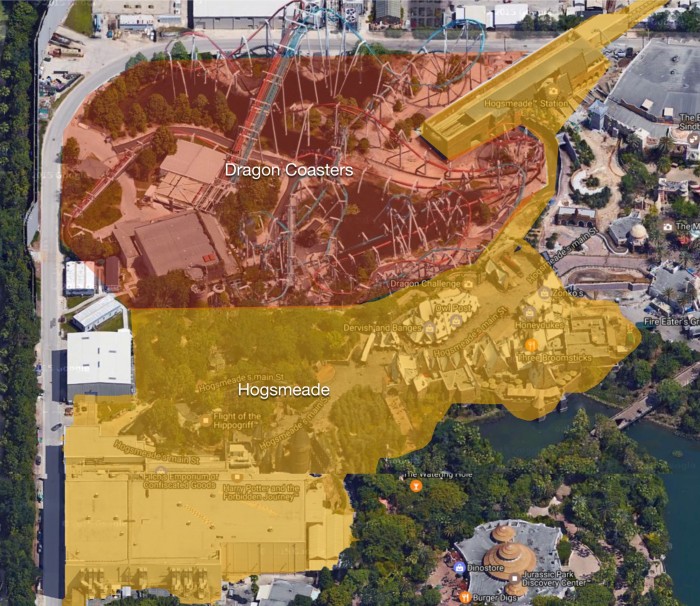 The above image is a roughly mocked-up outline of Islands of Adventure's Wizarding World of Harry Potter in Florida. As you can see, the land where the roller coaster currently stands appears to be almost the same size as the rest of Hogsmeade, the main hub of the area. This makes me wonder if Universal isn't just planning another ride for Hogsmeade, but rather a whole new land, separate from the regular Wizarding World of Harry Potter.
Let's run with the Fantastic Beasts rumors, which make sense since we'll be seeing four more of those films over the next 7-10 years. Maybe we can expect to see a new piece of the Harry Potter world as seen in those movies? Perhaps we will get to see 1920's New York City? We do know that the four planned Fantastic Beasts sequels will probably be set in Europe.
But how would these two lands coexist? Remember, the Fantastic Beasts series is set from 1926 to 1945, many years before Harry Potter attended Hogwarts School of Witchcraft and Wizardry. The rides in Hogsmeade are part of the series canon and take place around the fifth books/movies, many decades later. Transporting yourself from one part of the world to another could require a magical train ride, like the one that connects Universal Orlando's Dragon Alley to Islands of Adventure's Hogsmeade. I'm sure Universal creative could invent a way that, storyline-wise, transports Muggles through a portal to a different time and place.
Let's look at the new patents themselves. One of them is for a "moving puzzle theater space" that covers "theaters used for shows in amusement parks and generally include areas designated for seating of patrons and areas designated for performances of actors and participants in the shows." So basically, this is a concept for a new theater attraction that Universal is developing/considering for one of their parks.
In the patent documents, Universal says that they know and recognize that "the fixed nature of the seating in theaters provides patrons with limited views and limited interaction with aspects of related shows" and thus the idea came of a new type of theater that would include "maneuverable seating areas that give patrons the impression that they are entering one completely integral and unified theater, when in fact, each seating section is a separate maneuverable seating area capable of movement relative to the others."
As you can see from the attached diagrams in the gallery above, each part of the seating unit can be configured into a new shape, all while the show is happening in the center. Each theater "room" can move inward and outward, sideways, and even stack vertically on top of one another.
Without seeing these diagrams, the result from a park guest POV might be amazing and magical. We don't know what this system would be used for, but maybe imagine attending a lecture by famed Magizoologist Newt Scamander when all hell breaks lose as some of his beasts escape, causing the room to transform while fantastical creatures run wild in the auditorium via projections and animatronics.
The Orlando Business Journal has found a second patent recently granted for a "vehicle transportation room and method" which shows a ride vehicle using a retractable "launch room" that would cover ride cars on multiple sides with walls. "The launch room vehicle may include one or more show elements, such as displays, animatronic characters, speakers, fog machines, strobe lights or the like configured to operate in sync with each other and the movement of the launch room vehicle and/or ride vehicle," says the patent.
Basically, it's a moving dark ride that could attach an enclosure that presents a simulation. One patent image shows a launch room with an animatronic figure, which looks like it may be a ghost in front of a fireplace that has a retractable wall that opens to allow the ride vehicle to be propelled forward. "In particular, during operation, the show elements may create an impression among the patrons that the ride vehicle is being pushed and/or pulled by an entity presented in the partial room. For example, the animatronic character may represent a monster, wizard or other entity that appears to cast a spell upon the ride vehicle," said the patent.
Could this be an entrance into the Wizarding World's Floo Network? As you might remember, in the books and movies, the Floo Network is used by wizards and witches to transport from one place to another. They do so by throwing Floo powder into a fireplace, which is connected to other fireplaces in the Floo Network. The traveler needs only speak the desired fireplace they wish to arrive very precisely as they stand in the (harmless) emerald green flames.
Companies like Universal file patents all of the time and those ideas often never make it into their parks. There is a chance we may see none of these concepts and that the Dragon Challenge revamp rumors may be just rumors...but it's just as likely that they're planning something big.