'Fargo' Season 3 Trailer: Ewan McGregor Vs. Ewan McGregor Vs. Carrie Coon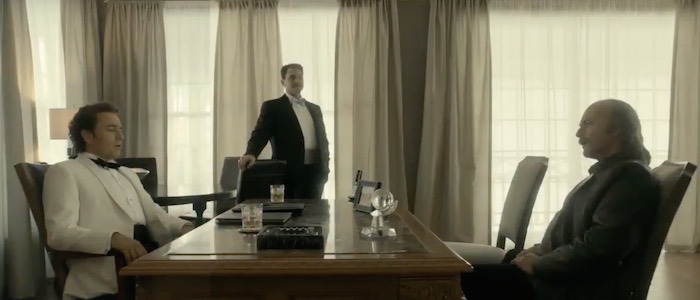 I think we've crested the hill. I think we can finally stop talking about how surprising it is that FX's Fargo series is so very good and just start talking about how it's just so very good. Noah Hawley's anthology series, set in the same icy, murder-y world as Joel and Ethan Coen's incredible 1996 film, is one of the best shows on television at the moment.
And finally, the first proper Fargo season 3 trailer has arrived.
The past few weeks have seen the arrival of many odd and cryptic teasers, all of which teased the new characters and reminded us of this show's bleakly funny and menacing tone. However, this trailer is more than a just an evocative image – it's a our first glimpse at the new cast, and their terrible, awful, no good, self-destructive machinations, in action.
While the obvious highlight here is Ewan McGregor cutting loose as two twin brothers, one the "Parking Lot King" of Minnesota and the other a slovenly parole officer, the supporting cast is a sight to behold. Carrie Coon, the secret weapon on HBO's The Leftovers, is on hand to play a wily police officer, while actors like Michael Stuhlbarg, David Thewlis, Mary Elizabeth Winstead, Jim Gaffigan, Shea Whigham, Scoot McNairy, and Thomas Mann round out the cast.
Although the trailer only touches on the various plot threads, all of the volatile elements appear to be in place: dangerous criminals, curious cops, and people with unlimited ambition and absolutely no shred of self-control. Like the past two seasons, Fargo season 3 will probably be as funny as it is grisly, which means we'll be laughing and wincing a lot.
Fargo season 3 premieres on April 18, 2017. While each season stands alone, that gives you plenty of time to catch up and prepare yourself. Here's the full plot synopsis:
Set in 2010, the third installment of Fargo centers on Emmit and his slightly younger brother Ray Stussy (Ewan McGregor). Emmit, the Parking Lot King of Minnesota, sees himself as an American success story, whereas Ray is more of a cautionary tale. Forever living in his more successful brother's shadow, Ray is a balding and pot-bellied parole officer with a huge chip on his shoulder about the hand he's been dealt – and he blames his brother. Their sibling rivalry follows a twisted path that begins with petty theft but soon leads to murder, mobsters and cut-throat competitive bridge.
Carrie Coon stars as Gloria Burgle, the steady chief of the local police department. A newly divorced mother, Gloria is trying to understand the new world around her, where people connect more intimately with their phones than with the people around them. Mary Elizabeth Winstead stars as Ray's girlfriend, Nikki Swango, a crafty and alluring recent parolee with a passion for competitive bridge. David Thewlis stars as V.M. Vargas, a mysterious loner and true capitalist whose bosses plan to partner with Emmit, whether The Parking Lot King likes it or not.