Woody Harrelson Explains Why 'Han Solo' Will Be The Best 'Star Wars' Movie Ever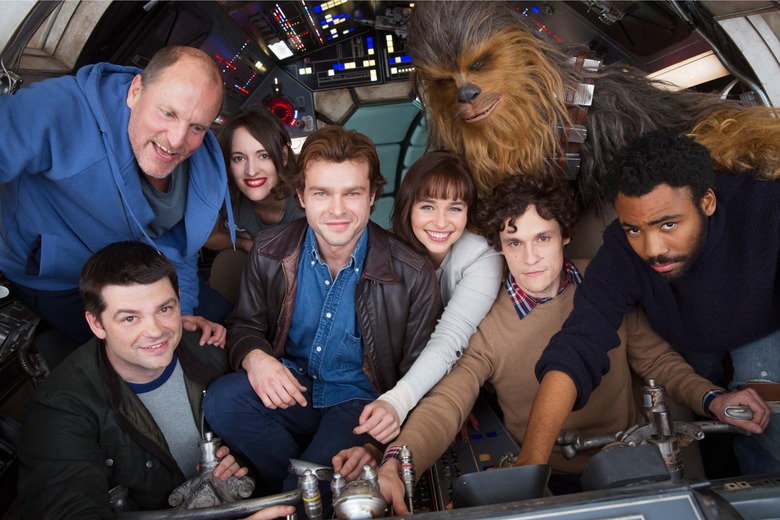 Filming on Disney and Lucasfilm's untitled Han Solo standalone Star Wars spin-off began almost exactly one month ago, and at least one of its actors seems to think things are shaping up quite well, thank you very much. In fact, he thinks this could be the best Star Wars movie yet. Grab your torches and pitchforks and meet me after the jump.
In some circles, it borders on blasphemy for an actor to suggest they're making a Star Wars film that will be better than George Lucas's original or The Empire Strikes Back, but let's hear what Woody Harrelson has to say for himself. In an interview with Collider, the actor was asked what it's been like to work with Han Solo co-directors Phil Lord and Chris Miller (21 Jump Street, The LEGO Movie):
"They're great. You know, any movie's only as good as the director or in this case directors, and so I have a suspicion, because if you look at the whole, all the movies, the backlog of every one of these movies, there's a lot of great stuff, but one might not be not as good with the writing in this or the acting in that or the directing in that, this has great actors, great directors, great script, and I really feel like we're gonna make the best one."
What Harrelson is suggesting seems to essentially be that Lord and Miller have found the absolute perfect alchemy of every aspect of filmmaking for this project: actors, cinematographer, production designer, all the way down the line. And because everyone is at the top of their game, it's all going to come together in a way that no other Star Wars film has before.
And hey – theoretically, he could be right. This movie does have:
Phil Lord and ChrisMiller at the helm (they've never let us down before)...
...leading Arrival cinematographer Bradford Young ...
...and an absolutely stacked cast that includes Alden Ehrenreich, Donald Glover, Emilia Clarke, Phoebe Waller-Bridge, Thandie Newton, and Michael K. Williams.
It's hard to argue with such a massive amount of talent.
Time will tell if this is nothing more than a standard instance of an actor generating some hype for a movie in which he appears...but what if it's more than that? Can you imagine? A young Han Solo movie, something even diehard Star Wars fans are still currently iffy about, coming out of nowhere and overtaking some of the greatest sci-fi adventure movies of all time? That's an incredibly tall order, and we'll see if Lord and Miller are up to the challenge. Just make sure no one tells them the odds.
The untitled Han Solo Star Wars Story is slated for release on May 25th, 2018.