'Churchill' Trailer: Brian Cox Stars In One Of Two 2017 Winston Churchill Biopics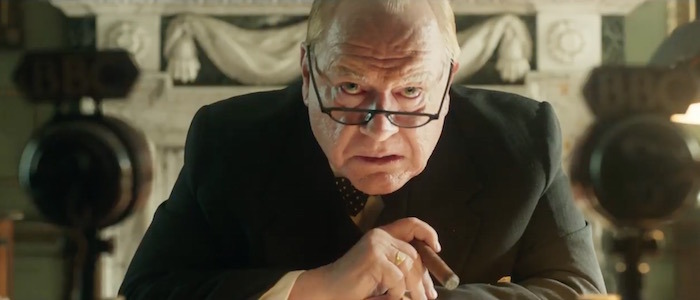 Hollywood history is littered with competing projects about similar subjects. The most famous example is probably the double-header of Armageddon and Deep Impact in 1998, but the phenomenon continues to this day. Remember how 2012 brought us Snow White and the Huntsman and Mirror, Mirror?
Now, 2017 is bringing us dueling biopics about Winston Churchill, the legendary Prime Minister of the United Kingdom who helped lead his nation through World War II. The preview for the first of these two biopics, starring the great Brian Cox, has arrived and you can watch the Churchill trailer below.
At some point, every great British actor of a certain age and shape will get around to playing Winston Churchill. Cox, with round but powerful face and stout frame, was destined to take on this role eventually. He joins a club that already includes Brendan Gleeson, Timothy Spall, Michael Gambon, and Albert Finney. While the Churchill trailer hits many of the familiar biopic cliches (there's even a shot of him angrily swiping things off his desk!), it's hard to imagine Cox not knocking this role out of the park. Churchill is an interesting guy and like many "great men" of world history, he's full of fascinating contradictions worthy of exploration.
This is actually the international trailer, with another trailer set to arrive soon.
Churchill is directed by Jonathan Teplitzky (The Railway Man) and also stars Miranda Richardson as Clementine Churchill, James Purefoy as King George VI, and John Slattery as Dwight Eisenhower. That's a fantastic line-up of actors taking on a fantastic line-up of historical figures and we'll see if they click when the film hits North American theaters on June 2, 2017 and U.K. theaters on June 16, 2017.
But there's competition waiting in the wings.
The Dueling Churchill Movies
First of all, here's the plot synopsis for Churchill, which explains that this particular biopic is set on the eve of the D-Day landings, which would change the course of the war in Europe and establish an Allied foothold in Nazi-occupied Europe:
June 1944. Allied Forces stand on the brink: a million soldiers are secretly assembled on the south coast of Britain, poised to invade Nazi-occupied Europe. One man stands in their way: Winston Churchill. Fearful of repeating, on his disastrous command, the mass slaughter of 1915, when over 500,000 soldiers were killed on the beaches of Gallipoli. Exhausted by years of war and plagued by depression, Churchill is a shadow of the hero who has resisted Hitler's Blitzkrieg. Should the D-Day landings fail, he is terrified he'll be remembered as the architect of carnage. Only the unflinching support of Churchill's brilliant, unflappable wife Clementine can halt the Prime Minister's physical and mental collapse.
And now, here's the official plot synopsis for Darkest Hour, the Winston Churchill biopic coming from director Joe Wright (Atonement). This one is set a few years earlier, when Churchill was still attempting to rally his countrymen against Hitler's forces:
Within days of becoming Prime Minister of Great Britain, Winston Churchill must face one of his most turbulent and defining trials: exploring a negotiated peace treaty with Nazi Germany, or standing firm to fight for the ideals, liberty and freedom of a nation. As the unstoppable Nazi forces roll across Western Europe and the threat of invasion is imminent, and with an unprepared public, a skeptical King, and his own party plotting against him, Churchill must withstand his darkest hour, rally a nation, and attempt to change the course of world history.
Interestingly, both Churchill and Darkest Hour take place in periods of Winston Churchill's life that are close in proximity but find him a very different man. After all, the stresses of a World War take their toll. While these two dueling biopics will be endlessly compared to one another, they could easily be treated as companion pieces, each offering a glimpse through a different window.
While Cox is a natural fit for this part, Gary Oldman vanished under extensive prosthetics to play Churchill in Darkest Hour. Seeing how these two very different actors take on the same man will be fascinating, especially since one is wearing Hellboy-level latex. The comparisons won't end there, as Kristin Scott Thomas plays Clementine Churchill and Ben Mendelsohn plays King George VI. 
Cox versus Oldman? Richardson versus Thomas? Purefoy versus Mendelsohn? When Darkest Hour opens on November 24, 2017, we'll have a great deal to talk about.