The Cast Of 'Sesame Street' Rattles Off Iconic Movie Quotes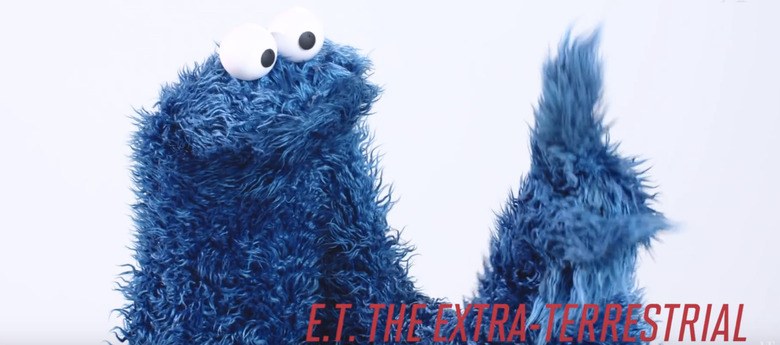 Every kid grows out of Sesame Street at some point, but you never really stop loving the Muppets who helped teach you how to count, spell and do the right thing. That's why every now and then, the characters from the Children's Television Workshop are rounded up for content that's mostly geared towards adults, but can be enjoyed by kids as well. Today, we have one of those videos.
Sesame Street is no stranger to making references to relevant, timely pop culture phenomena. We've seen Cookie Monster involved in an Avengers: Age of Ultron parody, and they've even spoofed television with some Game of Thrones mockery. This time, characters like Big Bird, Cookie Monster, Bert & Ernie, The Count, Grover, Oscar the Grouch and more have some fun by reciting some of the most famous movie quotes from history with adorable results.
Watch Sesame Street characters reading movie quotes below.
It's surprising just how many different movies Vanity Fair was able to include in this video, especially when you see how any of them aren't kid friendly. While this video is totally safe to watch with your kids, you might have to hold off on any potential requests to watch movies like 2001: A Space Odyssey, Cool Hand Luke, Citizen Kane, Moonstruck and Terminator 2: Judgment Day. Somehow a Poltergeist line-reading is made even creepier when it's read by Abby Cadabby.
Still, there are plenty of movies like Back to the Future, E.T. The Extra Terrestrial and Star Wars: A New Hope that your kids can enjoy. And even if they're not old enough to appreciate them yet, we can all appreciate Sesame Street's characters spouting off lines from those movies.
The only problem for some people might be that the voices of certain characters have clearly changed as talents have passed away or moved on. For me personally, Big Bird just doesn't sound the same, but the rest of the voices seem spot-on. Still, it's hard to be annoyed by something that trivial when the show is still doing groundbreaking things to help kids understand the complicated world around them, such as introducing the first puppet character with autism on the show. Keep up the good work, Sesame Street.