LOL: 'Stella' 20th Anniversary Sketch Reunites David Wain, Michael Ian Black & Michael Showalter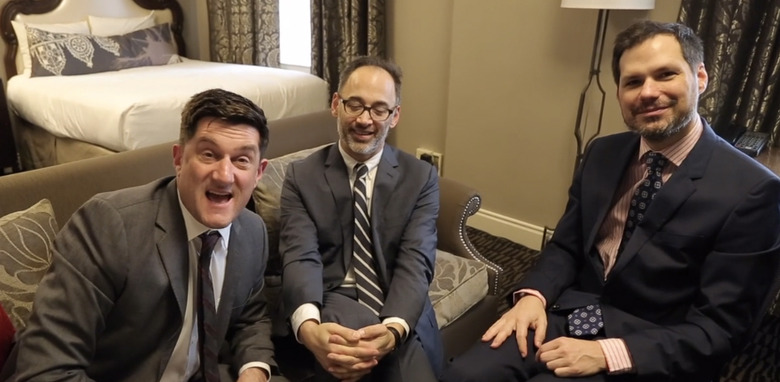 Though David Wain, Michael Showalter and Michael Ian Black each have their own accomplished careers as comedians, filmmakers, writers and actors, they will always be known by their most dedicated fans as the comedy trio Stella. The group was formed in 1997, not long after they all debuted on the MTV comedy series The State, and went on to have an all too short series on Comedy Central in 2005, not to mention several of their own comedy specials, including Stella: Live in Boston.
Since this year marks the 20th anniversary of Stella, all three of the guys got back together to record a new sketch as part of the San Francisco Sketchfest. The only problem is, it appears that Stella has been asleep for 20 years, so they don't understand things like widescreen televisions or a lack of the song "Semi-Charmed Life" on their transistor radio. Man, 1997 was such a different time!
Watch the new 20th anniversary Stella sketch below!
Here's the Stella sketch "Rip Van Winkle" straight from David Wain's Vimeo channel:
The sketch, which is the first time Stella has done anything like this since their tour in 2008, is every bit as goofy and absurd as you'd expect from the trio, and I love it. Plus, at the very end it takes us for a trip down memory lane to some really early footage of the comedy group, which looks like it was recorded on someone's parents' camcorder.
It's crazy to look back at that montage of Stella's earlier clips knowing what these guys would go on to do. Michael Showalter and David Wain were the writers behind Wet Hot American Summer and They Came Together, both of which were also directed by Wain. In addition, Showalter has directed some outstanding movies of his own in the form of The Baxter, Hello My Name Is Doris and this year's Sundance hit The Big Sick. Meanwhile, Michael Ian Black has been more busy in front of the camera, always appearing in pretty much everything that Wain and Showalter cook up and plenty of other great stuff.
Even though Stella may not be around anymore to deliver sketch comedy like they used to, I'm still glad they all work together just as frequently on a variety of projects.