Here's How The Han Solo Movie Is ''Completely Different'' From 'Rogue One'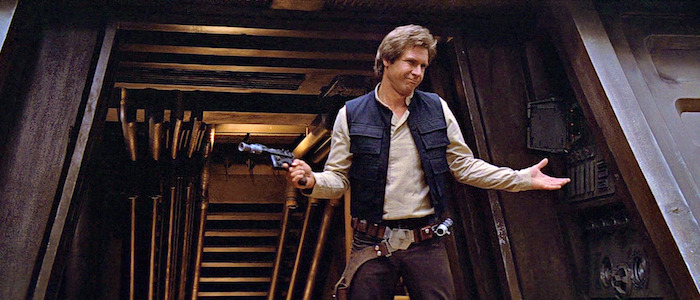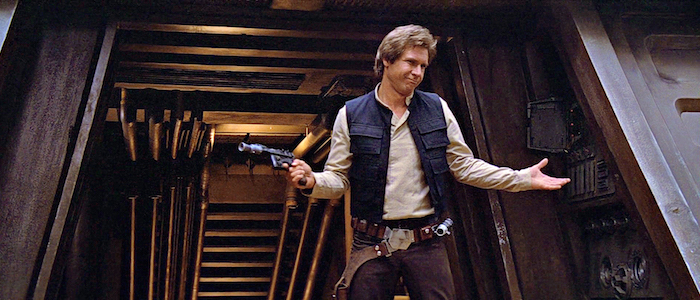 Like a certain black-vested smuggler, Rogue One: A Star Wars Story may have shot first, but that doesn't mean it will set the standard for the many Star Wars anthology films that will follow it. In fact, Rogue One director Gareth Edwards says the much-anticipated Han Solo prequel will take chances he never could.
While Rogue One was a box office and critical success, Edwards remarked in an interview at the Empire Film Awards that the work that Phil Lord and Christopher Miller (the duo behind The Lego Movie and 21 Jump Street) are doing on their Untitled Han Solo Star Wars Anthology Film is nothing like what he did with his standalone movie, and it's making him a tad jealous:
"They're amazing filmmakers. I'm very excited about what they do. It'll be a completely different film to what we did. I think they've got the hardest task, I think, out of all the films that I heard about that one is probably the greatest challenge and they're gonna knock it out of the park, but I wouldn't have had the balls to do that."
Rogue One was praised for depicting the unsung heroes in a small a war-torn galaxy, one that is much grittier and bleak than the world we see in the main Star Wars films. Presumably the Han Solo movie will strike an even more distinct tone from both Rogue One and the main Star Wars franchise — Lucasfilm president Kathleen Kennedy likened it "to a heist or Western type" movie. A sensible genre to emulate, considering the rogueish smuggler at the center of the story.
The Han Solo film is currently in production, and released their first set image in February. But even at this early stage in their production, Edwards' praise is not the first ringing endorsement the movie has received. Force Awakens director J.J. Abrams praised the film's screenplay by Lawrence and Jon Kasdan, saying, "I can tell you it is an amazing script and the cast is obviously extraordinary."
The expectations are high for the Han Solo film, which will be Lord and Miller's first outing in the Star Wars universe. They've made their mark with witty, irreverent comedies like The Lego Movie, and will hopefully be bringing some of their humorous, satirical tone to Han Solo — who was first and foremost a sarcastic, yet charming, a-hole before he shot anyone first.
Rogue One kicked off the series of anthology films set at varying points in the Star Wars timeline, intended to fill theater seats in the years between the main franchise movies. The Han Solo movie is set to come out on May 25, 2018 and it will star Alden Ehrenreich as the youthful smuggler made famous by Harrison Ford. The cast is rounded out by Woody Harrelson, Emilia Clarke, Donald Glover (playing a young Lando Calrissian) and Thandie Newton. Another untitled anthology movie is set for 2020.