New 'Avatar' Land Videos: Walk Through A Science Fiction Landscape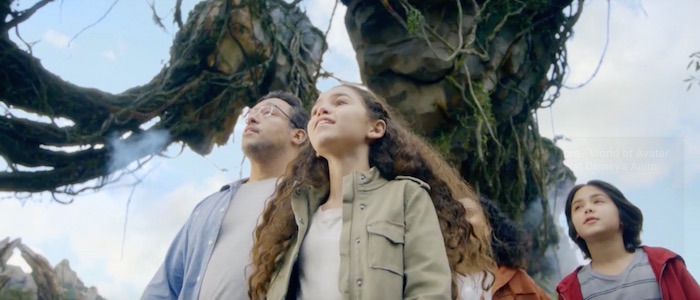 Oh, man. Theme park construction news grows up so fast. It seems like only yesterday we were scrutinizing blurry images from Walt Disney World's Pandora – The World of Avatar. Now, full-blown videos walking us through this meticulously designed theme park land have arrived. I feel like I'm waving goodbye to a child as it drives to college, ready to finally complete its transformation from dirt pile to multi-million dollar tourist attraction. Let's watch the videos below.
These new clips continue the trend that began with the first walkthrough videos that arrived last week. Disney seems ready and willing to show off the Valley of Mo'ara (the land's central hub with those enormous floating mountains) and at least one stretch of the Na'vi River Journey dark ride, but the massive "E-ticket" simulator attraction Flight of Passage remains tightly guarded. All we know for sure is that it will utilize technology similar to the popular hang glider simulation Soarin', but with a high-tech upgrade.
However, this much can be said: the Valley of Mo'ara does look stunning. While it's easy to look at this construction and know exactly how these "floating" mountains were built, it's even easier to appreciate just how clever and stunning they are. The meticulously designed world of Pandora was the real star of Avatar, so it's pretty astonishing to see this location recreated in reality. There's a shot in the video below from beneath the structure, with mist in the air, that is just completely breathtaking.
While the second video actually puts us inside the Na'vi River Journey ride, it's less exciting because this is the same stretch of the attraction that has been previewed for us several times now. It's still an impressive blend of practical effects and screens (those creatures made me do a double take the first time I saw them), but now I'm wondering what else this ride could contain. Will it just be a gentle jungle tour or can riders expect a dark and watery drop or two?
Pandora – The World of Avatar is set to officially open its gates at Walt Disney World's Animal Kingdom park on May 27, 2017. As a movie website with a serious interest in all things related to theme parks, you can rest assured that we will have plenty more to say over the next two months...and even more to say when it actually opens.
At the very least, this will give us something to talk about as Avatar 2 gets delayed again...