'Beauty And The Beast' IMAX Featurette Explains Why You Should See This Movie On The Biggest Screen Possible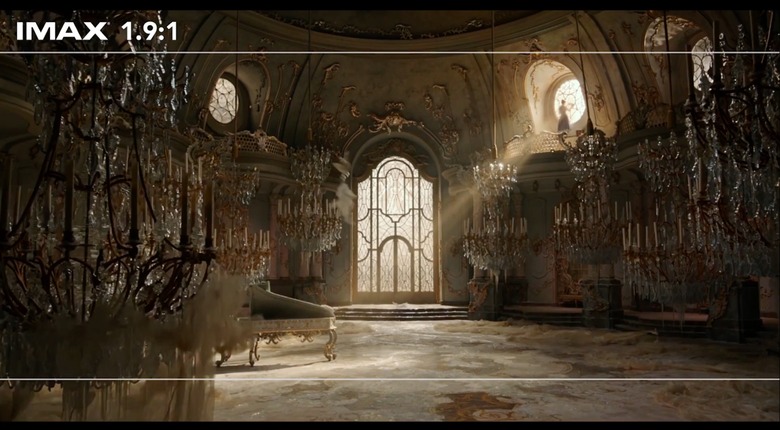 Disney's live-action remake of Beauty and the Beast is out in theaters today and it is, by all accounts, a visual marvel. So when director Bill Condon, a filmmaker with his fair share of experience in directing lavish and colorful films, sits down for a new featurette and explains how the best possible way to watch his movie is on an IMAX screen, maybe we should listen.
We are pleased to debut this new video, which you can watch below.
Like many major movies, Beauty and the Beast is opening on IMAX screens, allowing interested moviegoers to watch the new version of this timeless tale on the largest screens and in the loudest auditoriums. As Condon explains in the video below, the film was shot with IMAX in mind, so those who see the film on premium screens will literally get to see more movie, as the larger screen will make use of a wider aspect ratio.
Our own Peter Sciretta thinks this is the ideal way to see the movie, as it will allow you to see more of Sarah Greenwood's ornate and detailed production design. While interviewing Condon, he asked about the film's sets and was told all about the impossible architecture of the Beast's castle and its 18th century France inspirations:
...we kind of mutually decided that we were gonna set it specifically in the beginning of the 18th Century. It wasn't gonna be a kind of mythical fairy tale version of France. It was gonna be set at the moment when the story was written.
And it seems to me out of that idea came everything, because then you start to look at objects from that period and you start to see they're so ornate that yes, you could discern lips and a face and all those things in that candlestick or you see how incredibly decorated a teapot is in that period, you know, painted and beautiful filigree. So throughout, it was her notion that there was a sort of cancer growing through that castle and that kind of it started in the Beast's lair and spread from there.
And there were rooms that were still untouched. So that idea of the curse creating an architecture that defied gravity. If you look at those columns, they're gone and that it's almost as though all the right angles have melted into curves. And there's no way in which in a way that castle should still be standing. I thought that was a really inspired idea.
Beauty and the Beast is in theaters right now.