James Gunn Says There Will Probably Be A 'Guardians Of The Galaxy 3,' But It's Not Official Yet [Updated]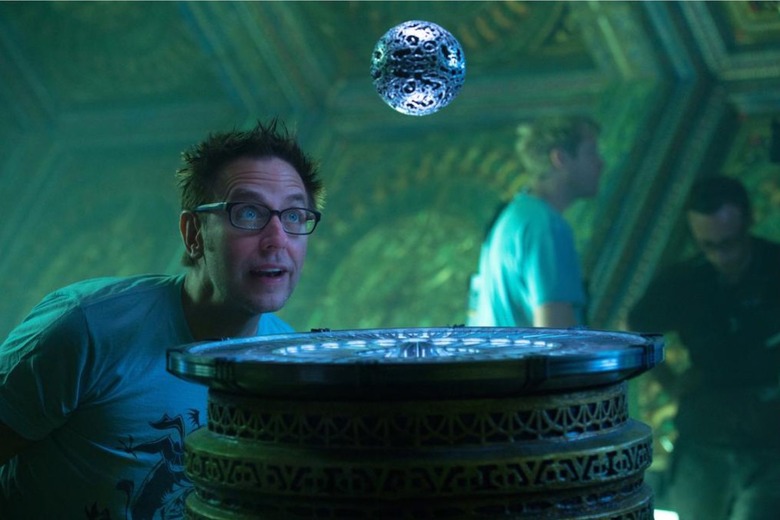 UPDATE: James Gunn has clarified his statements on Guardians of the Galaxy 3 and we have updated the post below.
There are few sure things. The Earth is round. The sky is blue. The Pope is Catholic. Marvel Studios always has another sequel up their sleeve. So when Guardians of the Galaxy director James Gunn says that there will most definitely be a third film in the comic book space opera series, the big news isn't that another movie is coming. The big news is that Gunn won't say whether or not he's going to make it.
While Gunn is hard at work finishing up Guardians of the Galaxy Vol. 2 for its summer release date, he's been making the press rounds for The Belko Experiment, the new horror movie he wrote for director Greg McLean. Speaking with Complex, he addressed the subject of a Guardians of the Galaxy 3:
There will be a Guardians 3, that's for sure. We're trying to figure it out. I'm trying to figure out what I want to do really, that's all it is. I got to figure out where I want to be, what I want to spend the next three years of my life doing. You know, I'm going to make another big movie; is it the Guardians or something else? I'm just going to figure it out over the next couple of weeks.
The thing about Guardians of the Galaxy is that so much of what makes it popular, the offbeat characters, the weird jokes, the left-field soundtrack choices, originate with Gunn. The mere suggestion of another film without him feels weird, like someone handing their baby over to a stranger. At the same time, I'd love to see him squeeze in another film similar to Slither or Super before returning to the comic book superhero world. His talents are utilized quite well when he's telling stories about space raccoons fighting bad guys in space, but he's also quite good at making pitch-black comedies where awful things happen to people.
Anyway, the point is that there will be a Guardians of the Galaxy 3. I mean, have you seen the trailers for Guardians of the Galaxy Vol. 2? Have you seen them with an audience? That movie is going to collect every single dollar that exists on the planet. It will have more dollars than it knows what to do with. And, quite frankly, Marvel Studios must know that much of that success will be attributed to Gunn. If the man wants to take a break and make something else before returning to this world...let him take a break. And then ask him back.
In the meantime, Guardians of the Galaxy Vol. 2 opens on May 5, 2017.
UPDATE: Speaking with Yahoo, Gunn clarified his comments. Specifically, he says that Guardians of the Galaxy 3 is almost assuredly going to happen...it's just not official yet:
There are no specific plans for Guardians of the Galaxy Vol. 3. But we know unless something goes horribly — which is always possibly, you never know — I think that Marvel would want to make another movie. [Marvel chief] Kevin Feige a year-and-a-half ago said, "Yeah, one of our things that we'd be thinking about will be a Guardians 3."