'Early Man' Trailer: Aardman Animations Takes Us Back To The Stone Age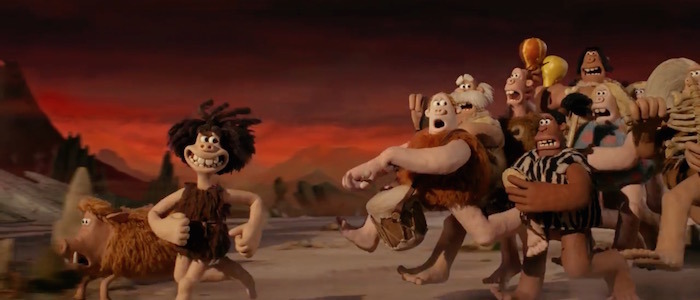 Aardman Animations may have entered the crowded CG animation world with films like Flushed Away and Arthur Christmas, but the creators of Chicken Run, Shaun the Sheep, and Wallace and Gromit will forever be known for their stop-motion movies. Their latest project, Early Man, looks to be very much in line with their most popular work, taking their instantly identifiable style and applying it to a tribe of none-too-sharp prehistoric people. The film doesn't hit theaters until next year, but the first trailer has arrived to announce the film's existence to the world.
This is very much a teaser and the scenes included here feel like they were created for trailer purposes – who knows if they're even in the movie? In any case, it looks silly and charming and, well, nice. In an era where so many animated family movies try to be edgy and hip, I'll always have a fondness for Aardman's deliberate old-fashionedness.
We knew that Eddie Redmayne (Fantastic Beasts and Where to Find Them), Tom Hiddleston (The Avengers), and Maisie Williams (Game of Thrones) would be playing the three leads in the film, but director Nick Park revealed more cast members in his official announcement about the teaser trailer:
Today we get to meet Dug's tribe, a loveable bunch of misfits voiced by some exceptional British talent. They're essentially a group of inept cavemen and women including Treebor, played by Richard Ayoade, a gentle giant scared of his own shadow; Magma, Treebor's no nonsense mother voiced by Selena Griffiths and Mark Williams as Barry, whose best friend is a rock. Chief Bobnar, voiced by the brilliant Timothy Spall, leads the pack as their long-suffering leader, and father figure to his tribe of idiotic brutes.
Early Man will hit U.K. theaters on January 26, 2018. No North American release date has been announced yet, but we can expect it to arrive sometime early next year.
Set at the dawn of time, when prehistoric creatures roamed the earth, EARLY MAN tells the story of courageous caveman hero Dug (Eddie Redmayne) and his best friend Hognob as they unite his tribe against a mighty enemy Lord Nooth (Tom Hiddleston) and his Bronze Age City to save their home. Currently in production in Bristol, Hiddleston and Maisie Williams (Goona) will be joined by additional voice cast playing characters from the Bronze Age city to be announced in the coming weeks.