'Transformers: The Last Knight' Trailer 2: ''Yeah, I Fight Like A Girl''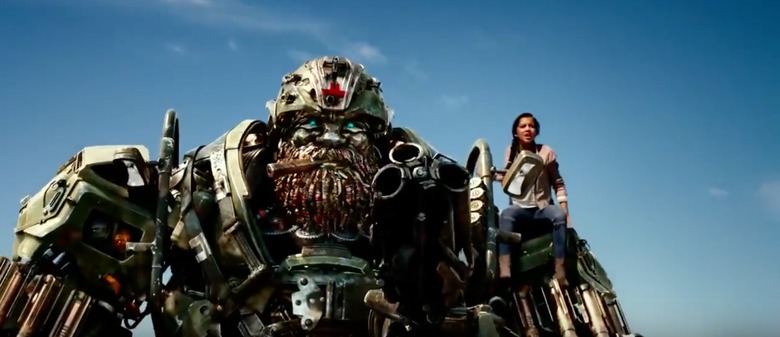 Last weekend brought a new clip from Transformers: The Last Knight, not to mention an extended TV spot giving us a peek at baby Dinobots and showing us just how tough the franchise's young new star, Isabela Moner, is going to be. Now we get a much better look at the Bayhem that's in store for us this summer with a brand new Transformers The Last Knight trailer.
This time there's some more snippets of the story, but as usual, the focus is on all the new Autobots and Decepticons that your kids will want to pick up from the toy store after they seem them smash into each other on the big screen. Watch the new trailer after the jump.
Transformers: The Last Knight Trailer 2
The trailer was posted on actress Isabela Moner's facebook page.
Isabela Moner is clearly being set up as the new young lead of the franchise, to the point that she has way more screentime than Mark Wahlberg in this trailer. Then again, this is a trailer that is meant to be attached to Beauty and the Beast this weekend, so Paramount Pictures is clearly trying to get the female demographic interested in this sequel. Still, she's quite the feisty, strong little girl. I'm not sure that I like the elements of the trailer where she's talking to the camera.
That worked in the most recent TV spot that aired during the Kids Choice Awards, but in a theatrical trailer, it feels somewhat strange. Beyond that, it's the typical Bayhem we've come to expect with no real indication of the narrative yet.
Transformers: The Last Knight brings back Mark Wahlberg as Cade Yaeger, who gets help saving the world this time from an Oxford professor played by Laura Haddock, as well as Anthony Hopkins as a regal English lord. Josh Duhamel is also returning as Colonel Lennox along with Santiago Cabrera as some new military blood on the scene.
Transformers: The Last Knight shatters the core myths of the Transformers franchise, and redefines what it means to be a hero. Humans and Transformers are at war, Optimus Prime is gone. The key to saving our future lies buried in the secrets of the past, in the hidden history of Transformers on Earth. Saving our world falls upon the shoulders of an unlikely alliance: Cade Yeager (Mark Wahlberg); Bumblebee; an English Lord (Sir Anthony Hopkins); and an Oxford Professor (Laura Haddock).
There comes a moment in everyone's life when we are called upon to make a difference. In Transformers: The Last Knight, the hunted will become heroes. Heroes will become villains. Only one world will survive: theirs, or ours.
Transformers: The Last Knight arrives on June 23.