Carrie Fisher Couldn't Tell The Difference Between 'Rogue One' VFX And 'Star Wars' Footage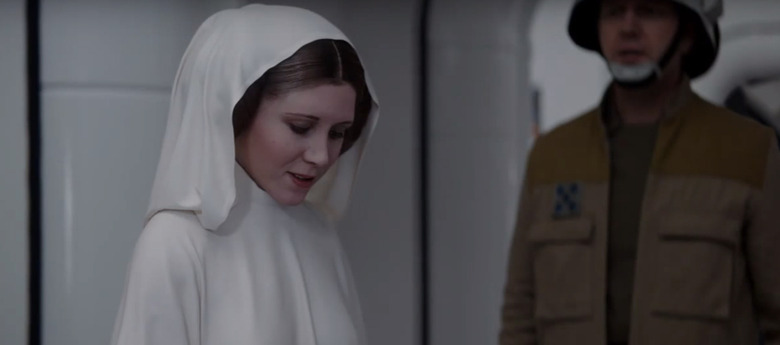 The visual effects of Rogue One: A Star Wars Story were a hotly debated and discussed part of the first spin-off story from the rest of the Star Wars saga. While Industrial Light and Magic brought to life the usual space battles, planet environments, aliens and more that we've come to expect from the visual effects studio, they also essentially brought a deceased actor back to life with a digital recreation of Peter Cushing (played by Guy Henry) reprising his role as Grand Moff Tarkin from Star Wars: A New Hope.
This was quite a point of contention, both due to debate about whether it was appropriate or ethical, and also because there was quite the divisive opinion about whether the visual effect actually looked good enough to use so prominently. However, Peter Cushing wasn't the only actor digitally recreated for Rogue One. Carrie Fisher also saw a younger, digital double of herself created for the final scene in Rogue One, and she couldn't tell whether it was archival footage from Star Wars or a visual effect.
Find out more about the Princess Leia visual effects in Rogue One after the jump.
Rogue One director Gareth Edwards recently sat down with Fandango for a chat, and he reiterated what happened when Carrie Fisher got a look at the scene that he and producer Kathleen Kennedy wanted her to approve of before it went in the final movie. Edwards says:
"We had about two weeks left, and Kathy went around her house and everyone was waiting to hear. [Kathy] said she showed it to her and [Carrie] thought it was footage. She didn't realize it was CGI. She thought we had some footage. She didn't remember the take and thought we had manipulated a take from the original film. But they told her it was all computer generated and she was really impressed. We were all just so pleased she approved it."
For any naysayers out there who thought the visual recreations of Grand Moff Tarkin and Princess Leia looked fake, fooling the actress who played the original role is some fine evidence to the contrary.
Personally, I still maintain that while the visual effects are not perfect in every shot that features Grand Moff Tarkin, there are some moments when the digital recreation looks indistinguishable from Peter Cushing. The only people who seem to notice that it's a visual effect are people who both remember that Peter Cushing is dead, and also are very good at noticing visual effects work do to their abundance of time watching movies.
For what it's worth, and I've said this before, I've asked several different people after seeing Rogue One in theaters multiple times if they thought anything was strange about the character of Grand Moff Tarkin. They were all shocked to learn that the character was created entirely with visual effects. Regardless of the loud detractors of the effect, it sounds like it was a success to me.
For those interested, Ingvild Deila, the actress who stood-in for the digital recreation of Princess Leia on set, recently opened up about the process of being cast for the role and keeping quiet for so long. You can check out that interview right here. Plus, be sure to go behind the scenes of how Grand Moff Tarkin and Princess Leia were created by Industrial Light and Magic over here.