'American Gods' Trailer: The Old Gods And The New Go To War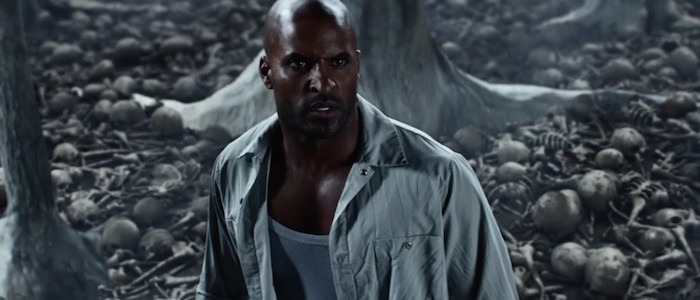 With Game of Thrones coming to an end and Westworld taking its sweet time getting around to a second season, the upcoming geek television void may have a new contender for your affections. Starz's television adaptation of Neil Gaiman's fantasy novel American Gods arrives next month and the newest trailer is full of stunning visuals, terrific actors, and lots and lots (and lots) of blood. It looks like showrunners Bryan Fuller and Michael Green have a real winner on their hands.
Over the weekend, I attended the world premiere of the pilot episode at SXSW and wrote up some early impressions. While it's too early to say much (extensive reactions will be arriving next month), it's safe to say that fans of wild fantasy, strange mysteries, gory genre fare, and extensive world-building will find a ton to love.
The lead character here is Shadow Moon (Ricky Whittle), a recently released convict who returns home to bury his wife and meets the mysterious Mr. Wednesday (Ian McShane), a traveling con man in need of some muscle. It's not long before Shadow learns that he is in way over his head – his new employer is one of many ancient gods brought over to America by the beliefs of immigrants and left alone and powerless as their followers began to direct their worship elsewhere. The old gods of ancient myth and the new gods of modern America (representing media, the internet, finance, and so on) are heading for a clash, with Shadow caught in the middle.
American Gods expands the world of Gaiman's novel, which is very long but not that long. While the book has a very clear beginning, middle, and end, it's the kind of world that can invite all kinds of expansions. There's so much to explore. Will this finally be the show that allows Bryan Fuller, the genius behind Hannibal and Pushing Daisies, a commercial success after years of being a critical darling? Hopefully!American Gods is set to premiere on April 30, 2017 on Starz. Viewers outside of North America will be able to watch the series on Amazon