'Coco' Trailer: Pixar's Next Original Movie Reveals Its First Footage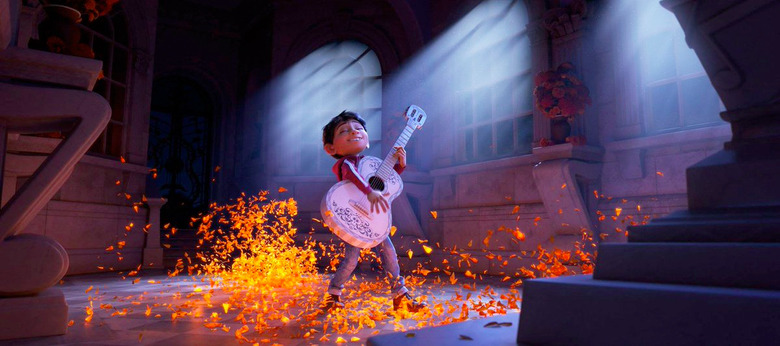 Pixar is releasing two new movies in 2017. First, we're getting Cars 3, which feels like something of a safe bet because Pixar sequels are almost always a safe bet (Finding Dory made every last dollar on planet earth last year). But later in 2017, we're getting Coco, the next film from Toy Story 3 director Lee Unkrich, and it feels like a less sure move. Of course, Pixar's "risky" moves have often resulted in some of their absolute best films, so let's keep that in mind as we watch the first Coco trailer.
Set in a small Mexican village and starring a voice cast of actors of Latino descent, Coco is a film that sets out to explore a corner of the world and a culture that generally doesn't often get a chance to be showcased in big-budget animated movies. Recognizable actors like Benjamin Bratt, Gael García Bernal and Renée Victor lent their voices to the film, with young newcomer Anthony Gonzalez voicing the main character, Miguel. Coco looks to be following a very similar path to Disney's Moana, which used a mostly Polynesian cast to tell a story dealing with that region's heritage and mythology.
But will Coco be as good as Moana, which ended up being one of our favorite movies of last year? Let's watch the trailer (and remember to never bet against Pixar):
This is very much a teaser trailer, introducing the basic concept of the film while highlighting its focus on music. As you'd expect, it all looks very colorful and lovely and I'd very much like to see more.
Interestingly, Coco isn't the first widely released animated movie to focus on music and Día de Muertos (or, the Day of the Dead), the Mexican holiday honoring those who have passed away. 20th Century Fox released The Book of Life, which was also about a character exploring the Land of the Dead, back in 2014, but it came and went without leaving much of an impression. Perhaps the second time will be the charm, especially with Unkrich at the helm.
Coco opens on November 22, 2017. Here's the description of the plot that arrived last year:
Coco follows the secret musical ambitions of Miguel, who resides in a lively, loud Mexican village but comes from a family of shoemakers that may be the town's only music-hating household. For generations, the Riveras have banned music because they believe they've been cursed by it; as their family history goes, Miguel's great-grandfather abandoned his wife decades earlier to follow his own dreams of performing, leaving Imelda (Miguel's great-grandmother) to take control as the matriarch of the now-thriving Rivera line and declare music dead to the family forever.
But Miguel harbors a secret desire to seize his musical moment, inspired by his favorite singer of all time, the late Ernesto de la Cruz. It's only after Miguel discovers an amazing link between himself and De la Cruz that he takes action to emulate the famous singer and, in doing so, accidentally enters the Land of the Dead.
In the beautiful underworld, it's not long until Miguel encounters the souls of his own family — generations' worth of long-dead but no less vivacious Rivera ancestors, including great-grandmother Imelda. Still, given the opportunity to roam around the Land of the Dead, Miguel decides to track down De la Cruz himself. He teams up with another friendly (and skeletal) spirit — a trickster named Hector, voiced by Bernal — to find De la Cruz, earn his family's blessing to perform, and return to the Land of the Living before time runs out.