'Saturday Night Live' Bringing Back 30-Minute 'Weekend Update' Spin-Off This Summer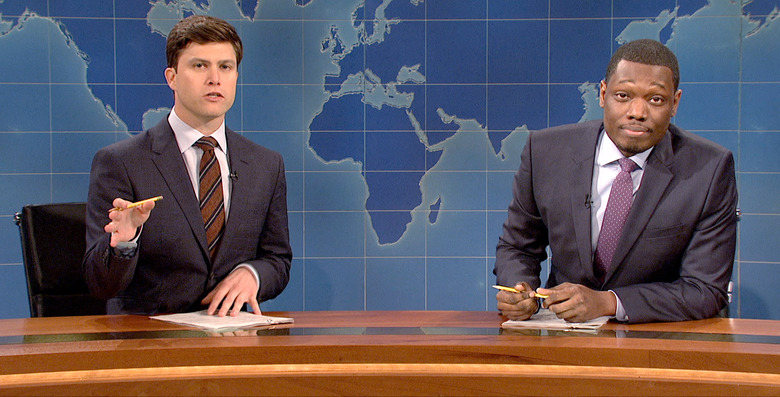 Saturday Night Live is the only late night sketch series that is broadcast live on network television, with each episode put together in just a week to ensure that it's as topical and relevant as possible. This is especially important for the one constant segment that accompanies every episode of Saturday Night Live, and that's Weekend Update. Now the news satire segment of SNL will get even more time to skewer the headlines.
NBC has ordered four episodes of Saturday Night Live: Weekend Update, a 30-minute spin-off that has occasionally been ordered to air on Thursdays. Find out more about the Saturday Night Live Weekend Update series return after the jump.
Colin Jost and Michael Che will be behind the news desk for Saturday Night Live: Weekend Update, and there will be appearances by other cast members in a sketch that will act as the cold open to the show (just like a regular episode of SNL), as well as the other traditional Weekend Update segments with guest appearances.Saturday Night Live: Weekend Update first got traction as its own series in the fall of 2008, when election season being talked about left and right. At the time, SNL was enjoying a boost from their political satire thanks to Tina Fey returning to the show as Sarah Palin during the battle for the White House between Senator John McCain (Darrell Hammond) and then-Senator Barack Obama (Fred Armisen). Even Will Ferrell returned as George W. Bush for an appearance.
In 2009, the Weekend Update spin-off returned for just three episodes. Though it was intended to go back for more in early 2010, there were no new episodes that year. The series wouldn't return until the fall of 2012 with a couple of election specials.
In case you haven't noticed, Saturday Night Live, and by association Weekend Update, thrives when there's a lot of political scrutiny in the media. And since Saturday Night Live has been getting plenty of attention due to their mocking of Donald Trump and his presidential administration, there's no better time to bring back the Weekend Update spin-off.
Since the writers already have their hands full during the regular season, we won't be seeing the Weekend Update spin-off return to NBC until Thursday, August 10 at 9 pm ET. Since that's just under five months from now, it remains to be seen if Alec Baldwin will still be playing Donald Trump by then, since he recently said he didn't see himself continuing that impersonation much longer. Only time will tell.
For what it's worth, we won't be doing recaps of the Weekend Update episodes as we do with full episodes of Saturday Night Live, though we might feature a segment if it proves to be something that absolutely must be seen.