'Despicable Me 3' Trailer: Gru Has A Flamboyant, Villainous Twin Brother Named Dru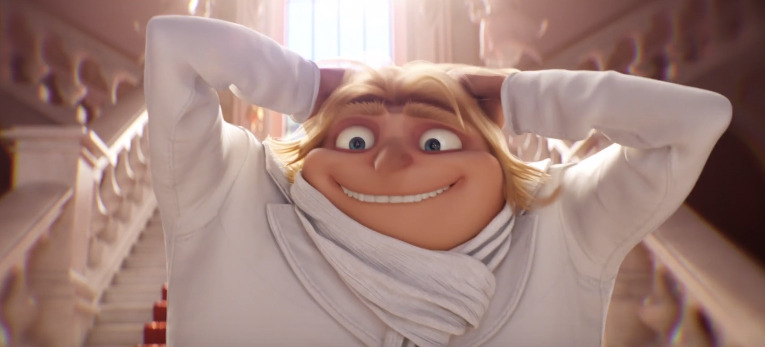 While summer is reserved for big blockbuster action, there will be a few family friendly endeavors trying to snag the attention of all the kids who will be out of school for the season. There's The Diary of a Wimpy Kid: The Long Haul, franchise starters like Captain Underpants: The First Epic Movie and The Emoji Movie, and threequels such as Pixar's Cars 3 and Despicable Me 3. And the latter has just showed more of the silliness in store this summer.
Despicable Me 3 brings back Steve Carell as the charmingly (formerly) evil mastermind Gru, but this time The Office star will be pulling double duty as he is also voicing Dru, a long-lost identical twin brother who creates some sibling rivalry. You can see just what Drew is like in the new Despicable Me 3 trailer after the jump.
Despicable Me 3  Trailer
It seems like Dru is just a more flamboyant version of Gru, complete with blonde hair and an all-white wardrobe, but with some obvious differences in perspective now that Gru is more of a good guy. Since Steve Carell is easily one of the most entertaining parts of this franchise, I guess it only makes sense to figure out a way to double the Gru and double the fun. We're not sure how Dru fits into the overall scheme of things, but I'm willing to bet that after some sibling bickering, he and Gru have to team up to take down another new character.
As we saw in the previous trailer, South Park creator Trey Parker is bringing his voice talents to the family film arena by playing the character Balthazar Bratt, a new villain who is described as Gru's most formidable opponent yet. Balthazar is a former 80s child star who remains obsessed with the character he played as a kid before the show got canceled. Every since he hit puberty, he's been angry at the world, and that pushes his attempts to take over the world, so no one will make fun of him anymore.
Meanwhile, Despicable Me 3 also features the return of Kristen Wiig as Gru's newfound love interest Lucy, as well as his adorable little girls Margo (Miranda Cosgrove), Edith (Dana Gaier), Agnes (Nev Scharrel). Plus, let's not forget that Gru's silly but reliable minions will be back on the scene to offer your kids endless giggles.
Directed by Pierre Coffin and Kyle Balda, co-directed by Eric Guillon, and written by Cinco Paul & Ken Daurio, Despicable Me 3 will be released in theaters next summer on June 30.