'Guardians Of The Galaxy Vol. 2' TV Spot: Come A Little Bit Closer To The Cosmic Action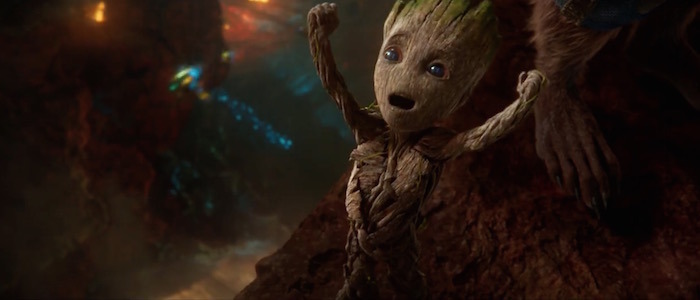 Following a brand new clip that debuted over the weekend, Guardians of the Galaxy Vol. 2 is starting their TV marketing campaign a bit early, probably to get in front of all the eyes glued to NCAA's March Madness.
A new Guardians of the Galaxy 2 TV spot shows off some funny new footage, as well as a new song that hasn't been used in any of the previous trailers. However, there's something about the humor in this clip that doesn't feel quite right. Watch below and join us for some discussion.
Here's the new Guardians of the Galaxy 2 TV spot straight from Marvel:
While I continue to like the misfit vibe that began with the first Guardians of the Galaxy, the most recent clip and this TV spot have contained some humor that feels like it's intentionally being geared towards kids. That made sense for the clip that debuted over the weekend because it was revealed during Nickelodeon's Kids' Choice Awards. However, this TV spot feels like it's almost on par with the same childish humor.
My biggest issue with this particular TV spot is when Nebula (Karen Gillan) mistakenly calls Gamora (Zoe Saldana) a "garden" of the galaxy instead of a guardian. This lapse in word usage seems far too silly and dumb for a character like Nebula to make. She obviously speaks English well and isn't stupid, so that joke doesn't feel like it works logically. I know I'm nitpicking, and Drax's reaction, though seemingly cut from a different scene entirely, helps make it more palatable. But otherwise it just seems odd.
Anyway, for all you fans keeping track of the songs featured in trailers so far, this one is driven by "Come a Little Bit Closer" by Jay & the Americans (which appeared in the footage screened at Comic-Con last summer). But remember, not all the songs featured in the marketing for the Guardians of the Galaxy sequel will necessarily be featured in the movie as part of Awesome Mix Vol. 2.
Guardians of the Galaxy Vol. 2 lands in theaters May 5, 2017.
Set to the backdrop of 'Awesome Mixtape #2,' Marvel's Guardians of the Galaxy Vol. 2 continues the team's adventures as they traverse the outer reaches of the cosmos. The Guardians must fight to keep their newfound family together as they unravel the mysteries of Peter Quill's true parentage. Old foes become new allies and fan-favorite characters from the classic comics will come to our heroes' aid as the Marvel cinematic universe continues to expand.