Bryan Fuller's 'Amazing Stories' Remake Recruits Patton Oswalt, Kumail Nanjiani & More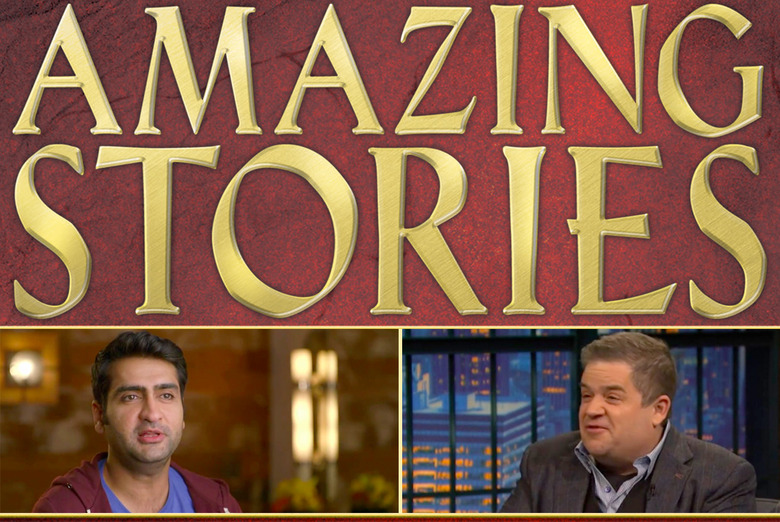 It's been about a year and a half since we heard that Pushing Daisies and Hannibal executive producer Bryan Fuller was working on a revival of the anthology series Amazing Stories.
For those who don't know, Amazing Stories was an hour-long weekly sci-fi and fantasy anthology series created and executive produced by Steven Spielberg that told stories of the fantastic, strange and supernatural. It aired on NBC from 1985 to 1987 with directors such as Martin Scorsese (GoodFellas), Joe Dante (Gremlins), Clint Eastwood (American Sniper), Robert Zemeckis (Back to the Future), Irvin Kershner (The Empire Strikes Back), Ken Kwapis (The Office), Tobe Hooper (The Texas Chainsaw Massacre) and even Burt Reynolds being at the helm of episodes.
We've been hoping some similar modern talent would be brought in for the Amazing Stories remake, and now we have the names of a few talents who will be involved. Find out more about the Amazing Stories remake roster of talent after the jump.
Crave had the chance to catch up with Bryan Fuller at SXSW where his adaptation of American Gods just debuted (read our own Jacob Hall's review of the pilot right here). Thankfully, the discussion turned to Amazing Stories and Fuller offered up a bit of an update:
"We are working on a variety of scripts from a variety of sources, and we've got a lot of really great writers involved. So it feels like I'm curating the Amazing Stories magazine and I get to work with Patton Oswalt and Kumail Nanjiani and Emily Gordon and Jane Goldman."
Patton Oswalt is an extremely gifted writer in addition to being a fantastic comedian. In addition to his work punching up screenplays and writing his own comedy, Oswalt has written a book about his love and obsession with cinema called Silver Screen Fiend, as well as an insightful coming-of-age sort of memoir called Zombie Spaceship Wasteland. His love and passion for storytelling have me extremely excited to see what he can do with an episode of Amazing Stories.
As for Kumail Nanjiani and Emily Gordon, they're now fresh off their hit Sundance film The Big Sick. The comedian and producer duo wrote the script for the indie directed by Michael Showalter inspired by their romance, and we absolutely loved it. But the two also have their passions outside of writing and producing comedy programming. For example, Kumail Nanjiani had his own podcast called The X-Files Files where he dove deep into a series that he loves (and eventually became part of himself). Meanwhile, Emily Gordon wrote the charming book Super You, a guide to being your own superhero in every aspect of your life.
Finally, Jane Goldman may be a name that comic book fans are familiar with since she's the screenwriter behind Kick-Ass, X-Men: First Class, X-Men: Days of Future Past and Kingsman: The Secret Service. Having a writer like that on board for an installment of Amazing Stories sounds like a win for everyone involved.
Those names may not look like they're on par with the line-up of filmmakers who were involved in Amazing Stories back in the 1980s, but these are some people who are at the top of their game in their respective fields. Plus, let's not forget that this year's horror hit Get Out was written and directed by comedian Jordan Peele. We can't just keep classifying talents in entertainment so singularly.
These are just a few names who Fuller was willing to talk about too. Back in November of 2015, Fuller said they had a sort of "development nursery" for people who had stories they wanted to tell. He said:
We want people to come in and pitch. We want people to come in and tell us a story that they're very excited about telling, and facilitate them telling it as well as I possibly can. One of the things that I'm most proud about, with working with the directors that I did on Hannibal, is that I basically provided the paradigm from which we make the show and then encouraged every director to make their best version of a pretentious art film.
Having Patton Oswalt, Kumail Nanjiani, Emily Gordon and Jane Goldman on board is a good start, but there is likely plenty more talent that will get involved. We don't know when we'll see Amazing Stories get off the ground, but we'll keep you posted.