'Free Fire' Trailer: Sharlto Copley, Armie Hammer, Brie Larson & More Let The Bullets Fly
This year has already brought us the brutal gunplay of John Wick: Chapter 2, but there's another shootout on the way this spring.
Free Fire is the latest film from director Ben Wheatley (High Rise, Sightseers, Kill List), and it looks like his most accessible, too. Sharlto Copley, Armie Hammer, Brie Larson, Cillian Murphy, Noah Taylor, Sam Riley, Michael Smiley and Jack Reynor all find themselves in a grimy warehouse with a weapons deal gone wrong, resulting in a feature-length shootout that is just as hilarious as it is energetic and wild.
Watch the new Free Fire trailer below to see what we're talking about, but beware that there's some NSFW language in this one.
Here's an even wackier Japanese trailer that's almost in the style of an episode of the 1966 Batman TV series:
The movie already played at TIFF last year where Angie Han caught the movie (she's got a quote in the trailer above, in case you didn't notice) and had this to say in her review:
"Wheatley stages a never-ending knock-down-drag-out fight, trapping one woman and about a dozen men in an abandoned warehouse and then inviting us to sit back and watch as the bullets and the jokes ricochet off one another. The result is a furiously entertaining exercise that left me buzzing with energy long after I'd left the theater."
That all seems to come through in this quick trailer, as everyone is trying to kill each other, but they're clearly not the most skilled assassins. From one dude who forgets what side he's on to another dropping his gun after a thrown crowbar hits his hand, these are some clumsy criminals.
If you'd like to see more from Free Fire, you can check out a couple trailers that were released last year when the film was playing at TIFF.
Free Fire hits theaters on April 21, 2017.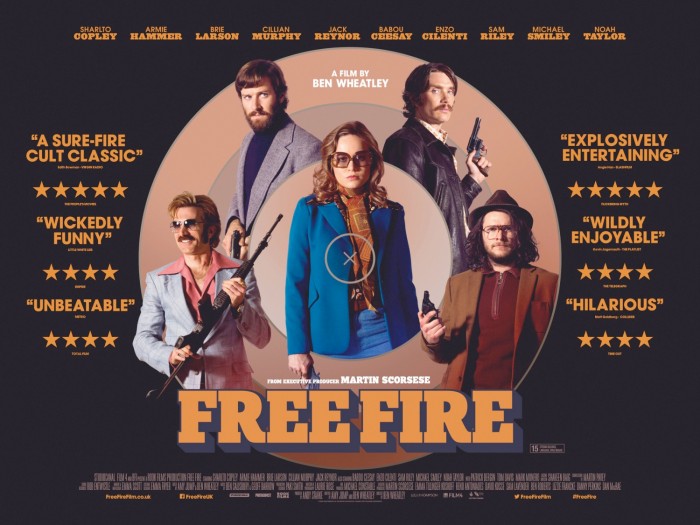 Set in Boston around 1978, a large weapons deal is about to go down between a group of IRA militants  and a cocky arms dealer. In an abandoned warehouse, a middle man and extra muscle have come along to make sure the deal goes smoothly. Tensions are running high and anger is close to the surface. The exchange appears to go well – until the first shot is fired. An explosion of violence and accusations ensue as everyone present fights for their life , and the big bag of money lying on the floor.