'Wonder Woman' Trailer Breakdown: A Frame-By-Frame Look At Diana Prince's Origins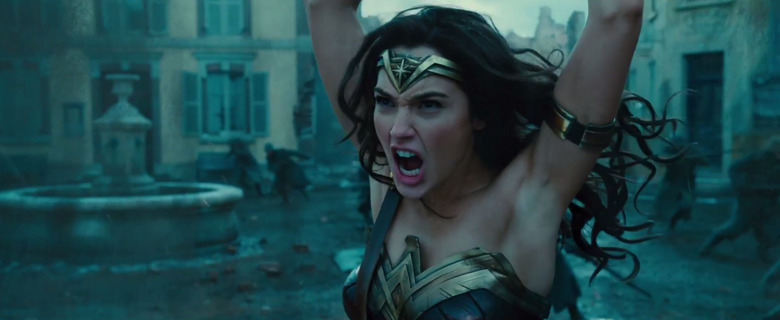 Over the weekend, a brand new Wonder Woman trailer hit the web and revealed a slew of new footage from the next film in the DC Expanded Universe franchise. While the previous trailers showcased the power of Wonder Woman with some spectacular action, this one slowed things down a bit to show us more of the origin story that's at the center of the superhero's first solo movie from director Patty Jenkins.
In our Wonder Woman trailer breakdown below, we take a much closer look at the new footage on display. So let's see what this first adventure for the Goddess of Truth has in store for us. But beware of possible spoilers if you want to go into the movie completely blind.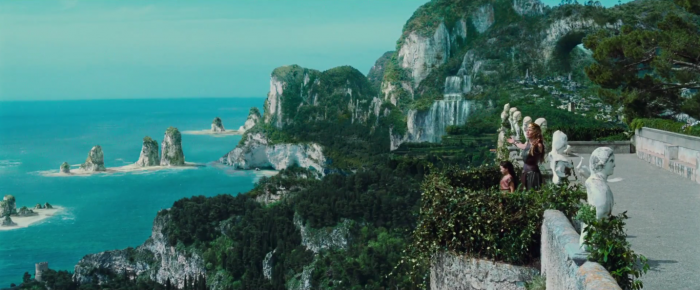 One of our opening shots features Connie Nielsen as Hippolyta, Queen of the Amazons, showing her daughter Diana Prince the island paradise that they live on known as Themyiscira. The queen explains to young Diana, "The gods gave us many gifts. One day you'll know them all."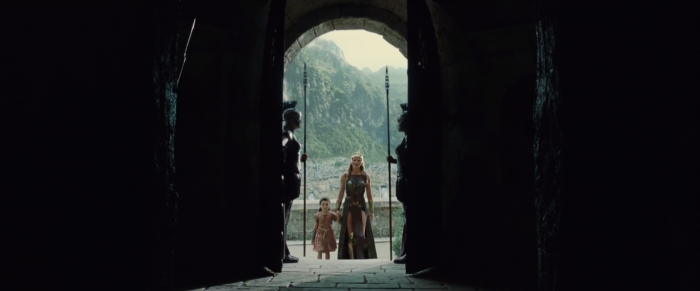 Hippolyta shows Diana into one of the areas where some of the gifts given to the Amazons by the gods are being kept.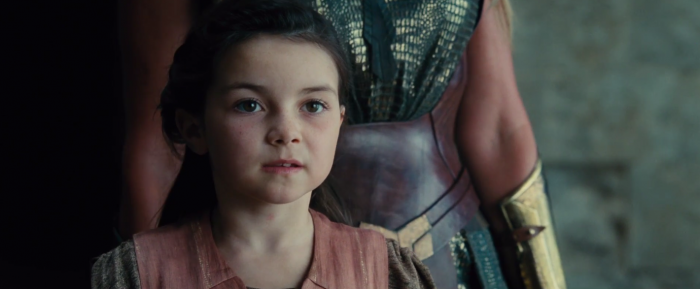 We meet Diana Prince at 8 years old as she's admiring a sword that lies in an elaborate housing unit. This is the sword known as the Godkiller, given to the Amazons by Zeus himself so that they might one day defeat Ares, the god of war, should he ever create trouble on Earth again. Young Diana remarks, "It's beautiful," and immediately asks, "Who will wield it?"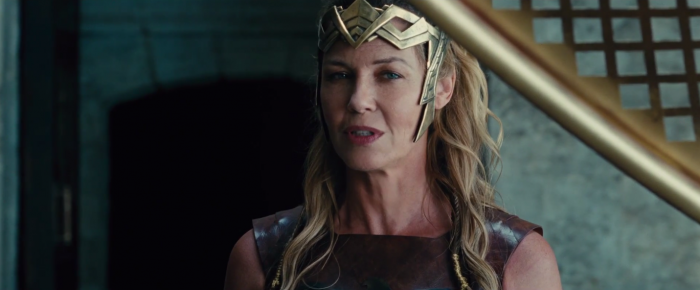 Hippolyta explains to Diana that "only the fiercest among us" could be considered worthy of wielding the mighty sword. Then she discourages Diana by saying, "That is not you, Diana."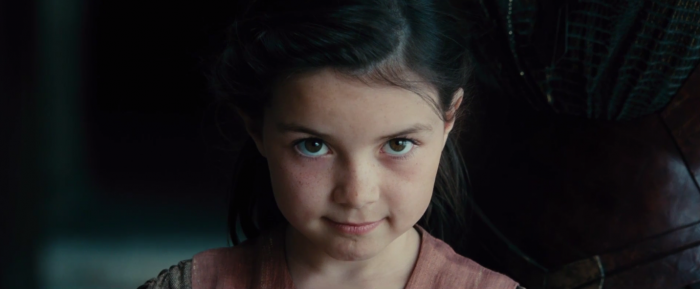 But that determined face has already envisioned what it would be like to wield the sword and become a fierce warrior just like the rest of the Amazons on Themyscira.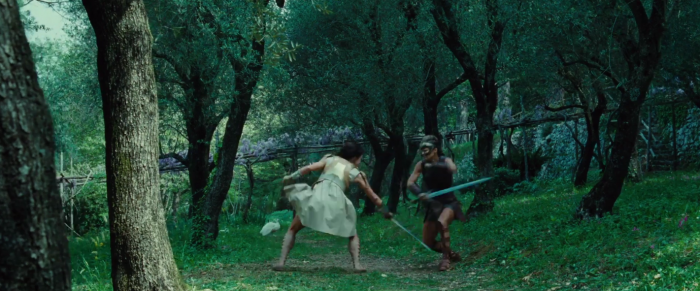 A teenage Diana trains with her aunt Antiope, played by Robin Wright. As we learned in a story presentation by Warner Bros. at their post-production facility in London, Hippolyta tries to keep Diana from training to be a warrior, but Antiope decides to help her develop the fighting skills she will need in secret.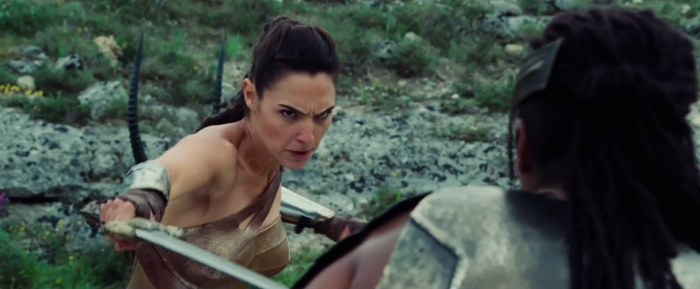 Voiceover from Connie Nielsen as Hippolyta plays over this training montage, saying, "You will train her harder than any Amazon before her." This clearly comes after Hippolyta learns of the secret training and decides that if she is going to learn how to fight, she will be challenged to her maximum potential. We see Gal Gadot as the grown up Diana, fighting off other Amazon women with a sword and shield.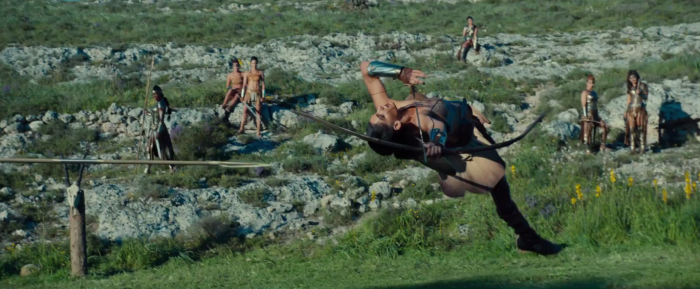 An Amazon warrior with a bow and arrow does an acrobatic flip to avoid a spear thrown at her. The editing of this quick sequence makes it look as if Diana Prince is the woman doing that flip, but that's not the case.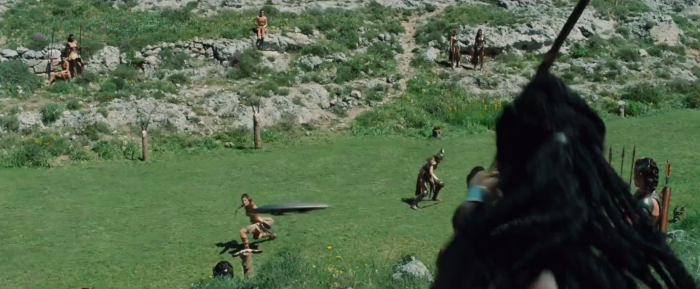 Another shot sees Diana throwing her shield at a nearby archer to avoid being targeted by their arrow. There's a clear recollection of Steve Rogers throwing his shield in Captain America: The First Avenger, and considering the World War I setting of he main plot, that won't be the only similarity between the two films.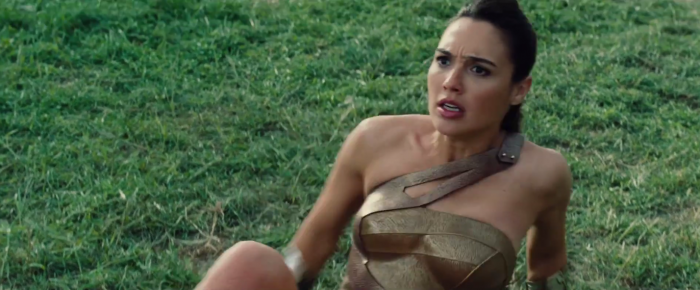 Diana is knocked back by Antiope, who tells her, "Never let your guard down. You expect the battle to be fair?" Then we hear Hippolyta finish her voiceover from before, "...until she is better than even you."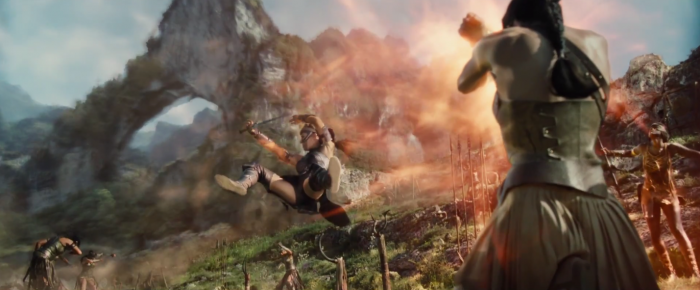 Suddenly Diana crosses her gauntlets in front of her in a defensive stance and a burst of energy knocks Antiope away and creates a shockwave that impacts other Amazons in the vicinity.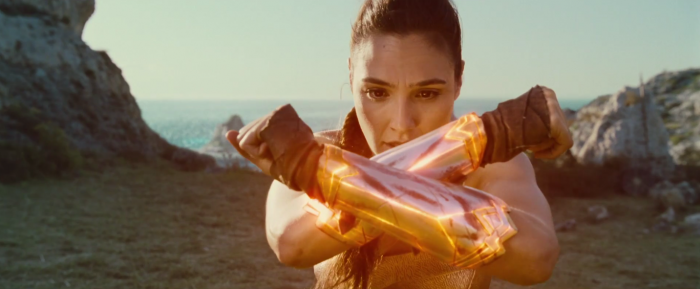 The look on Diana's face indicates that this is the first time she has wielded such power. She looks a little scared and a little impressed with herself as she discovers the untapped potential that comes from inside her. Then we get a hint as to where this power comes from as Hippolyta says, "But she must never know the truth about what she is." This is yet another tease of the secret that Hippolyta is keeping from Diana, something that was also teased in the 16 minutes of footage we saw a couple weeks ago from Warner Bros.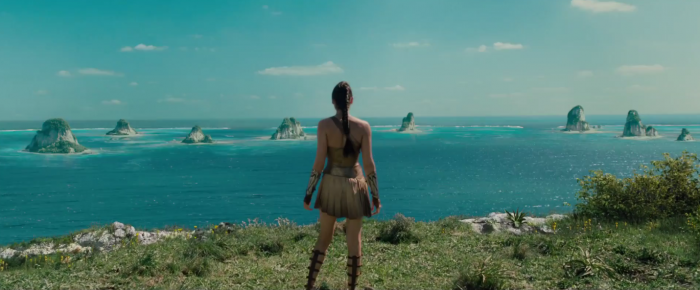 Diana stands looking out over the beautiful blue ocean that surrounds Themyscira. But her appreciation of this beauty is about to be interrupted by the arrival of a crashed plane (in a series of shots we've seen before) piloted by none other than Steve Trevor (Chris Pine).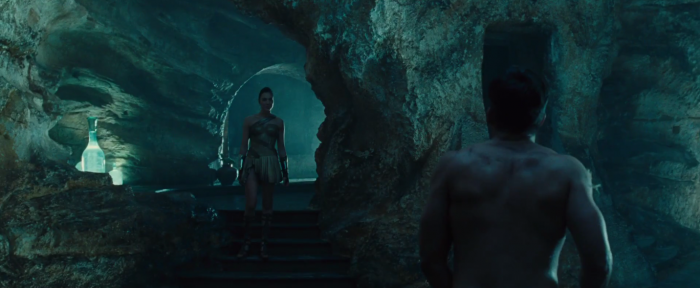 Steve Trevor stands inside an interior on Themyscira. It's not clear if he's just standing there naked or what, but Diana tells him that the Amazons have a sacred duty to defend the world, but as a series of shots of German soldiers and Doctor Maru (Elena Anaya) play out, Chris Pine says, "Whoever you are, you are in more danger than you think."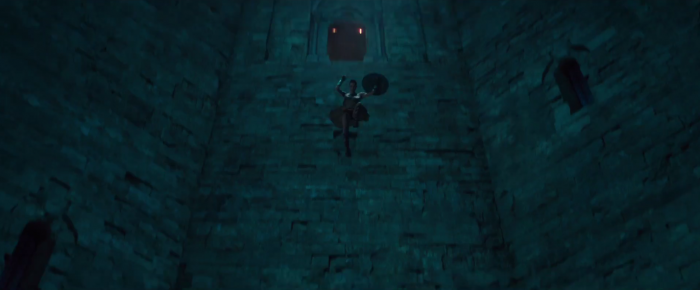 Diana literally leaps into action, because, "If no one else will defend the world, then I must." She takes it upon herself to set sail from Themyscira.
But she's not going to head into action without the one sword that will allow her to get the job done, which is the same sword we've seen her wielding quite effectively in the previous two trailers.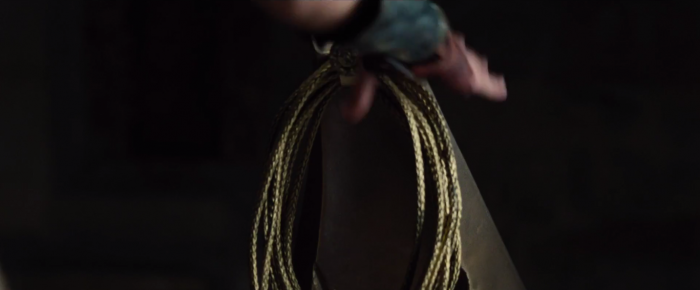 Of course, the sword isn't the only weapon she's taking with her. It just wouldn't be Wonder Woman if she didn't take her lasso with her. And yes, if the lasso is wrapped around someone, they will be inclined to tell the truth. This is presumed to be another gift from the gods in the Amazon armory.
Diana Prince and Steve Trevor arrive in "jolly old London," which is a far cry from the tropical paradise she grew up in. Smog and industry cloud the skies and the city streets are packed.
Some of the alleys in between seem to be pretty dangerous as Steve and Diana get confronted by a gunman. Though the danger of bullets proves to be nothing worrisome as Diana deflects one with her gauntlets.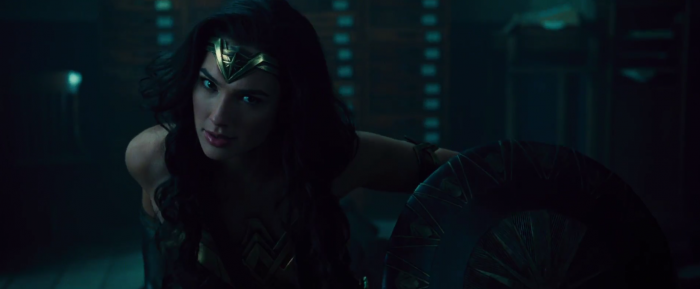 Here's a quick gorgeous new hero shot of Gal Gadot looking incredible as Wonder Woman before we head into a montage of battlefield footage that we've seen before.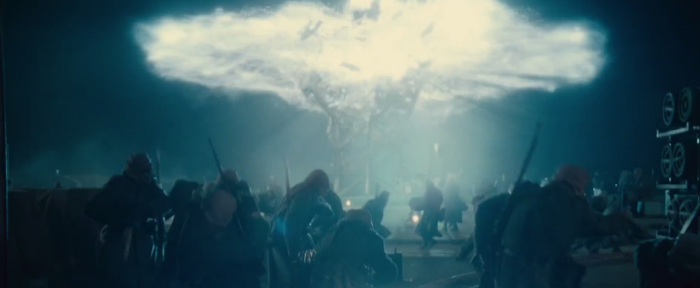 One shot in that montage features this explosion of energy that appears to come from some kind of watchtower. We're not entirely sure what's happening in this scene though.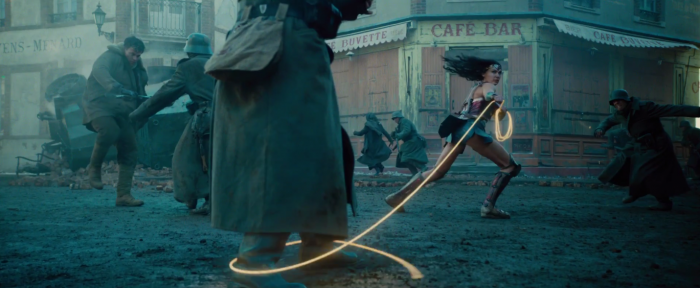 There's also an outstanding new shot of Diana Prince using her glowing lasso to deal with some enemies. The digital face replacement could still use some touching up, but since the movie is still a few months away, they've got some time to fix tiny details like that.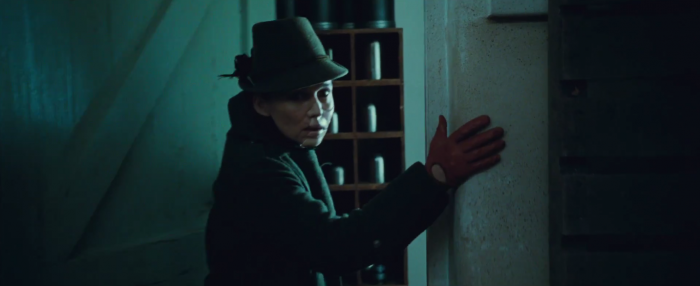 A new shot of Elena Anaya as Doctor Maru has her sneaking around or out of somewhere. Since she's one of the film's villains, there's likely nothing good that will come from this.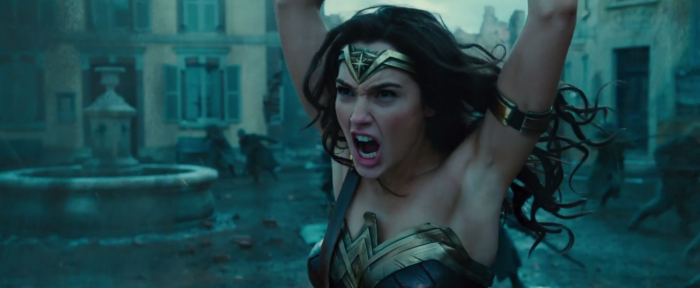 Wonder Woman is a force to be reckoned with as she lifts and tosses an armored vehicle in the middle of a city. How is she not just winning this entire war by herself?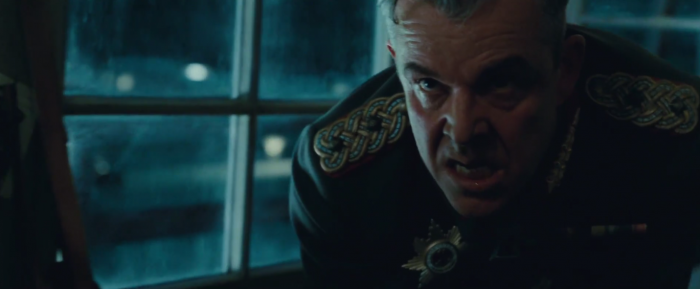 Danny Huston looks angry and intimidating as General Erich Ludendorff, and he asks, "What are you?"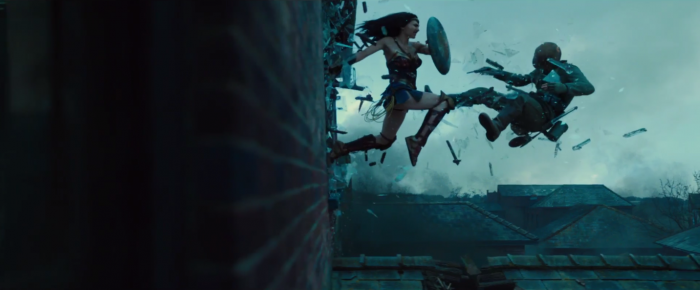 A non-verbal answer is given as Diana knocks an enemy out of a window and over a roof. And then...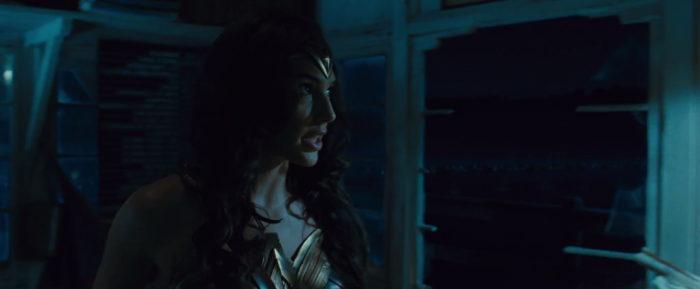 We get an answer as our hero says, "I am Diana of Themyscira, daughter of Hippolyta. In the name of all that is good, your wrath upon this world is over. During this commanding response, we see these shots: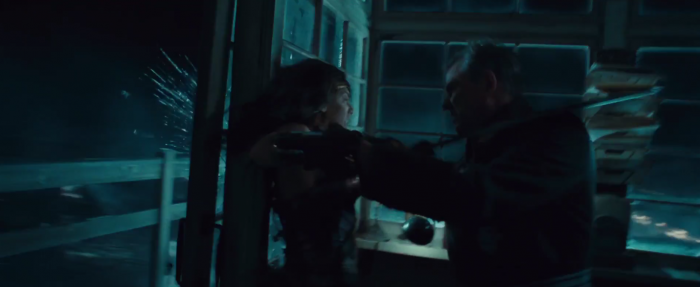 That's General Ludendorff going head-to-head with Diana Prince. How is a German general able to hold his own against an Amazon warrior? We have an answer to this in our recap of the 16 minutes of footage from the movie we were shown by Warner Bros. recently. Plus, we have our own theory about the villain that is at the center of the movie, Ares the god of war, which you can read about right here.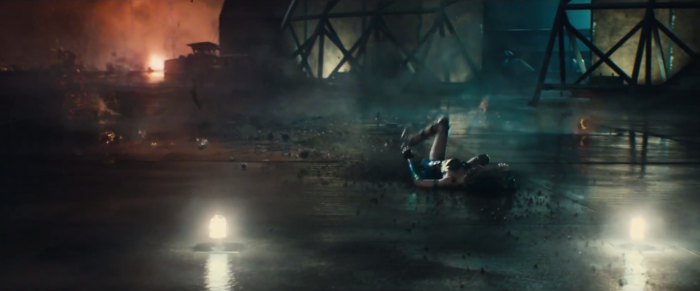 At one point, Diana gets knocked back pretty roughly by some kind of explosion in the distance. But she's quite the tough woman, so it's presumably a minor setback.
The money shot comes in the form of Diana spreading her arms before reeling them in for her signature pose, creating what appears to be an even larger surge of energy than the one we saw back on Themyscira. Cue that electrified Wonder Woman theme from Batman v Superman: Dawn of Justice before we get a little taste of humor at the end.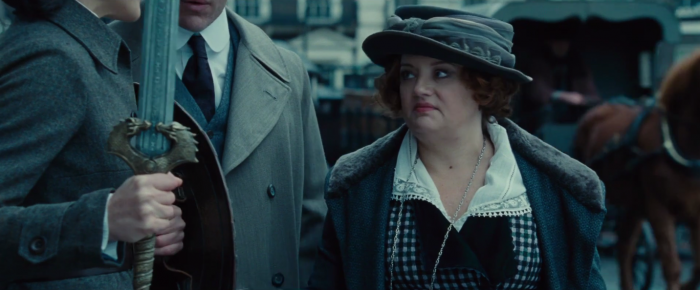 That's Lucy Davis as Etta Candy telling Diana that the sword and shield don't really go with her outfit, in addition to not being easily fit through the revolving door. She's clearly going to be the comic relief throughout the movie, though we've established that this movie certainly has a lighter tone than the preceding DC Expanded Universe movies.
***
That's all for the new footage from the most recent Wonder Woman trailer. Since the movie doesn't arrive until June 2, we're likely going to get at least one more trailer before the film hits theaters, and hopefully that will clear up at least some of the questions we have without giving away too much of the story.