'Transformers: The Last Knight' TV Spot Introduces Baby Dinobots And A Fierce Little Girl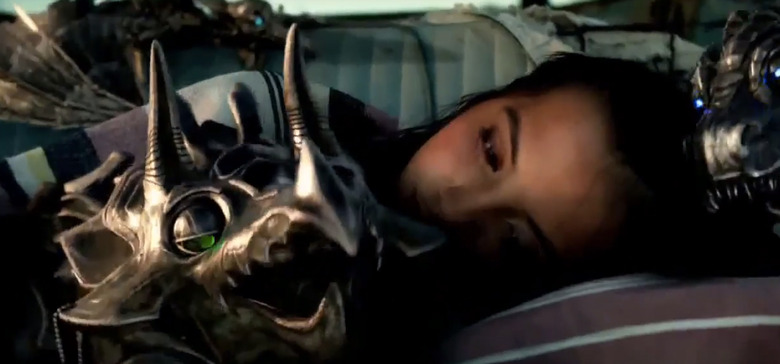 Transformers: The Last Knight introduced us to the young, new character being played by Nickelodeon star Isabela Moner in the first clip from the movie. Well, during the commercial breaks between the 2017 Kids' Choice Awards last night, Paramount Pictures also offered up a new TV spot that gives us a more proper introduction to the character, as well as some cute baby Dinobots, some new action from director Michael Bay, and the return of Grimlock.
Watch the Transformers The Last Knight TV spot after the jump.
This particular TV spot is a rather strange cut, using footage of Isabela Moner in character talking to the audience. At the same time, it's meant to be a sort of inspirational piece of marketing for any young girls watching who might need to be reminded that running or fighting like a girl isn't anything to be ashamed of. It's clear that Moner's character is going to be a little force to be reckoned with in this summer's Transformers sequel.
Besides that, there is plenty of new footage of the Dinobots (who are being cared for in a junkyard by Mark Wahlberg apparently), some new Decepticons, and the Vespa scooter Autobot known as Squeeks. Plus, you'll get to see some new snippets of Optimus Prime betraying his Autobot brother Bumblebee in a spectacular fight. We're still not sure what turns Optimus Prime against his allies, but we'll find out eventually.
If you'd like to know more about  Transformrs: The Last Knight, be sure to check out our set visit report with everything we learned about the story and characters right here. Plus, there's more footage to be seen in the Super Bowl spot from earlier this year.
Transformers: The Last Knight shatters the core myths of the Transformers franchise, and redefines what it means to be a hero. Humans and Transformers are at war, Optimus Prime is gone. The key to saving our future lies buried in the secrets of the past, in the hidden history of Transformers on Earth. Saving our world falls upon the shoulders of an unlikely alliance: Cade Yeager (Mark Wahlberg); Bumblebee; an English Lord (Sir Anthony Hopkins); and an Oxford Professor (Laura Haddock).
There comes a moment in everyone's life when we are called upon to make a difference. In Transformers: The Last Knight, the hunted will become heroes. Heroes will become villains. Only one world will survive: theirs, or ours.
Transformers: The Last Knight arrives on June 23.