Two Life-Sized AT-AT's Constructed Inside A Disneyland 'Star Wars Land' Ride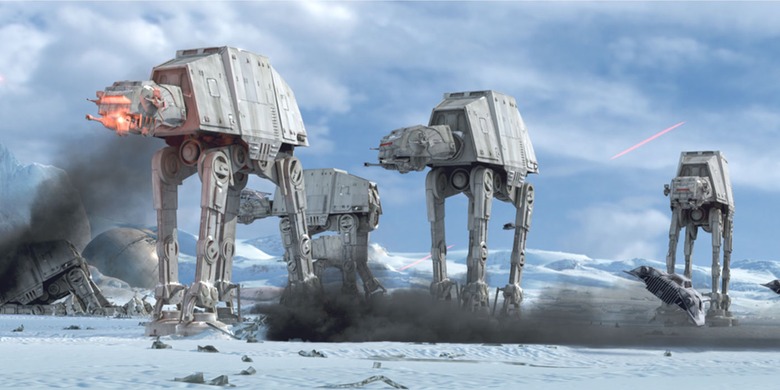 Construction on Star Wars land is ongoing at Walt Disney World in Orlando, Florida and Disneyland in Anaheim, California, but we still haven't seen much in the way of concept art since the Star Wars-themed theme park lands were announced at 2015's D23 Expo. I'm sure we'll learn a lot more about Disneyland's Star Wars Experience (as it is rumored to be called) at D23 Expo in July.
But right now, the construction photos are finally beginning to get exciting now that everything is going vertical. New photographs show structures that appear to be framing for two life-size Galactic Empire Imperial AT-AT Walkers. Let's check out photos of the Disneyland AT-ATs under construction below.
Update: Disney has released an official video confirming our original AT-AT scoop. Hit the jump for more info.
Disney ahs released the following video confirming the AT-ATs as part of a new dark ride in Star Wars Land:
The video makes it look like the AT-AT's are in an Imperial hanger and not in action on a snow planet. This fits with the speculation that the dark ride is a Resistance escape from a First Order base/ship.
Our previous story follows:
The AT-ATs are in the building! @ShowcaseWishes pic.twitter.com/0aBACyhCTV

— Danielle Weinberg (@DWeinberg8) March 15, 2017
Update: New photos from the Disneyland Star Wars Land construction show that the AT-AT's have been constructed inside the show building for the First Order/Resistance dark ride codenamed "Alcatraz". We know that the ride will put guests in the middle of a battle between the First Order and the Resistance. With the AT-ATs, it seems like Disney Imagineering is borrowing from themselves as you might recall they did something similar with their new Pirates of the Caribbean attraction in Shanghai Disneyland:
Shanghai Pirates show-building was built around the 2 set pieces similar to the AT-AT's for #StarWarsLand pic.twitter.com/DNkqV6jOSq

— Universal Core (@Universal__Core) March 15, 2017


Our original story from March 13th follows:
Here are some pictures and a video that I first saw on Twitter. Thanks to theme park and Star Wars expert Reza Lackey for the heads up on these.
What-What?https://t.co/ffKILlVVog pic.twitter.com/ko6P1ewueM

— MouseInfo | Disney News & Fun (@MouseInfo) March 12, 2017
Now, those of you who have visited the mini Star Wars section of Disney's Hollywood Studios in Orlando have already seen a life-size AT-AT outside  Star Tours: The Adventures Continue, which makes for an excellent photo opp.
AT-AT
足元くぐれるなんて夢のようだった...... pic.twitter.com/Ifd05zvv9Y

— たそ@年パお休み (@aykts_disney) March 10, 2017
However, the new Star Wars land construction photos seem to show two AT-AT bodies and two AT-AT heads. We've seen a lot of concept art showing the exterior layout of Star Wars Land and not one of the paintings features AT-AT Walkers, which makes me wonder if these all-terrain transports are being built not as a photo opp in the land, but as part of a ride.
We've heard a bit about the Millenium Falcon ride, which will put you in the cockpit of the fastest hunk of junk in the galaxy, but we have yet to hear much about the second attraction, which will be a dark ride of some kind. At the announcement of the theme park lands, Bob Iger said it would put guests in the middle of a battle between the First Order and the Resistance and the ride is rumored to be using the trackless vehicle technology seen in newer Disney theme park attractions overseas. What if part of the journey through this epic battle has you dodging your way under and around two life-size AT-AT Walkers?
I know nothing of Disney's plans, but I think that would be very cool. It's also possible that the Walkers could be part of a queue line that hasn't been pictured in the released Star Wars land concept art.