The Best & Worst Sketches From Scarlett Johansson's 'Saturday Night Live'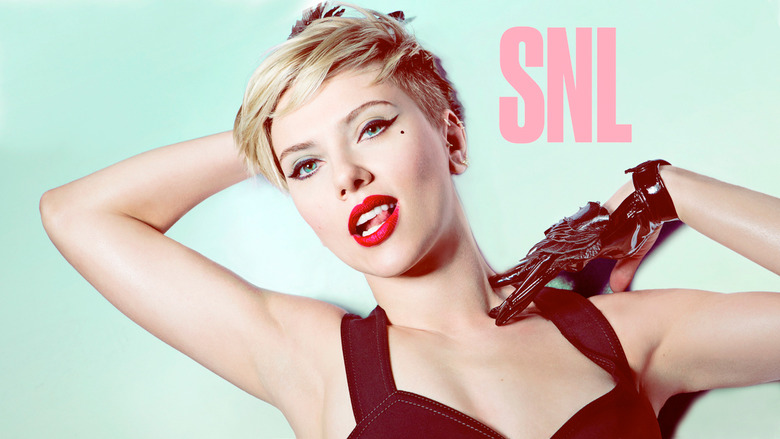 This weekend, Scarlett Johansson hosted Saturday Night Live, which allowed her to join the prestigious Five Timers Club, a rare honor for hosts of the iconic late night sketch series. Last night's episode proved why Scarlett Johansson has joined the exclusive club, as she can throw herself into a goofy character, but also has no problem being an anchor in a sketch as the straight-woman, delivering the dialogue that doesn't have the punchlines. Overall, this was a pretty good episode.
Below, we run through the best and worst sketches of the Scarlett Johansson hosted Saturday Night Live.
The Best
Translator – For anyone who thinks that Saturday Night Live only skewers right-wing politics, this sketch proved them wrong. Sure, this sketch has character reacting horrifically to the fact that Scarlett Johansson's dog is a Trump supporter when his thoughts are made audible thanks to a translating helmet. But then the sketch takes an interesting turn by having the dog sound much more intelligent and articulate than the liberal-minded people in the room, who can't help but respond with trite soundbites. This one has some layers, and while it certainly mocks Trump, it's much more about his supporters and how people deal with them, frequently in the wrong way. Also, kudos to Scarlett Johansson for being totally chill and not rattled at all when she had to replace the helmet back on the dog's head after it was knocked off.
A Sketch for Women – It's been awhile since Beck Bennett and Kyle Mooney had something fantastic together in an episode of SNL, so it was nice to have this come along. In honor of A Day Without Women, Scarlett Johansson and Aidy Bryant explained that they didn't work on the day when most of the writing usually takes place. So they placed Mooney and Bennett in charge of writing a sketch for all the women in the cast. The result is the epitome of mansplaining where the women have little to do but echo the sentiments of the wise dudes. It was sharp and hilarious.
Complicit – This is one of a handful of sketches that shows SNL can figure out how to mock Donald Trump without just doing a topical mockery of something insane the president did that week. This one focuses on Ivanka Trump, who has been lauded with acclaim for being a successful feminist. But as the ad questions, "Like, how?" Offering up a jab at the president's daughter for letting her father get away with some ludicrous nonsense while still somehow being praised for her work, all in the form of a perfume ad, is some solid satire.
Olive Garden – If this is one of those sponsored sketches that SNL is doing from time to time, then some kudos should be given to Olive Garden for letting SNL take some jabs at both the company and their customers. But if it's not, then this is still a supremely funny sketch, especially when it comes to pointing out that the people in these kind of commercials act like they've never had food or eaten at a restaurant before. Beck Bennett deserves a special shout out, because while Mikey Day, Scarlett Johansson, Leslie Jones and Kenan Thompson are doing the funnier, goofier stuff for laughs, he's spouting off endless dialogue driving it all, and doing it in a perfectly straight-laced way that makes it all work even better, especially when he does that totally racist voice for Leslie Jones' character.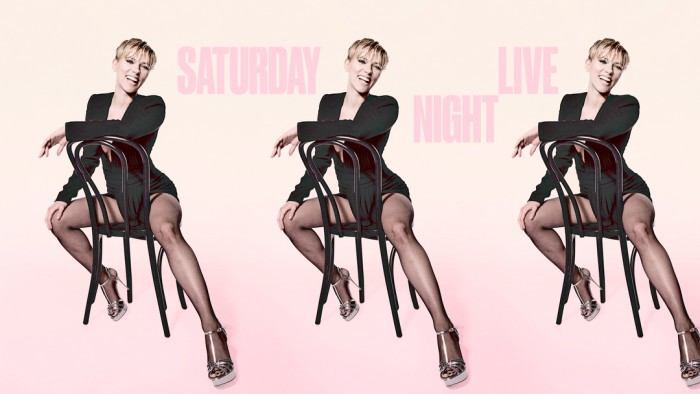 The Average
Zoo Pornographer – This is one of those sketches where the gag is given away pretty early, and the rest of the sketch is populated by variations on the same joke. In this case, Mikey Day is mistakenly referred to as an animal pornographer, both in the news broadcast and in the graphics identifying him, and that makes for some confusing soundbites from his character. There's a great flow to this sketch, and it's one where Scarlett Johansson proves why she's a good host by not being the center of the jokes, but still being a key part of keeping the sketch going strong.
Alien Attack – While I commend the writers of SNL for figuring out how to use Alec Baldwin's potentially fading Donald Trump impersonation in a way that isn't just lifting events from the headlines this week, there still wasn't much to this sketch that we hadn't seen before. That's not to say that the sketch wasn't funny, but it basically just recycled the baffling things Donald Trump has done or said previously (and continues to say) and puts them under the guise of a fictional alien attack. It's a clever way to get around just repeating the news, which has become the downfall of SNL's satire of Trump, but it wasn't as good as the other politically driven sketches on this night.
Shud the Mermaid – Well, this wasn't a character I was expecting to recur on SNL after first appearing in the Ariana Grande episode almost exactly a year ago, but here we are. Kate McKinnon and the make-up team at SNL certainly help make this one work, and Scarlett Johansson undoubtedly adds another fun layer as Shud's equally gross best friend Kunk. There were plenty of laughs to be had here, but this sketch still felt rather middling to me, mostly because it's a one-note joke. Still, that use of The Simpsons theme as a siren song was a good one.
Fire Island – For parody this week, SNL took aim at one of those reality shows that follows around some gay dudes as they party it up in New York City. The dichotomy between the gay men in a real reality show with the fictional one focusing on some cliché lesbians is what makes this sketch work, though it does end up being more mildly amusing than downright hilarious.
Funeral Service – The 10-to-1 sketch this week gave Scarlett Johansson a fun character to play as she teams up with Kenan Thompson to pay tribute to a man who looks like a typical sixty-something suburbanite, revealing the deceased man's surprising and unlikely secret career of writing sexy, thumping club music. Kenan and Scarlett really went all in on this sketch, and though the songs are amusing with well-produced music, it didn't feel like a home run.
The Worst
Shanice Goodwin: Ninja – Rivals – This was easily the worst sketch of the night, mostly due to some awkward timing, both with regards to comedy and also with the actual direction of the sketch. This wasn't a great sketch the first time around when Russell Crowe hosted last April, so seeing it recur is somewhat perplexing, even with the addition of Scarlett Johansson as a rival ninja to spice things up. But the decent physical comedy angle of this particular sketch isn't enough to elevate it past being lame.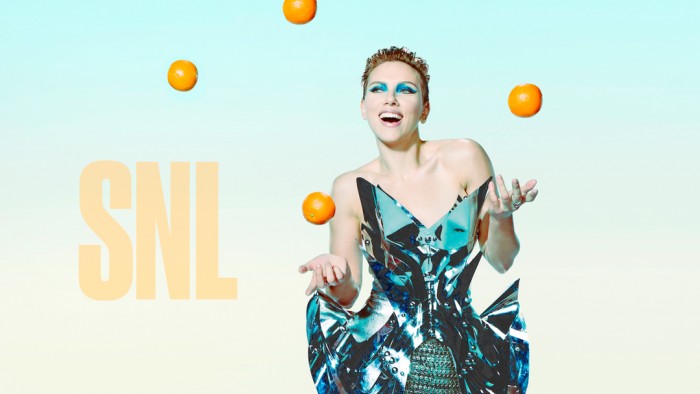 Weekend Update
Michael Che and Colin Jost didn't particularly do anything special with Weekend Update this week, though there are plenty of solid one-liners when kicking things off with the political headline-skewering part of this segment. There is one issue that seems to be plaguing Weekend Update though, not unlike the sketches with Alec Baldwin as Donald Trump. It feels like Jost and Che are going hard enough when it comes to these jokes. SNL is supposed to be subversive, but at times it feels like they don't quite dig as deep as they need to. That might just be a result of them going more for comedy than making a larger statement. After all, it can be difficult to do both effectively, but SNL has proven it's not impossible. Still, I think Jost and Che need to stop pulling punches comedically and unleash some fury.
Al Franken and Jeff Sessions – I'll never get sick of Kate McKinnon's impersonation of Jeff Sessions, and the subtlety of Alex Moffatt's impression of SNL veteran Al Franken is a great one to pair with it. This was one section where SNL did take some more bold jabs at the Trump administration, but still not completely in the way that the formerly rebellious show needs to. Even so, this was a fantastic and funny segment.
Pete Davidson's First Impressions of the Trump Administration – In case you didn't hear, we haven't heard much from Pete Davidson this season because he's been dealing with getting sober. So it was nice to see him make a comeback for his recurring "First Impressions" bit at the Weekend Update desk, taking some solid swings at the Trump Administration. This along with the Sessions & Franken sketch were both more unforgiving of the insanity in Washington DC happening now, so maybe that's why Jost and Che didn't go as hard.
The Host
When you have a host who is coming back for their fifth time, you know that you're dealing with someone that the writers and cast of SNL love to work with. In the case of Scarlett Johansson, it's because she has no problem having fun and eases into the live comedy environment surprisingly seamlessly. She has no problem reading cue cards, goes back and forth between hamming it up as the butt of the joke and being the anchor of a sketch, and she's just charismatic as hell.
My only complaint, which really isn't about Scarlett Johansson, is that her induction into the Five Timers Club didn't seem to be met with as much pomp and circumstance as it should have been. Sure, the entire monologue was about honoring her entry, but it was done in a rather typical monologue fashion without any of the usual big name recurring hosts, like Tom Hanks or Justin Timberlake, popping up. It was somewhat disappointing, even though Kate McKinnon and Kenan Thompson's bits were still funny.
The MVP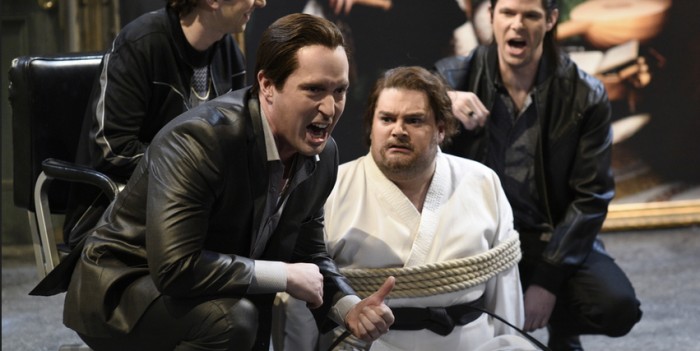 Beck Bennett – Between the Sketch for Women and his role in Oliver Garden, I think the standout this episode was Beck Bennett. Having said that though, it was tough to ignore Mikey Day this time. He was all over this episode (about as much as Beck Bennet was too), and while he's not always the one doing the punchlines, he's become a fantastic straight-man in the same way that Taran Killam was when he was still on the show. Even so, Beck Bennett I think had the best track record for his big contributions in two of the aforementioned sketches that were among the best of the night.
The Final Word
This was a solid episode of SNL, though not quite among its best. It helped to have a seasoned host like Scarlett Johansson who has no problems fitting in with the live comedy environment, unlike Octavia Spencer last week who seemed a bit nervous and shaken by the proceedings. What helped this time was having political satire that wasn't just a mockery of press conferences and news casts, and that's how SNL can keep nailing that integral part of the show.
On an unrelated note, it feels like Bobby Moynihan is already on his way out the door after being reported as likely leaving the show this season. I'm not sure if that stubble he has on his face is for some outside role he's doing away from SNL, but it was a bit distracting in the Zoo Pornographer sketch, and it feels almost rebellious in a way. I hope that he still gets a good send-off when/if the time comes for him to leave.
There's a big break between now and the next episode with Louis C.K. returning as host on April 8, but we'll have our usual recap the following morning.