New 'Transformers: The Last Knight' Clip: Isabela Moner Gets Help From An Autobot Ally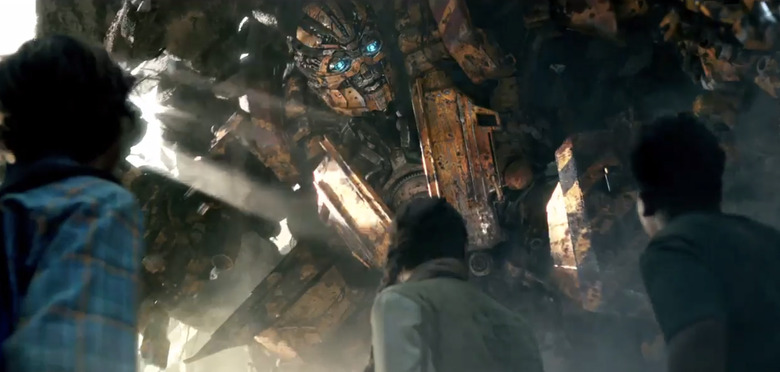 Just a couple months ago, Transformers: The Last Knight unfurled an epic Super Bowl spot with tons of new footage from what is (again) meant to be director Michael Bay's last outing with the toy-based blockbuster franchise. Combine that with the previous teaser trailer, and we really still don't know much about the story at the center of this sequel.
Today, some new Transformers The Last Knight footage debuted during Nickelodeon's 2017 Kids' Choice Awards, and it provided even more of a tease of what's to come.
Watch the new Transformers The Last Knight clip after the jump.
Since this clip played during the Kids' Choice Awards, it focuses on young new protagonist Izabella (played by Isabela Moner) as she's on the run with Nickelodeon star Benjamin Flores Jr. from some sentries who appear to be on the hunt for some Transformers. Thankfully, there's an Autobot who is helping them hide. At first, I thought it might be Bumblebee, perhaps having scanned a different vehicle to impersonate, but the more knowledgeable Transformers fans elsewhere on the internet indicate that this is a different Autobot named Canopy.
Otherwise, Transformers: The Last Knight brings back Mark Wahlberg as Cade Yaeger, but this time he has an entirely new line-up of allies, including an Oxford professor played by Laura Haddock, and Anthony Hopkins as a regal English lord. We don't know how all their paths cross yet, but I'm sure it's unnecessarily complicated. Josh Duhamel is also returning as Colonel Lennox along with Santiago Cabrera as some new military blood on the scene.
For those who love the Transformers franchise, it's clear this is going to deliver even more of the same of what you're already on board for and nothing more. I will say that the prospect of Optimus Prime turning on his Autobot allies is an interesting one, but between that and Vin Diesel's character becoming the antagonist in The Fate of the Furious, I'm hoping that this isn't a blockbuster trend that emerges this year. More than likely it's just popped up in these two franchises because they're running out of ideas.
Anyway, if you'd like to know more Transformers: The Last Knight, be sure to check out our set visit report with everything we learned about the story and characters right here.
Transformers: The Last Knight shatters the core myths of the Transformers franchise, and redefines what it means to be a hero. Humans and Transformers are at war, Optimus Prime is gone. The key to saving our future lies buried in the secrets of the past, in the hidden history of Transformers on Earth. Saving our world falls upon the shoulders of an unlikely alliance: Cade Yeager (Mark Wahlberg); Bumblebee; an English Lord (Sir Anthony Hopkins); and an Oxford Professor (Laura Haddock).
There comes a moment in everyone's life when we are called upon to make a difference. In Transformers: The Last Knight, the hunted will become heroes. Heroes will become villains. Only one world will survive: theirs, or ours.
Transformers: The Last Knight arrives on June 23.