Dave Bautista Joins Sylvester Stallone In 'Escape Plan 2'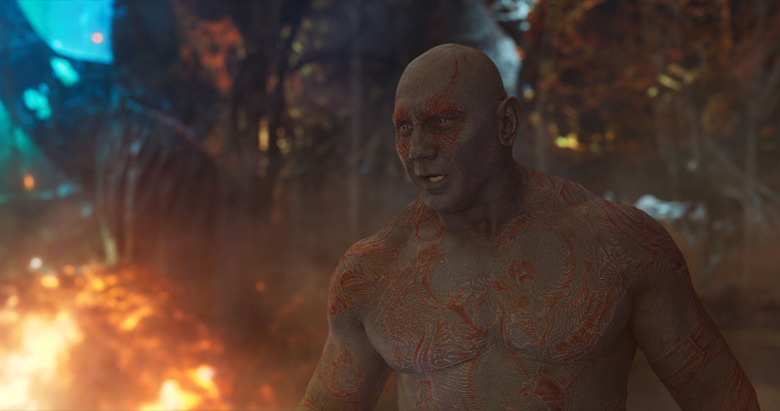 It was a mild surprise when we learned Sylvester Stallone was going to star in an Escape Plan sequel. Mikael Håfström's light thriller underperformed in the States, making only around $25 million, but it made over $100 million overseas. It was enough of an international hit to bring back everybody's favorite escape artist, Ray Breslin (Stallone), back for another round. Stallone is in good company with the sequel, too, as he's now being joined by Dave Bautista (Guardians of the Galaxy).
Below, learn more about the Escape Plan sequel.
The Hollywood Reporter learned Bautista is the other part of this two-hander. Bautista and Stallone will rastle around a little before eventually teaming up to escape, which isn't dissimilar to Stallone's relationship to Arnold Schwarzenegger in the first film. Breslin, a man whose job it is to break out of prisons and reveal security flaws, is double-crossed in the first movie and sent to one of the most high-tech prisons on the planet.
Breslin fights his way out with Emil Rottmayer, a role Schwarzenegger brought his charm to. It doesn't appear the former Governor of California is returning for the sequel, which is a minor disappointment since he was the most enjoyable part of Escape Plan, but director Steven C. Miller (Marauders) has a new lead charismatic lead that might play nicely with Stallone's more reserved character. There's no word on whether Amy Ryan or Curtis "50 Cent" Jackson are returning.
It was first reported Escape Plan 2 was going to start shooting this month in Ohio and China but plans changed. Production will begin sometime this spring in Atlanta, with a budget significantly lower than the first movie. While Håfström's film cost a reported $50 million, the sequel's budget is $20 million.
Screenwriter Miles Chapman and producers Mark Canton and Zack Schiller are back for the sequel, which is a China-U.S. co-production. Leomus Pictures, based in Beijing, are co-financing the film. When the sequel was announced, it was said there'd be "Chinese story elements."
Bautista, rightfully so, keeps lining up some high-profile jobs. After his wonderful performance as Drax in Guardians of the Galaxy, he got to play a goon in a Bond movie, landed a role in the Blade Runner sequel, and he's a part of a sci-fi thriller to keep on your radar, Drew Pearce's (Iron Man 3) feature directorial debut, Hotel Artemis. We'll see Bautista this summer in Guardians of the Galaxy Vol 2.