Zazie Beetz Cast As Domino In 'Deadpool 2'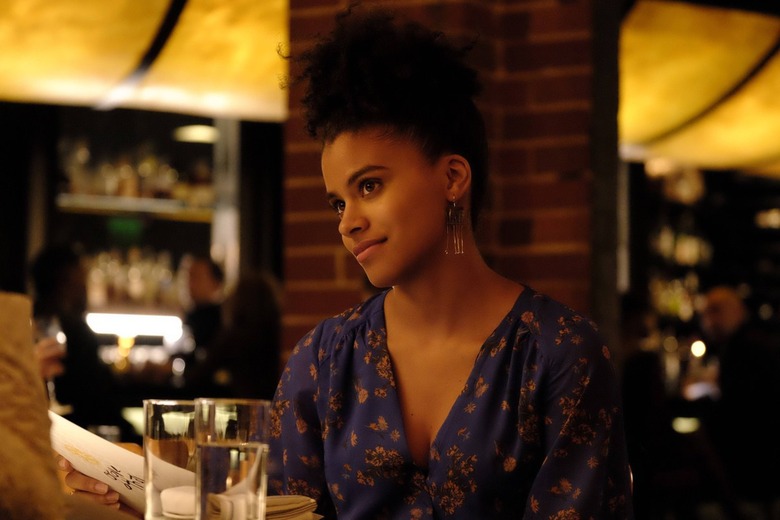 German-born actress Zazie Beetz has apparently been cast as Domino in Deadpool 2. The actress is probably best known as playing Vanessa (AKA Van) in Donald Glover's television series Atlanta. Hit the jump to learn more about the Zazie Beetz Deadpool 2 casting reveal and what she could bring to director David Leitch's sequel.
Zazie Beetz's casting was announced by actor/producer Ryan Reynolds on Twitter, where he shared the following photo of a bunch of dominos that reveal the actresses' name.
Domino Effect. pic.twitter.com/ILEnTcW7fY

— Ryan Reynolds (@VancityReynolds) March 9, 2017
In a text message group chat we are currently trying to figure out which had the best first season of television.

— /Film (@slashfilm) March 9, 2017
Beetz also appeared in the Netflix anthology series Easy and had a role in Bart Freundlich's 2016 drama Wolves. I've really enjoyed her work on Atlanta, but have not seen her in anything else. You can watch a clip of her from Wolves below to get an idea of how she looks on screen:
Conversations and rumors surrounding who might play Domino in Deadpool 2 have been ongoing for months now. Most recently, there was a rumor that singer-songwriter Janelle Monáe, who starred in last year's Moonlight and Hidden Figures, was the frontrunner for the role. Before that, Mary Elizabeth Winstead (10 Cloverfield Lane), Sienna Miller (High-Rise), Lizzy Caplan (Masters of Sex), Sofia Boutella (Star Trek Beyond), Stephanie Sigman (Spectre), Kelly Rohrbach (Baywatch), Ruby Rose (Orange Is the New Black), Mackenzie Davis' (Halt and Catch Fire) and Sylvia Hoeks (Blade Runner 2049) were all reportedly considered for the role.
As we have previously explained, Domino/Neena Thurman is a mutant mercenary and a member of X-Force, a mutant superhero crew that often boasts Ryan Reynolds' Deadpool as a member (a movie starring the team is in the works). Created by comic book writer Rob Liefeld, Domino's abilities include subconscious telekinetic probability manipulation, making her an incredible marksman and fighter who can control anything in in her sight, such as bullets. Her power only kicks in when she's active, though. If she doesn't move when there's action, then she could get a few scars. She's powerful, but not invulnerable.
Deadpool 2 is expected to hit theaters in 2018.