'Thor: Ragnarok' Photos Reveal A Colorful, Cosmic New World For Marvel To Play In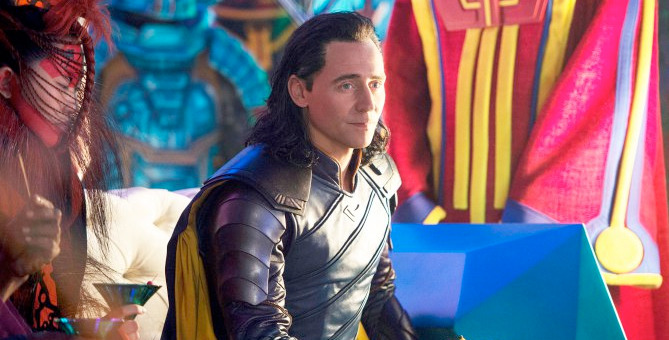 As we saw this morning, Entertainment Weekly's cover story is all about Thor: Ragnarok, the third film in the Marvel Cinematic Universe that we'll be getting this year, which also happens to be the third film in the God of Thunder's own film franchise. We knew we'd be finding out more about the sequel soon, but we didn't think it would be this soon.
The first official Thor Ragnarok photos have been unveiled online by the magazine, and they reveal the colorful new world of Sakaar where Thor will find himself contending with the planet's most powerful and popular gladiator: The Incredible Hulk. We don't get any shots of Hulk just yet, but we do get to see Thor (Chris Hemsworth) reunited with Mark Ruffalo as Bruce Banner, as well as out first look at the gladiatorial games overseer, The Grandmaster, played by Jeff Goldblum.
Check out the new photos from Thor: Ragnarok below.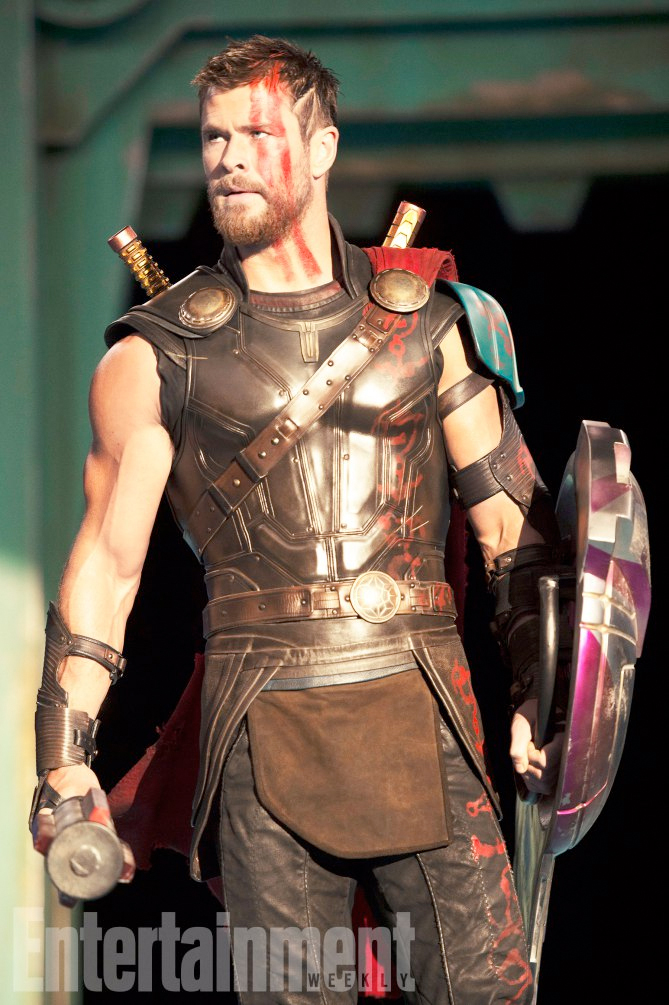 Here's a photo of Chris Hemsworth, decked out in gladiator gear, not wearing his usual Thor outfit. It appears he's in the gladiator arena since he's armed with a shield and some kind of club-like weapon. Plus, he has warpaint on, so he's clearly ready for some kind of battle, presumably with Hulk.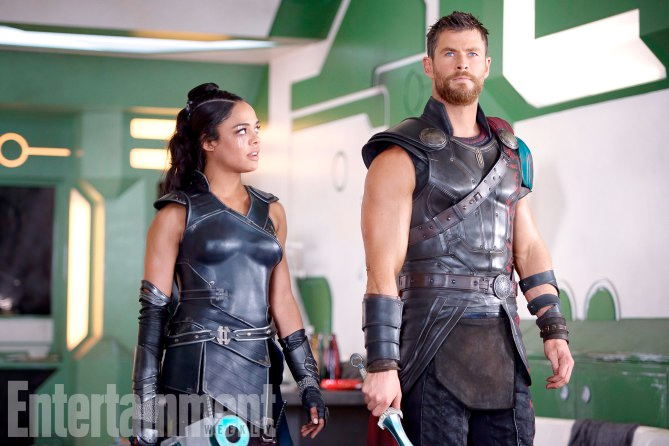 We're not sure what's happening in this scene, but it also takes place on the planet Sakaar. You can tell because of the background that looks like it was directly lifted from Jack Kirby's comics from decades ago. That's Tessa Thompson (Creed) as Valkyrie with her, and she looks a little concerned about whatever Thor is preparing to do with that sword.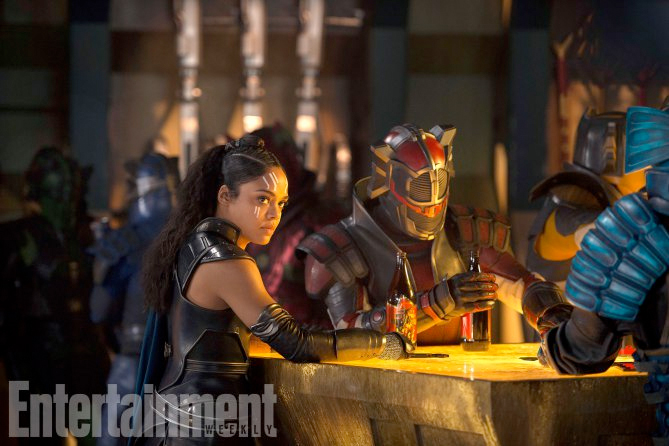 Speaking of Valkyrie, here she is looking like a badass at what appears to be the Mos Eisley equivalent of a bar on Sakaar. Wht I love about this image is the production design, especially of the other bar patrons. Look at that armor! It's colorful and badass. Could those be more gladiators for the arena that Thor finds himself in eventually?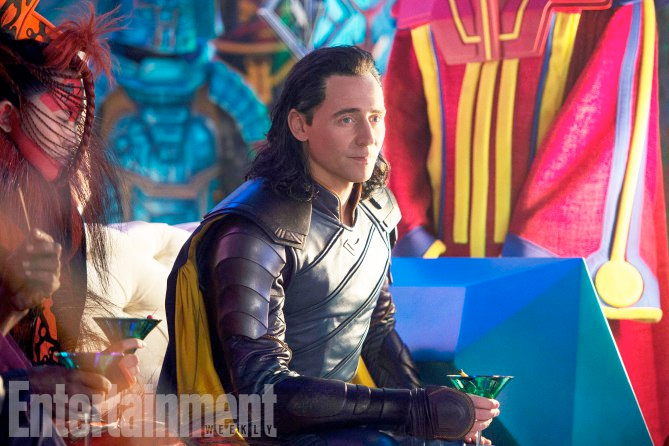 In addition to the production design, the wardrobe for this movie looks Academy Award worthy. It's cosmic, bright and unlike anything we've seen in the Thor movies before. Loki (Tom Hiddleston) sits with some kind of martini, presumably safe outside the gladiator arena as his brother is forced to endure a battle with the Hulk. He doesn't look worried at all, so I wouldn't be surprised if he had something to do with Thor ending up there.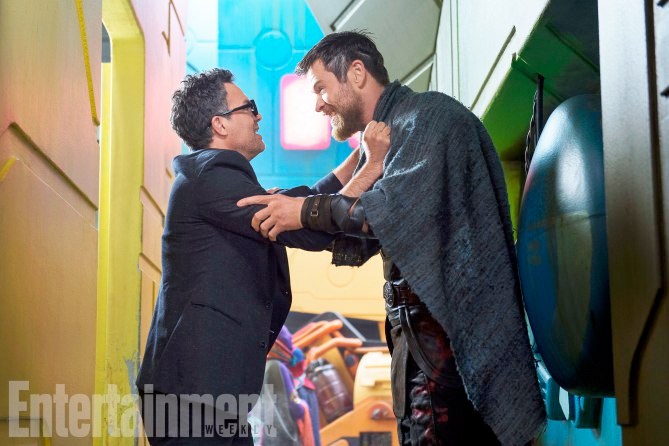 You might be just as excited as Chris Hemsworth looks to finally see Mark Ruffalo in this image from Thor: Ragnarok. Though we know Thor has to face Hulk, it appears at some point that the God of Thunder has a reunion with his alter ego Bruce Banner. The question is whether Thor knows at this point that he'll have to fight Hulk or if this is maybe after they've gone at it in the ring. My guess is that it's the former and Thor will be rather surprised when he finds that he has to battle Hulk.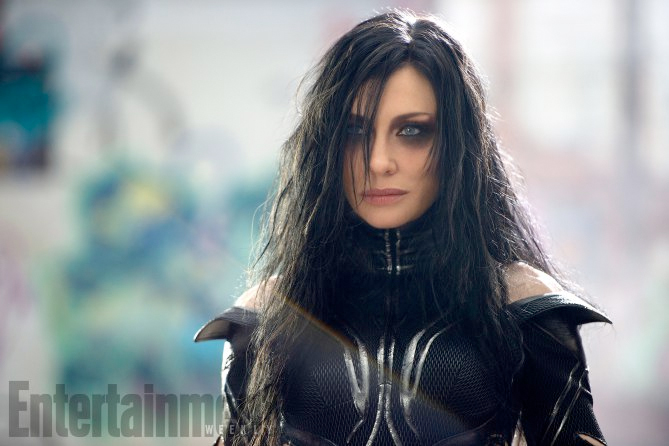 Here's a good look at one of Thor: Ragnarok's new characters: Hela. She's the goddess of death, and she's the new villain to be reckoned with in the movie, played by Cate Blanchett. She looks almost like she could be Loki's sister, and knowing how mischievous Thor's brother can be; I wouldn't put it past him to try and strike some kind of a deal to keep himself safe.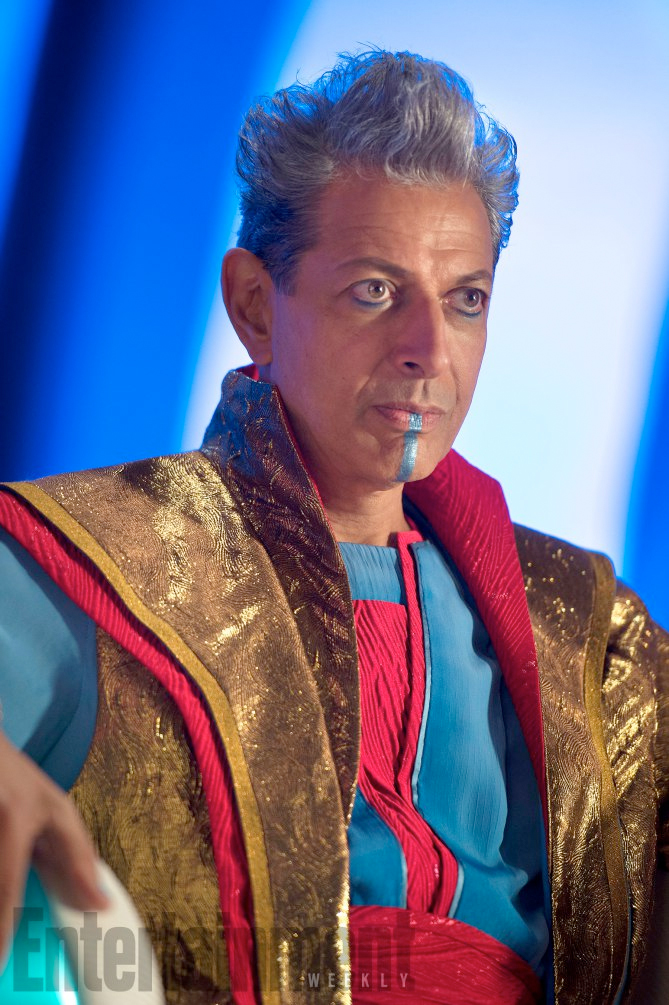 Oh my goodness. Jeff Goldblum has never looked so incredible. In Thor: Ragnarok, the Jurassic Park star plays the Grandmaster, the guy who is in control of all the gladiator matches on Sakaar. He looks like he came from Guardians of the Galaxy, which gives us great hope that this Thor movie is going to be something completely different than we've seen before.
Thanks to Entertainment Weekly for the photos, and you can see a couple more set photos right here.
Hiring director Taika Waititi appears to have been a smart decision by Marvel, and with these photos revealed, I'm desperate to see what the first bit of footage looks like. That probably won't happen until around the time Guardians of the Galaxy Vol. 2 arrives, but when that first trailer arrives, I think people are going to be pumped.
Thor (Chris Hemsworth) is imprisoned on the other side of the universe without his mighty hammer and finds himself in a race against time to get back to Asgard to stop Ragnarok – the destruction of his homeworld and the end of Asgardian civilization – at the hands of an all-powerful new threat, the ruthless Hela (Cate Blanchett). But first he must survive a deadly gladatorial contest that pits him against his former ally and fellow Avenger – The Incredible Hulk!"
Thor: Ragnarok arrives on November 3.