'Naked' Teaser Trailer: Marlon Wayans Gets His Own Embarrassing 'Groundhog Day'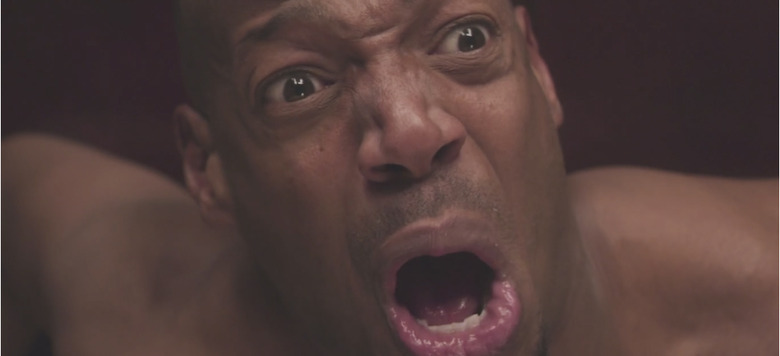 Groundhog Day has become the anchor of movies with a time loop at the center of the narrative. It was the first film to bring the concept to mainstream movies, and since then we've seen it employed in a variety of genres with films like Run Lola Run, Primer, Deja Vu, Source Code, Edge of Tomorrow, and most recently, Before I Fall. Now we're circling back to a comedic approach with a new title coming to Netflix later this year.Naked stars Marlon Wayans as Rob Anderson, a man who should have been taking care of all the important things a groom has to do before getting married, like writing his vows. Instead, Rob went out to party and wakes up the next morning naked in a hotel elevator with one hour to get to his wedding. As you've surmised, even after the day plays out, Rob keeps waking up naked in that elevator.
Watch the Naked teaser trailer below.
Even though I'm a sucker for seeing how a movie can play with the Groundhog Day formula, there's one big thing that has me almost entirely disinterested in this movie. Naked is directed by Michael Tiddes, who was at the helm of the mindless spoofs A Haunted House and Fifty Shades of Black. So while I might have been coaxed into seeing how Marlon Wayans stopped himself from waking up naked in a hotel elevator, I'm far less inclined to check it out now.
Joining Marlon Wayans for his repeated terrible day will be Regina Hall, Scott Foley, Loretta Devine, Dennis Haysbert and Brian McKnight. Hopefully the latter will be playing some version of himself, just for s***s and giggles.
Naked will hit Netflix on August 11, 2017.
When Rob Anderson (Marlon Wayans), a charming man-child, arrives in Charleston the night before he is about to marry the woman of every man's dreams, Megan Swope (Regina Hall), he hasn't written his vows, learned the steps for the first dance, or even remembered to bring the ring. Instead of taking care of his responsibilities, Rob goes out for a night on the town with his best man (Jonathan Todd Jackson). Then something unexpected happens... Rob wakes up naked in an elevator with no idea how he got there. When the elevator doors open Rob is shocked to find that it's late in the morning and he has only one hour to get to the church or miss his own wedding. He tries desperately to get to the chapel, streaking through a city marathon, stealing clothes, avoiding capture by local police, a near death confrontation with a vicious motorcycle gang, and many other obstacles only to find himself waking up in the elevator again and again. Some unknown force has conspired to make Rob live this hour repeatedly until he finally grows up and becomes the man that his amazing fiancée deserves to marry.