'Rough Night' Trailer: Scarlett Johansson's Ladies' Night Takes A Dark, Raunchy Turn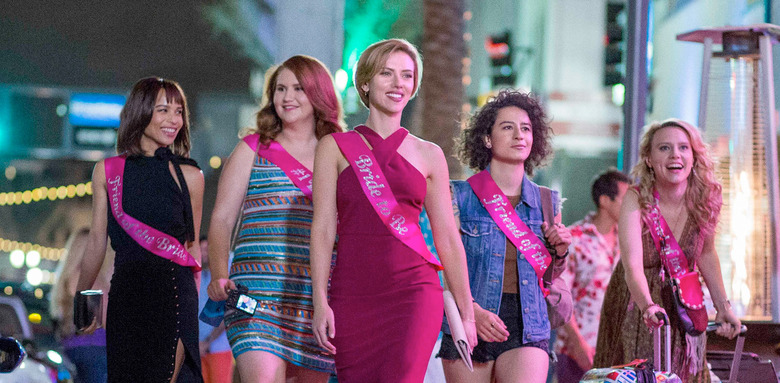 It's not often that a group of ladies get to have a raucous, irresponsible adventure in the vein of The Hangover, but with the success of movies like Bad Moms, women have been really cutting loose on the big screen. Rough Night is the next step in evening out the playing field of R-rated comedy.
Rough Night (formerly titled Rock That Body) follows Scarlett Johansson as the bride-to-be who is heading down to Miami to cut loose with her old college girlfriends (Jillian Bell, Ilana Glazer, Zoe Kravitz and Kate McKinnon) for a big bachelorette party. It's exactly the kind of ladies night shenanigans you'd expect with dick-shaped things and some cocaine usage, but things take a dark turn when something goes wrong with the male stripper the women ordered.
Watch the red band Rough Night trailer below to see how that turns out, but beware of NSFW language.
Rough Night Trailer
That's right, the girls accidentally kill their male stripper, basically making this the female version of Very Bad Things, mixed with the humorous style of The Hangover. So far, I'm not impressed by the comedy on display, despite the presence of outstanding talent like Jillian Bell, Ilana Glazer and Kate McKinnon offering up laughs. But this is just the first trailer, so maybe they're holding back some of the good stuff so they can set up the dark premise.
Very Bad Things was darker than it was funny, but Rough Night seems to be doing the opposite or at least attempting to do so. Even though this trailer didn't give me any big laughs, it's heartening to know that the original script for the movie appeared on the Black List back in 2015, which prompted Sony to pick it up after an intense bidding war.
It also helps that Broad City director Lucia Aniello is at the helm of the film with a script that she co-wrote with the show's executive producer/writer Paul W. Downs (who also plays fitness coach Troy on the aforementioned Comedy Central series and Scarlett Johansson's fiancé in this movie). They've done amazing things on Broad City, so I hope they can translate some of that hilarity into Rough Night.
In addition to the primary cast members, we'll also see Demi Moore, Colton Haynes, Ty Burrell and Dean Winters appears at some point. Surely we'll find out more of what they're doing in this movie whenever the next trailer arrives.
Rough Night debuts on June 16.