'Jurassic World 2' Will Toss Geraldine Chaplin Into The Maw Of A T-Rex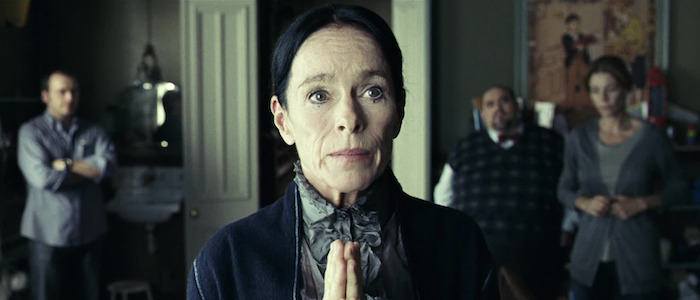 We still don't know the title of the upcoming sequel to Jurassic World, but we do know that the film's casting game continues to be on-point. The latest addition to the cast shouldn't surprise anyone familiar with the work of director J.A. Bayona: Geraldine Chaplin, who has appeared in all three of his previous movies, has joined the human buffet line.
Bayona himself announced the casting on Twitter and the arrival of this news was really only a matter of time. Chaplin has played roles in The Orphanage, The Impossible, and A Monster Calls, following the filmmaker as he made the jump from Spanish-language films to larger Hollywood projects. Sometimes, a particular performer simply feels like a good luck charm.
Look who's joining the Jurassic adventure. #geraldinechaplin pic.twitter.com/deKWIbaImX

— JA Bayona (@FilmBayona) March 5, 2017
The daughter of Hollywood legend Charlie Chaplin, Geraldine Chaplin has been acting since the '60s, breaking through with her role in Doctor Zhivago and going on to appear in films like Nashville, The Age of Innocence, and Chaplin (where she played her own grandmother). And while she's known on the international stage for appearing in French and Spanish projects alongside her English-language roles, Chaplin is no stranger to genre fare. She played a key role in the fantastic horror miniseries Beyond the Walls and appeared in the 2010 remake of The Wolfman. This won't even be her first onscreen tussle with dinosaurs – she was in the cast of the 2002 miniseries (and short-lived sequel series) Dinotopia. Heck, she even found time to play a role in Bloodrayne, which offers that one, constant truth about working actors: everyone has to eat.
At the very least, Jurassic World 2 is helping some very cool actors afford some groceries. In addition to Chris Pratt and Bryce Dallas Howard, who are returning from the previous film, Chaplin joins a cast that includes Ted Levine and James Cromwell. This has become something of a Jurassic series tradition – fill the margins of the cast with recognizable faces, so you'll care just a little bit more when everyone is torn to shreds by dinosaurs.
Jurassic World 2 is filming right now, which means that we'll surely learn more about it soon. We do know that the sequel will be more political than its predecessor, supposedly focusing on the concept of "dinosaur rights." The big question now is whether or not Geraldine Chaplin is someone out to save the dinos or out to destroy them – she can play tender and cruel in equal measure. The other big question is which dinosaur will ultimately tear her open and eat her guts.