'Tangled Before Ever After': Disney Debuts The First Five Minutes Of The TV Movie Sequel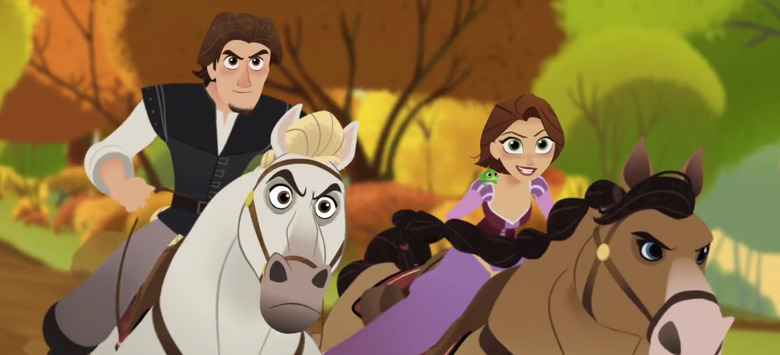 Instead of giving Tangled a feature film sequel, Disney has opted to continue the story of Rapunzel (Mandy Moore) and her new husband Eugene (Zachary Levi) by way of a TV movie, followed by an animated series.
Tangled Before Ever After is a Disney Channel Original Movie that will act as an extended pilot for Tangled: The Series. For those who aren't sure what to expect, Disney has put the first five minutes of the TV movie online for your viewing pleasure. Watch the first 5 minutes of Tangled Before Ever After below.
The TV movie begins with a quick recap of what happened in Tangled, narrated mostly by the "misunderstood good guy" Eugene. But eventually, Rapunzel takes over to let us know that we're about to learn about the great adventure that unfolded in the six months after Tangled ended, before Eugene and Rapunzel got married.
Then we're thrust into a playful race between Eugene and Rapunzel as the two exchange quips and horseback riding tricks, evading some of the kingdom's guards. It turns out they're just trying to get them back home for a welcoming ceremony, so Eugene and Rapunzel are kinda being jerks.
Much like the DuckTales reboot coming to Disney XD, I'm not really a fan of the cheapened animation style. I don't expect the animation to be as detailed as the computer animated feature, but this stylized approach just isn't cutting it for me. It has personality, but I'm not wowed by any of the visuals.
In addition to the return of Rapunzel and Eugene (as well as the long golden hair), the series is also bringing back Jeffrey Tambor as Big Nose and Paul F. Tompkins as Shorty (aka the Snuggly Duckling Pub Thugs), as well as M.C. Gainey as Captain of the Guards. Beyond those bit players from the movie, the voice cast has grown considerably.
Broadway star Eden Espinosa is playing a new character named Cassandra, Rapunzel's handmaiden and confidant. Then there's also Jeff Ross as Hook Foot (brother of the pub thug Hook Hand), Richard Kind as Uncle Monty, Sean Hayes as Pete the Guard, Peter MacNicol as Nigel the Advisor, Clancy Brown as Rapunzel's father King Frederic, Adewale Akinnuoye-Agbaje as blacksmith Xavier, Diedrich Bader as Stan the Guard, Jeremy Jordan as teen alchemist Varian, Jonathan Banks as Varian's father Quirin, Charles Halford as Pub Thug Vladimir, Steve Blum as Pub Thug Attila Buckethead, and James Monroe Iglehart as Eugene's friend Lance Strongbow.
It's just the beginning of happily ever after for Rapunzel and Eugene. As Rapunzel reacquaints herself with her parents, her kingdom and the people of Corona, she comes to realize that there is so much more she needs to learn about the world and herself before she becomes Princess of Corona. With the help of her handmaiden and friend, Cassandra, and Eugene, she begins to find the adventure she desires right outside her door. Life is about to get a little hairier!
Tangled Before Ever After premieres on Disney Channel on Friday, March 10 at 8pm ET/PT.