'Ghost In The Shell' TV Spots: Scarlett Johansson Is On A Mission Of Revenge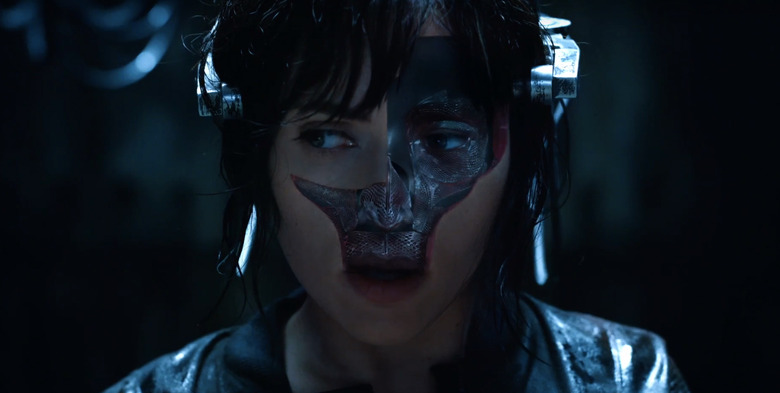 There are some really big movies hitting theaters this month. Logan is in theaters now, Kong: Skull Island arrives next week (and it's fantastic), Beauty and the Beast arrives on March 17 (and it's also pretty good), Power Rangers follows on March 24, and then we come to Paramount's contribution to a surprisingly packed blockbuster month: Ghost in the Shell.
Based on the acclaimed manga of the same name, Ghost in the Shell takes Scarlett Johansson into the future as a new cyber-enhanced soldier who is part of a team tasked with taking down dangerous criminals. However, slowly the secret behind her creation starts to be revealed, and it has far more sinister origins.
Watch a batch of new Ghost in the Shell TV spots to see more from the film.
Paramount has really been selling that slow-motion shot of Major (Johansson) crashing through that giant window before unloading on some kind of shady business meeting. Hopefully they're holding back some of the better action sequences for audiences to see in theaters at the end of the month.
As someone who has never really enjoyed the aesthetic of manga or anime, but is always interested in the stories, I'm interested to see this one brought to life in live-action form on the big screen. Though I will say that I would have much rather had the adaptation be more true to the source material by giving an Asian woman the chance to take the lead.
In addition to Scarlett Johansson, the rest of the cast includes Pilou Asbaek, Takeshi Kitano, Juliette Binoche and Michael Pitt.
If you want to see more from Ghost in the Shell, watch the most recent trailer right here.
In the near future, Major (Scarlett Johansson) is the first of her kind: A human saved from a terrible crash, who is cyber-enhanced to be a perfect soldier devoted to stopping the world's most dangerous criminals. When terrorism reaches a new level that includes the ability to hack into people's minds and control them, Major is uniquely qualified to stop it. As she prepares to face a new enemy, Major discovers that she has been lied to: her life was not saved, it was stolen. She will stop at nothing to recover her past, find out who did this to her and stop them before they do it to others.
Ghost in the Shell is in theaters March 31