'Star Wars' Han Solo Spinoff Casts Michael K. Williams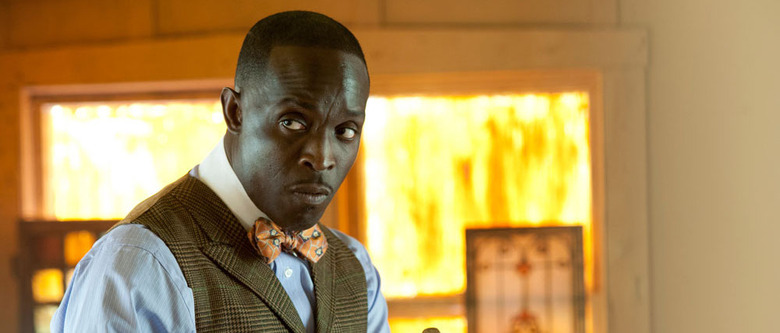 As shooting gets underway, the Han Solo sequel is making room for a last-minute addition. And he's definitely worth the wait. Michael K. Williams will be shooting off into that galaxy far, far away, joining a fantastic cast that includes Alden Ehrenreich and Donald Glover.
Variety reports Williams is in final negotiations for the project. They don't have any details right now on which character he'll be playing, unfortunately, but I'm sure it won't be long before the rumor mill starts churning and fans start speculating. The story is expected to take place sometime before the events of A New Hope, and is described as having "a heist or Western type feel." It's believed to show how Han won the Millennium Falcon from Lando, among other things.
Ehrenreich leads the cast as the scruffy-looking nerf herder, and Glover is his smooth-talking buddy Lando Calrissian. Also starring are Emilia Clarke in a mysterious female lead role, Woody Harrelson as the mentor to the young Solo, Phoebe Waller-Bridge as a female droid, and Joonas Suotamo as Chewbacca. Thandie Newton has an undisclosed role in the movie as well.
Williams first came to fame as Omar on HBO's The Wire, and returned to the network a few years later to play Chalky on Boardwalk Empire. He was all over the place in 2016, starring in Sundance's Hap and Leonard and appearing in HBO's The Night Of, with additional supporting roles in the films The Land, Triple 9, Ghostbusters, When the Bough Breaks, and Assassin's Creed. He'll stay busy in 2017. You can currently see him on the ABC event series When We Rise, and he'll return for a second season of Hap and Leonard.
The Han Solo spinoff is shooting now and will be in theaters May 25, 2018. Phil Lord and Chris Miller are directing.
This has really nothing to do with Han Solo at all, but Williams' recent ad for The Atlantic offers a nice (and entertaining) look at his range.