'Transformers' Bumblebee Spinoff Gets 'Kubo And The Two Strings' Director Travis Knight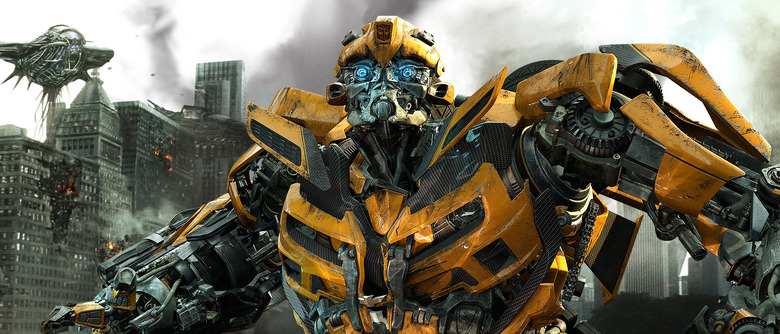 The Transformers movies released so far have been a linear series of sequels, but a little while back we heard they'd be branching out into spinoffs — and now one of those spinoffs is taking a massive, alien-robot-sized step forward. The Bumblebee movie has reportedly found a director in Travis Knight, who last helmed Laika's Kubo and the Two Strings. 
Deadline reported on the Bumblebee spinoff director. This will be Knight's live-action directing debut, after he made his feature directing debut on Kubo. While the stop-motion fantasy didn't make much at the box office, it was beloved by critics and went on to get a Best Animated Film Oscar nomination. (It lost last weekend to Disney's Zootopia.) Knight is the president and CEO of Laika, and served as lead animator on its productions Coraline, ParaNorman, and The Boxtrolls.
On the flip side, the Bumblebee spinoff will the first time anyone besides Michael Bay has directed a Transformers movie. But it won't be the last, if Bay actually sticks to his guns this time about leaving the Transformers director's chair for good. It should be interesting to see what a completely different filmmaker does with the franchise. Before Knight booked the gig, others in the mix included Jaume Collet-Serra (The Shallows), Rick Famuyiwa (Dope), Seth Gordon (Horrible Bosses), and Aaron and Adam Nee (The Last Romantic), according to THR's Borys Kit.
The Bumblebee spinoff came out of the Transformers writers room, and it was Christian Hodson who finally cracked the screenplay. Confirmed details about the story are few and far in between, although it's rumored to take place decades before the events of the first Transformers movie. It's also said to have a lower budget than the previous Transformers film, so perhaps we can expect fewer bloated CG action setpieces.
Lorenzo di Bonaventura, Michael Bay, and Stephen Spielberg are producing the Bumblebee spinoff along with Brian Goldner and Stephen Davis of Hasbro. Paramount already has it booked for release on June 8th, 2018.