It's Official: Bobby Moynihan Leaving 'Saturday Night Live' After 9 Seasons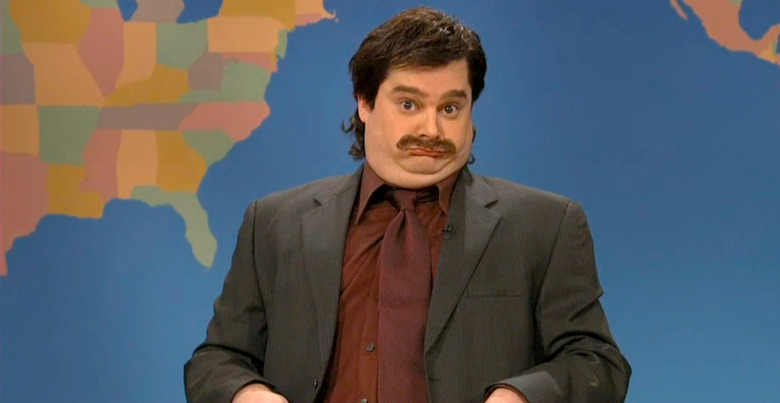 UPDATE: Variety has learned that Bobby Moynihan is indeed leaving the late night sketch series after being on the show for nine seasons. CBS picked up his new comedy series Me, Myself & I so it's time for the comedian to move on. Here's hoping that a couple of his characters get send-offs in the season finale this coming weekend. Our original story from March 3 follows below.Saturday Night Live has been enjoying it's highest ratings in over 20 years thanks to the lunacy of the Donald Trump's White House, both from the president himself and the rest of his staff. However, they may soon continue without one of their longer-running cast members.Bobby Moynihan is one of my favorite cast members at Saturday Night Live right now, and he is now enjoying his ninth season on NBC's late night sketch series. However, it sounds like the current 42nd season of the show may finally be his last. Find out about the potential of Bobby Moynihan leaving Saturday Night Live after the jump.Deadline has word that Bobby Moynihan has been cast as the lead in a new comedy pilot at CBS called Me, Myself & I. The series from Malcolm in the Middle and Galavant producer and writer Dan Kopelman follows a character named Alex Riley as his life unfolds over the span of 50 years. We'll see scenes from his time as a 14-year old in 1991, a 40-year old in the present day, and at 65 years old in 2042.
Bobby Moynihan will be playing the middle version of the charaacter, who is said to be a lifelong inventor always trying to glimpse into the future, but to get over his current case of inventor's block, Alex must instead look to his past. Is this a time travel comedy? Or maybe more accurate a time-peeking comedy? That would be great.
My only hold-up is the fact that this show is on CBS, who does not have a track record of making quality comedies. Sure, they have popular sitcoms, but they usually appeal to the lowest common denominator and generally lack clever writing. Perhaps with someone like Moynihan involved, the series will be elevated. What's encouraging is that this will be a single-camera comedy instead of a multi-camera show with a live audience component.
What does this have to do with Saturday Night Live? Well, if Moynihan is taking roles in network pilots, that's a good sign that he's leaving SNL. It would be impossible for him to keep the rigorous schedule of both Saturday Night Live and a network sitcom. Plus, Moynihan's deal at SNL was renewed for two years after his initial, standard seven-year contract ran out, and that extension ends after this season.
With nine years under his belt, it seems about time for Moynihan to head out on his own. He's been taking more and more film roles, and with a comedy pilot on the horizon, his career prospects are looking good. Plus, he's also one of the main characters in the rebooted DuckTales animated series coming to Disney XD this year.
If this turns out to be the last year for Bobby Moynihan at Saturday Night Live, I hope they give his characters Drunk Uncle and secondhand news man Anthony Crispino a proper send-off. They're certainly favorites of mine and SNL fans, and we need one last good round with them.
We'll just have to take solace in the fact that in some parallel universe, Bobby Moynihan is still part of the cast: