'DuckTales' Reboot Trailer: Yes, The Classic Theme Song Is Back (Woo-Oo!)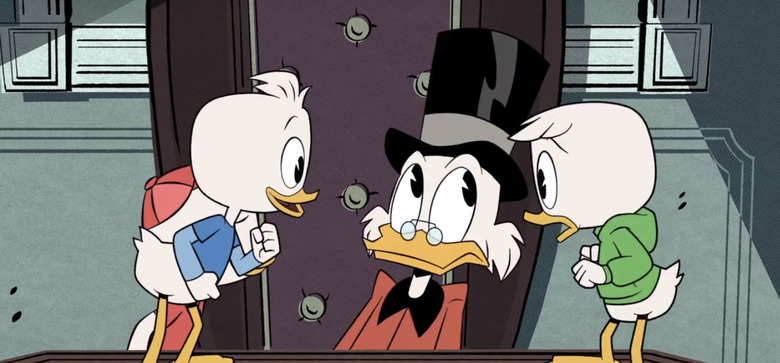 Since anything and everything that children from decades past are nostalgic about is getting rebooted in some form, the fact that DuckTales is getting a revival on Disney XD comes as no surprise. What does come as a bit of a surprise is that it actually doesn't look half-bad.
The DuckTales reboot trailer has just arrived from Disney XD, and they must like what they're seeing from the first season, because the House of Mouse has already renewed the series for a second season. See if it'll be worth your time after the jump.
While there's no sign of Gizmoduck in this trailer, we get to meet all the main characters from this new iteration of DuckTales. That includes Scrooge McDuck (David Tennant), Huey, Dewey & Louie (voiced by Danny Pudi, Ben Schwartz and Bobby Moynihan respectively), Launchpad McQuack (Beck Bennett), and Webby Vanderquack (Kate Micucci). The voice cast is easily the most exciting part of this reboot for me.
The sense of humor the series has isn't nearly as childish as I expected for an animated series from Disney XD, though I suppose they do have some more mature shows on their series line-up when compared to The Disney Channel. But the real win is having that signature theme song back in the mix, complete with that signature "woo-oo" that we can't help but chant after anyone says the shows title.
My one problem with the show is that I'm not too fond of the animation style. While I'm all for stylized animation, I feel like there are too many shows that go for this aesthetic that allows them to not be as detailed with the environments that these characters inhabit. I know that animation can be expensive, and for a television show, the budget needs to be cheapened, but I'm just not a fan of this particular style. Maybe it will grow on me.
Duck Tales doesn't have an exact release date yet, but it's expected to arrive sometime this summer. If this goes well, maybe there will be a Darkwing Duck reboot sometime down the road to keep the nostalgia train moving.