'CHIPS' Red-Band Trailer: The California Highway Patrol Gets Its Own '21 Jump Street'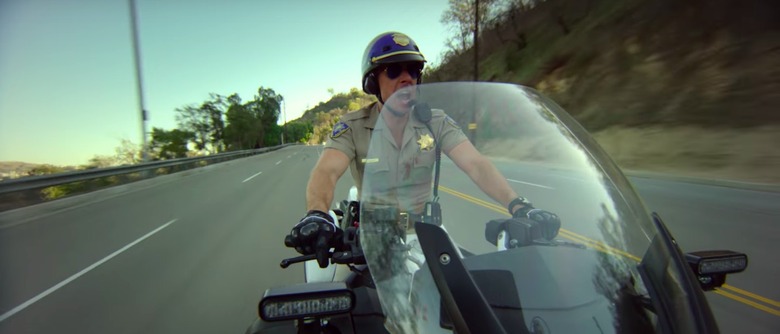 Blame 21 Jump Street: it seems like every old show deemed too hokey to get resurrected faithfully is getting an action-comedy reboot. Like CHIPS, Dax Shepard and Michael Peña's riff on the 1970s series. You can tell it's not your father's CHiPs because the title is spelled a little differently — that I and that S are capital letters now. Also, this new version has way more jokes about rim jobs.
Watch the CHIPS red-band trailer below.
CHIPS Red-Band Trailer
The rim job jokes are an improvement over the gay panic jokes from the last trailer, I guess, but this trailer still leaves behind the sinking feeling that everyone involved with this production deserves better. Peña can be hilarious given the right material — he stole Ant-Man right out from under Michael Douglas and Paul Rudd. And Shepard's got his charms, especially when he's paired with his adorable real-life wife Kristen Bell. But the gags here just aren't that interesting.
CHIPS is in theaters March 24. Also starring are Rosa Salazar, Adam Brody, and Vincent D'Onofrio.
Dax Shepard ("Hit and Run," TV's "Parenthood") and Michael Peña ("The Martian") star in the action comedy "CHIPS." Shepard also directs from a script he penned based on the characters from the popular '70s television series created by Rick Rosner.
Jon Baker (Shepard) and Frank "Ponch" Poncherello (Peña) have just joined the California Highway Patrol (CHP) in Los Angeles but for very different reasons. Baker is a beaten up pro motorbiker trying to put his life and marriage back together. Poncherello is a cocky undercover Federal agent investigating a multi-million dollar heist that may be an inside job—inside the CHP.
The inexperienced rookie and hardened pro are teamed together, but clash more than click, so kickstarting a partnership is easier said than done. But with Baker's bike skills combined with Ponch's street savvy it might just work...if they don't drive each other crazy along the way.