Explore Weta Workshop's Intricate, Functional 'Ghost In The Shell' Geisha Masks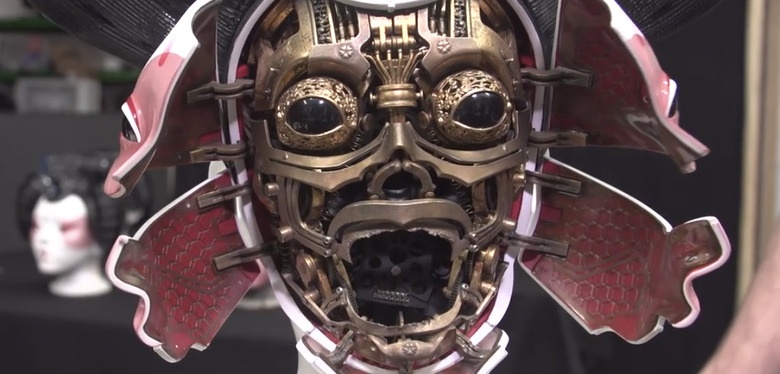 Later this month brings the live-action adaptation of the iconic manga Ghost in the Shell. It remains to be seen if this new take on the material will be something that can resonate with both general audiences who may not be familiar with the title or those who are loyal to the manga and the beloved anime adaptation. Regardless of whether or not the movie turns out to be praiseworthy, one aspect of the production undeniably deserves acclaim, and that's some of the work done by Weta Workshop.
Weta Workshop quickly became the go-to company for both practical and visual effects after their work on Peter Jackson's Lord of the Rings trilogy, and since then they've been part of countless Hollywood productions, churning out some truly outstanding work. Ghost in the Shell is no exception, and you can see their quality work in a video with former Mythbusters co-host Adam Savage exploring the robotic geisha masks created for the movie with Weta's founder and creative director Richard Taylor.
Watch the Ghost in the Shell geisha masks featurette after the jump.
This is longer and more in-depth than your average behind the scenes featurette since it comes from Tested. Honestly, I wish all featurettes that are part of a movie's marketing campaign were this detailed. Getting to see all the intricate details that go into these geisha masks is fascinatig. Even more impressive is that they were specially created to fit comfortably on actors. At a time when digital effects could do this job, it's good to see that Weta still likes to take the time to create tangible props for movies like this.
If you want to see more from Ghost in the Shell, watch the most recent trailer here. The film arrives March 31.