'Dark' Trailer: Netflix's First German Series Looks Like 'Stranger Things' With A Darker Twist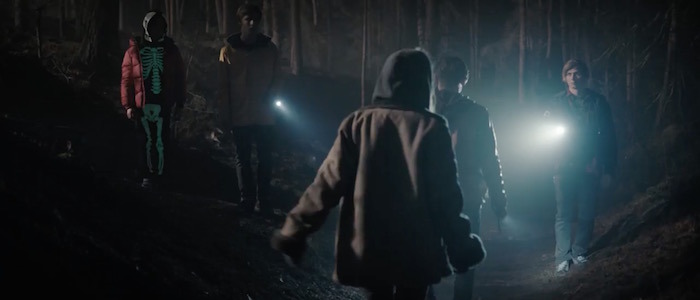 Keeping track of every original film and series coming to Netflix was already a challenging and mind-melting task before the streaming giant decided to start directly producing content outside of the United States. Sure, they've acquired projects that were created around the world before, but their new move into Europe suggests an even grander plan...and even more shows you need to find time to watch.
The latest Netflix-produced project to get a trailer comes out of Germany, and it looks creepy and promising, like Stranger Things and Twin Peaks, and The Killing had a twisted little baby. You can watch the Dark trailer below.
Dark was unveiled alongside two other European series Netflix is bankrolling: the Italian mafia drama Suburra and the Spanish period drama Cable Girls. Each series is the first Netflix original series produced in its country.
Aside from the German subtitles, Dark looks very much like something that Netflix would have produced stateside. I'm reminded of how House of Cards was inspired by an algorithm of everything Netflix viewers enjoyed – Dark is a procedural mystery and a supernatural thriller about occult kidnappings and, from the look of things, a conspiracy that spans decades. Set in the German town of Winden, the 10-episode series kicks off with a child kidnapping before vanishing down a weirder, more horrifying rabbit hole. It looks promising!
Netflix's Dark Trailer
Dark is the work of Swiss director Baran bo Odar, who recently made his Hollywood debut with the action thriller, Sleepless. When asked about working with Netflix, he reiterated what many other filmmakers have said in the past – he had complete creative control over the series:
We had absolute creative freedom. We could cast whoever we wanted, the actors who fit best for the role. Netflix gave us a budget and a couple of notes and let us do it.
This is what I continue to find fascinating about Netflix – the stories of filmmakers finding a creative refuge with them continue to stack up. Pee-Wee's Big Holiday director John Lee spoke of their hands-off approach when I interviewed him last year. After years of development at traditional studios, Martin Scorsese took his big-budget hitman drama The Irishman to Netflix last month. Director Bong Joon-ho has praised the amount of creative control he was given over his upcoming creature feature Okja. Stranger Things was rejected by numerous networks before Netflix made it a hit.
Will Dark be good? I do not know. The trailer is promising for sure. But Dark will be good or bad or somewhere in-between on its own terms. That may be the real Netflix revolution.