Star Wars Bits: 'The Last Jedi' Reshoots, Mark Hamill Oscar Chances, And The Han Solo Movie Title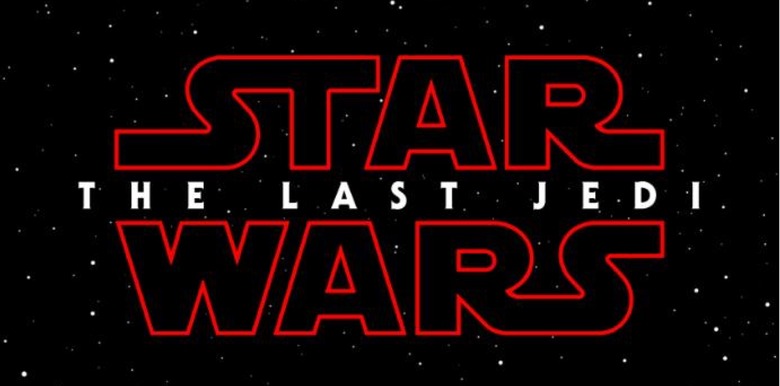 In this edition of Star Wars Bits:
What is the state of the universe at the start of Star Wars: The Last Jedi?
The Last Jedi may be undergoing some reshoots very soon.
J.J. Abrams (jokingly?) says that Mark Hamill should win an Oscar.
We may not learn the Han Solo movie title until July.
A new video explores Rogue One: A Star Wars Story's VFX process.
The origins of Jedha, revealed!
Voice performer Tiya Sircar on Sabine's big decision on Star Wars Rebels.
The very reliable Making Star Wars has posted an article about the state of the Star Wars universe at the start of Star Wars: The Last Jedi and it's interesting stuff. Here's a sample:
Snoke understands that everything the First Order used to do in secret is no longer an option and a very overt war is on the horizon. Unfortunately, The Republic has completely collapsed after being attacked by Starkiller Base in Star Wars: The Force Awakens. The galaxy is in complete disarray. The galaxy understands that everyone has to pick a side now.
You can read the whole thing at the link above. I'm especially intrigued by the idea of Snoke being someone who was mocked and ignored prior to the destruction of the republic. The potential for real world political commentary is endless.

According to Omega Underground, a major motion picture is "now casting extras and walk-on roles for a major feature film starting this March 2017 in Edinburgh and Scotland, Ireland." Could this be for Star Wars: The Last Jedi reshoots? That's what the internet believes and it makes sense, especially since Mark Hamill has been spotted in the U.K. recently (still, take a grain of salt with this one). Once again, this needs to be reiterated: reshoots are a luxury that major films can afford and usually exist to fix small problems and make a better movie, not repair a broken production. Every single filmmaker in existence would kill for reshoots. So: no doom and gloom.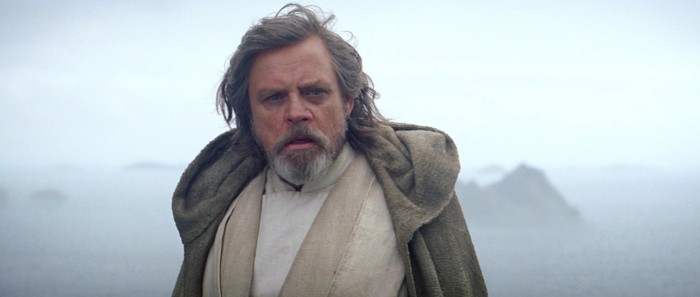 This could be an honest statement or it could be J.J. Abrams simply trolling a sci-fi legend, but the director of Star Wars: The Force Awakens told the NY Daily News that Hamill should win an Oscar for his work in Star Wars: The Last Jedi:
I think we are all going to be very upset if he does not win an Oscar, and no one more upset than Mark.
Hamill is a fine (and versatile!) actor, but this statement reads more like a joke than anything else, especially since the man behind Luke Skywalker has never seemed hungry for awards. Plus, this tweet suggests that it's a running gag between the two of them:
.@HamsterHashtags #JJsPointers #SlowlyTurnRemoveHoodButDontStartYourLengthyOscarWorthyMonologueUntilYouGetToThatRockOverThere #SilenceSpeaks pic.twitter.com/kpTboveiow

— Mark Hamill (@MarkHamill) February 22, 2017
Speaking of Abrams hyping up projects that he's not personally involved in, he had some nice things to say about the upcoming Han Solo spin-off movie:
I can tell you it is an amazing script and the cast is obviously extraordinary.
And while he may not be directing any of the upcoming Star Wars movies, Abrams seems as excited about all of the new movies as we are:
I think it is a thrill to be a part of something that meant so much to me as a kid and to be part of allowing it to mean so much for kids now. It is fun to see it live on in various forms and ways even five years ago I would have never imagined it would have continued and knowing what is coming up is even more exciting.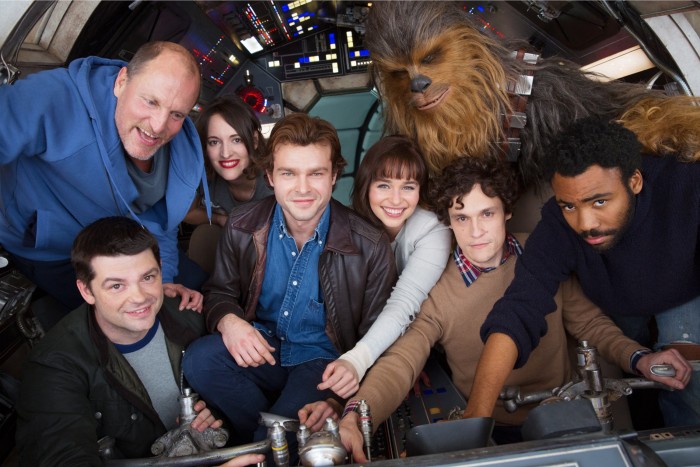 According to Star Wars News Net, we may learn the title of the Han Solo spin-off movie this summer. According to their sources, Disney is doubling down on the Star Wars presence at their D23 event, which is being held in Anaheim this July. If they're right, the title will be revealed there alongside other unspecified things and that "fans won't want to miss all the excitement at this year's event." Honestly, I'm very curious what this movie will be called, especially since Han Solo: A Star Wars Story seems pretty lazy and obvious.
If you want to peel your eyes away from the horizon and focus on the here-and-now, this video that explores the VFX process on Rogue One: A Star Wars Story is very cool. I especially enjoyed the segments exploring how ILM utilized new technology to incorporate Gareth Edwards' hands-on filming style into the process.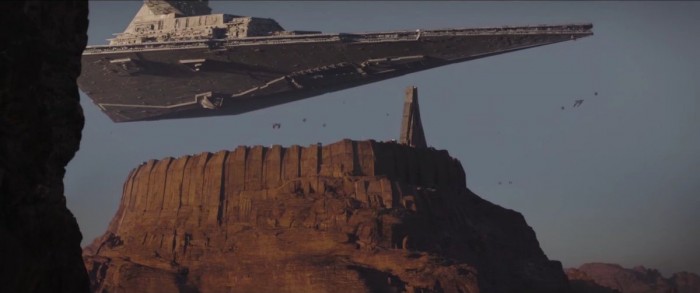 The ASC has posted the second half of their interview with Rogue One production designer Doug Chiang, who provided some fascinating insight on the design of Jedha:
As the script was being fine-tuned, it was decided that we should come up with something a little more iconic, story-wise, for why Saw's here. The idea came up that maybe this is the religious center of the old Jedi religion, and that Jedha could be an ancient city almost like Jerusalem. So we started thinking it should look like Jerusalem, but we would try it as a cold desert. The idea that always stuck was that Jedha would be a walled city, and there would be an ancient temple that would signify the Jedi Order.
We're planting seeds [for stories] that will be developed further in other media, but the idea was that this planet was the last remnant of the Jedi Order, and the Empire has come there to pillage the city for its kyber crystals. My thinking for why the city was built there was that perhaps a meteorite had crashed and deposited all these kyber crystals, and then the city was built on top of that crater. Thinking globally in those terms started to inform the design of the city and the outlying mountains. Why is it elevated? Why does it have this temple beacon?
Although Jedha won't play a large role in ongoing Star Wars stories (for, uh, obvious reasons), I wouldn't be surprised if stories set in the past pay a visit to this city and explore its history.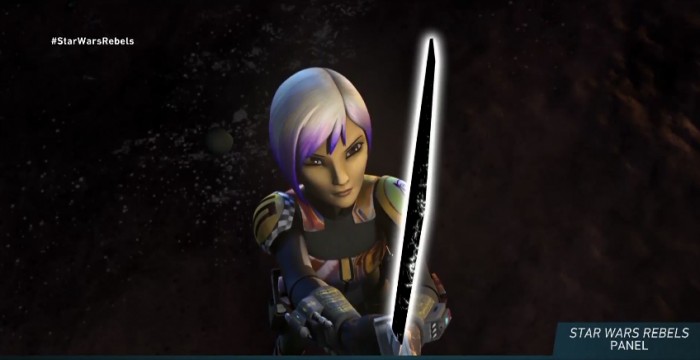 In the recent Star Wars Rebels season 3 episode "Legacy of Mandalore," Ghost weapons expert Sabine Wren chose to remain on her home planet and assist her family instead of returning to action with her new, surrogate family. StarWars.com spoke with voice performer Tiya Sircar about the episode. Here's a sample:
It was such a gift that [executive producer] Dave Filoni gave me, such an opportunity that I feel a lot of actors in the voiceover world, animated world, don't get. It's a special opportunity to get to delve into this emotional experience. Dave was so great about it because, I'm sure you know, we record as a cast — the full cast together. For "Trials of the Darksaber," he had Freddie [Prinze Jr.] and I record separately from the cast at first, just to really work through all of our stuff together and to give us the time and the space we might need to really get to where we needed to be emotionally.
It was really wonderful and so interesting to get to see a character who is so guarded and so strong and uses sarcasm and wit and snark at every opportunity, to be so vulnerable. That was new. To play Sabine in this sort of scenario, and allowing herself to be so vulnerable and emotional. It was a very unique experience. On top of all that, really going to this place emotionally, doing the physicality as well.
You can read the whole interview at the link above.
In more Rebels news, the latest episode of Rebels Recon pauses to focus on a weird Easter egg in Thrawn's office. Is that the Holy Grail from Indiana Jones and the Last Crusade? Yes. Yes it is.
The force is strong. 💪@brennanpoole just stepped up his helmet game! pic.twitter.com/R5M9z8XF59

— Chip Ganassi Racing (@CGRTeams) February 23, 2017
You don't have to be a NASCAR fan (I'm certainly not) to appreciate this helmet, designed by BEAMdesigns for driver Brennan Poole.