'Godzilla 2' Casts Vera Farmiga As Millie Bobby Brown's Mom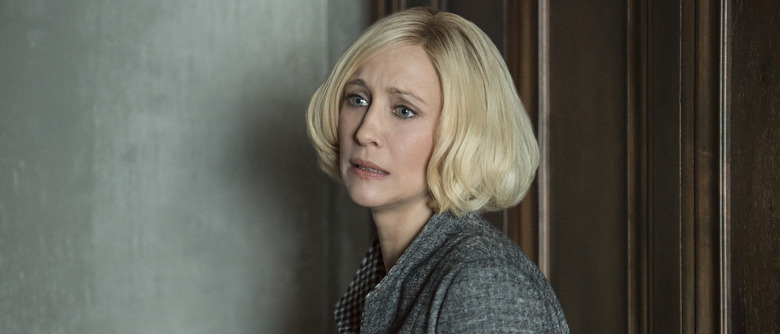 Vera Farmiga has faced all sorts of horrors onscreen, from a sinister adopted daughter in Orphan to a budding serial killer son in Bates Motel to the malicious spirits of The Conjuring. Her next new role will have her facing her biggest monster yet: Farmiga has just signed on for Godzilla: King of the Monsters, Michael Dougherty's sequel to Gareth Edwards' 2014 movie. 
As reported by Variety, Farmiga will star as the mother to the character played by Millie Bobby Brown (whom you probably know as Eleven from Stranger Things). Kyle Chandler, of Friday Night Lights fame, is set to play Brown's father. They sound like a cute family... which means it's going to be extra sad to watch them get torn apart by monsters.
Although Edwards' Godzilla left several of its human characters standing at the end, almost none of them are not expected to resurface in the sequel. The only likely exception is Dr. Ishiro Serizawa, the Project Monarch scientist played by Ken Watanabe (and the guy who got to deliver that memeworthy "let them fight" line). However, Watanabe has not been confirmed yet for Godzilla: King of the Monsters.
The last Godzilla movie gave its human players the short shrift, underutilizing excellent character actors like Bryan Cranston and Juliette Binoche and saddling lead actors Aaron Taylor-Johnson and Elizabeth Olsen with bland, forgettable roles. But Dougherty's shown a knack for balancing action and character in films like Krampus, which established exactly who these people were before gleefully knocking them off one by one. Hopefully that means Farmiga, Chandler, and Brown will have more to work with in Godzilla: King of the Monsters than their counterparts did in Godzilla.
Plot details for Godzilla: King of the Monsters are being kept under wraps. During a 2014 presentation at Comic-Con, Legendary teased the introduction of other monsters like Rodan, Mothra, and Ghidorah — but that was back when Edwards was still planning to direct the sequel himself, before he dropped out to focus on Rogue One: A Star Wars Story. In any case, we do know that Godzilla: King of the Monsters will lead up to the massive crossover Godzilla vs. Kong in 2020.