Theme Park Bits: Avatar Land Trailers, Disney's Charging Tech, 'Star Trek' Roller Coaster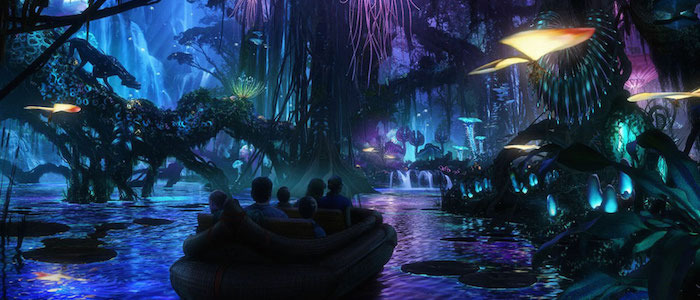 In this edition of Theme Park Bits:
Universal Studios just got a little more expensive.
Disney's latest technological breakthrough is pretty amazing.
Watch a new promo for Disneyland Paris' updated Star Tours.
Movie Park Germany debuts a trailer for their new Star Trek roller coaster.
A new series of trailers for Pandora: The World of Avatar have arrived.
In our previous edition of Theme Park Bits, we reported that Disneyland was increasing its ticket prices. And today, like clockwork, we can report that Universal Studios Hollywood has increased their admission costs as well. A one day ticket now costs $120, up from $115. Front of Line tickets now cost $254, up from $244. So, what is Universal Studios doing with the new cash it's squeezing out of you pockets? For starters, they have acquired additional residential land around their perimeter, but don't expect any new rides or attractions (that would be against zoning laws). Instead, they are "using these homes as a buffer between the property and the surrounding community as part of a larger mitigation plan aimed at minimalizing the property's impact on the neighborhood."
If you're wondering what Disney may be doing with money from their increased admission costs, know that they've apparently developed technology that will charge your phone just by having you stand in a room. Seriously. Disney did this. Here's an explanation of the tech by Ars Technica:
Disney Research has achieved room-scale ubiquitous wireless power delivery. That is, Disney has created a prototype living room where 10 objects—a smartphone, a lamp, a fan, an RC car, and more—are powered wirelessly, no cables required. Unlike existing wireless power transfer solutions, which mostly require an object to be placed very close to a wireless charging pad, the objects in Disney's living room can receive power while freely roaming; you can walk into the room with a smartphone in your pocket and it will start charging.
The theme park applications are obvious – line queues that keep your phone charged! But it goes pretty far beyond that. Are we looking at a future where you never have to plug your phone into the wall? Spearheaded by Disney?! It's not perfected yet and there's still work to be done, but...Disney?!
The updated Star Tours: The Adventure Continues is soon opening at Disneyland Paris and the video above explains the changes. If you've been to any other Disney theme park in the past few years, none of this will be new to you. But if not, enjoy.
While Disney continues to ride the Star Wars wave, Germany's Movie Park is set to open Star Trek: Operation Enterprise this Spring and they've released the trailer above. And let's be upfront about this: it doesn't look like Star Tours. Despite a storyline about the Borg taking over the Enterprise, the main focus here seems to be on a very cool looking roller coaster, not theme or storytelling. It's probably going to be a lot of fun (and surely a lot of the set dressing will be added soon), but fans hoping for a more immersive experience may want to look elsewhere.
If full-on science fiction immersion is what you're after, you'll need to book a trip to Walt Disney World this summer. The latest trailers for the Animal Kingdom park's Pandora: The World of Avatar is all about selling a grand experience. It still looks very cool.
And if you're one of those Disney theme park aficionados who is concerned that the inclusion an Avatar land at Animal Kingdom will dilute the park's larger message, then know that Disney is one step ahead of you and has already released the video above.