2017 Independent Spirit Award Winners: 'Moonlight' Shines With A Sweep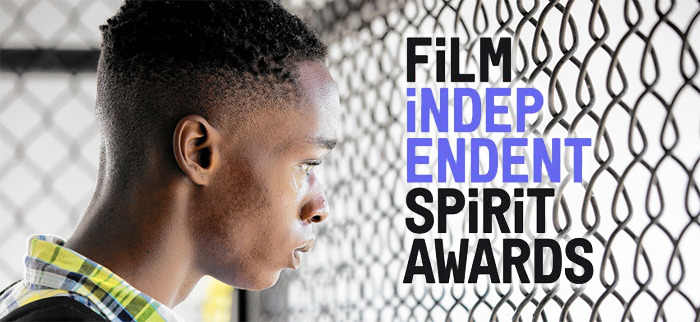 Tonight brings us the 89th Academy Awards, when Hollywood's finest get together to hand out trophies to each other, attempting to reward the highest achievements in cinema. Even though there are plenty of arguments to be made that trying to name the best film of any given year is foolhardy, not to mention the fact that the voting process makes it easier for the less bold, innovative films to win, it's still a fun night of entertainment, and it just might get some general audiences to take an interest in movies they haven't seen or heard of.
There are even more of those movies that were nominated for the 2017 Independent Spirit Awards, which were handed out last night in Los Angeles. Film Independent annually honors the best independent films, which are lower budget films that weren't financed by a major studio. La La Land has been cleaning up on the awards circuit otherwise, but since it's not an indie, that left its closest competition, Barry Jenkins' outstanding, moving film Moonlight, to sweep every award it was nominated for.
Get the full list of 2017 Independent Spirit Award winners after the jump.
The question is whether Moonlight has the power to pull off an upset. It's undoubtedly the second favorite to win Best Picture, and there just might have been enough La La Land backlash (even if most of it is getting ridiculous and out of hand) for Moonlight to garner enough votes to win Best Picture. It's still a long shot, but there's always hope. Since La La Land and Moonlight were my two favorite films of last year, I'd be fine with either one winning.
In addition to Moonlight sweeping their awards, The Witch got some love with the film winning Best First Feature and Best First Screenplay for Robert Eggers, who has a bright future in film for sure.
Meanwhile, it was nice to see supporting talents Molly Shannon and Ben Foster get some recognition for their wholly award worthy performances in Other People and Hell or High Water respectively.
You can find the rest of the winners bolded in the list of nominees below.
BEST FEATUREMoonlight
Jackie
Manchester by the Sea
American Honey
Chronic
BEST DIRECTOR
Andrea Arnold – American Honey
Barry Jenkins – Moonlight
Pablo Larrain – Jackie
Jeff Nichols – Loving
Kelly Reichardt – Certain Women
BEST FEMALE LEAD
Annette Bening – 20th Century Women
Isabelle Huppert – Elle
Sasha Lane – American Honey
Ruth Negga – Loving
Natalie Portman – Jackie
BEST MALE LEAD
Casey Affleck – Manchester by the Sea
David Harewood – Free In Deed
Viggo Mortensen – Captain Fantastic
Jesse Plemons – Other People
Tim Roth – Chronic
BEST SUPPORTING FEMALE
Edwina Findley – Free In Deed
Paulina Garcia – Little Men
Lily Gladstone – Certain Women
Riley Keough – American Honey
Molly Shannon – Other PeopleBEST SUPPORTING MALE
Ralph Fiennes – A Bigger Splash
Ben Foster – Hell or High Water
Lucas Hedges – Manchester by the Sea
Shia LaBeouf – American Honey
Craig Robinson – Morris from America
BEST FIRST FEATURE
Swiss Army Man
The Childhood of a Leader
The Fits
Other People
The WitchBEST SCREENPLAYBarry Jenkins – Moonlight
Kenneth Lonergan – Manchester by the Sea
Mike Mills – 20th Century Women
Ira Sachs & Mauricio Zacharias – Little Men
Taylor Sheridan – Hell or High Water
BEST FIRST SCREENPLAYRobert Eggers – The Witch
Chris Kelly – Other People
Adam Mansbach – Barry
Stella Meghie – Jean of the Joneses
Craig Shilowich – Christine
BEST CINEMATOGRAPHY
Ava Berkofsky – Free In Deed
Lol Crawley – The Childhood of a Leader
Zach Kuperstein – The Eyes of My Mother
James Laxton – Moonlight
Robbie Ryan – American Honey
BEST EDITING
Matthew Hannam – Swiss Army Man
Jennifer Lame – Manchester by the Sea
Joi McMillon & Nat Sanders – Moonlight
Jake Roberts – Hell or High Water
Sebastián Sepúlveda – Jackie
BEST DOCUMENTARY
The 13th
Cameraperson
I Am Not Your Negro
O.J.: Made in America
Sonita
Under the Sun
BEST INTERNATIONAL FILM
Aquarius (Brazil)
Chevalier (Greece)
My Golden Days (France)
Toni Erdmann (Germany and Romania)
Under the Shadow (Iran and U.K.)
ROBERT ALTMAN AWARD (Best Ensemble)
Moonlight
JOHN CASSAVETTES AWARD (Best Feature Made For Under $5,000)
Free In Deed
Hunter Gatherer
Lovesong
Nakom
Spa NightKIEHL'S SOMEONE TO WATCH AWARDAndrew Ahn – Spa Night
Claire Carré – Embers
Anna Rose Holmer – The Fits
Ingrid Jungermann – Women Who Kill
See if Moonlight can pull off an upset and triumph over La La Land when the 89th Academy Awards air tonight at 8:30pm ET/5:30pm PT on ABC.