Benedict Cumberbatch Wants 'Doctor Strange 2' Directed By Scott Derrickson Again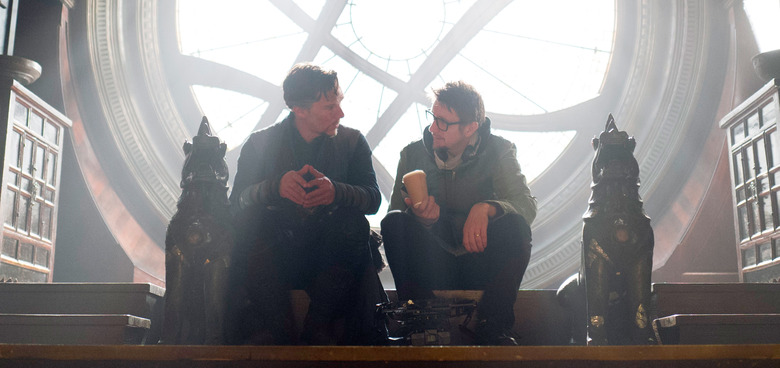 Doctor Strange is officially out of theaters, and it racked up an impressive $675.8 million at the worldwide box office. It's going to make even more now that it's available to download on Digital HD, and next week it will be available on Blu-ray and DVD too. Despite the film's success though, Marvel Studios has been quiet about any plans they might have for a sequel. That's not stopping Benedict Cumberbatch from letting us know who he'd like to direct a follow-up.Deliver Us from Evil and Sinister director Scott Derrickson made quite the leap in his career by taking on his first blockbuster tentpole with Doctor Strange. Apparently Derrickson's work on the film was impressive enough to convince Benedict Cumberbatch that the director should be brought back behind the camera for Doctor Strange 2.
In an interview with Cinema Blend, Benedict Cumberbatch explained why Scott Derrickson is his choice for a Doctor Strange 2 director, assuming Marvel ends up moving forward with one:
"[Scott Derrickson is] very good on process, and he's very good on visuals and he had to cram a lot in. I mean this was a much harder shoot in many ways than I imagine some of the other origin stories had been. They're all hard, not to detract from the hard work that they put in, but my point is that there was a massively fast turn around. So he was having to edit and approve special effects shots at the same time as setting up these huge sequences live and getting the camera and angles and performances and visuals right on the day. So he was double tasking in a pretty full on way and then he was, for someone who's done stuff to do with the supernatural before but never, as he'd be the first to admit I'm sure, never quite on this scale. He had to do it all with great skill and the results are on the screen. So yeah I think this film speaks to why Scott would be a great choice to direct it again."
In addition to directing the movie, Scott Derrickson also helped write the script with Jon Spaihts and C. Robert Cargill, so he was an integral part to the film's success. Even though it featured some all too familiar elements of a superhero origin story, the trippy visuals and mystical elements of the movie helped made it feel a bit more refreshing than it otherwise might have. Even the climax, which utilized the cliche "portal in the sky" plot device, was given an interesting twist in how Doctor Strange faced off with the ultimate threat to the world.
Again, Marvel hasn't yet ordered a Doctor Strange sequel that we know of, but they could easily already be developing it behind the scenes. They're always planning years ahead, so I'm sure they already know what they want to do with the franchise. Scott Derrickson has already expressed his desire to make a visceral sequel in the vein of The Dark Knight, and he already has a villain in mind too. Hopefully he gets a chance to act on those ideas.
Otherwise, Doctor Strange will be featured in Thor: Ragnarok this fall, giving some assistance to Thor in finding his father Odin (as hinted at in one of the credits scenes from Doctor Strange). Then he'll help out Earth's mightiest heroes when they face Thanos in Avengers: Infinity War. So even if we have to wait awhile for Doctor Strange 2, the Sorcerer Supreme will be back soon.
Doctor Strange is on Digital HD now and hits Blu-ray and DVD on February 28.