'Fargo' Season 3 Teaser Declares War On Christmas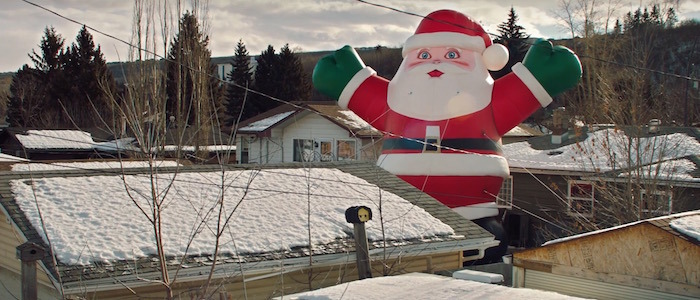 Every article about FX's Fargo series has to begin with the observation that this series had no right to work as well as it does, so here we go: FX's Fargo series has no right to work as well as it does and creator/showrunner Noah Hawley can probably be filed away for future reference under "miracle worker." And because two acclaimed seasons of pitch black comedy, criminal idiocy, and startling violence (not to mention 36 Emmy nominations) are not enough, the show is set to return in just a few months. And the first teaser has arrived.
Like past seasons, Fargo season 3 will feature a new cast and an entirely new storyline, linked to the first two seasons by location and tone. It seems that icy American midwest will always have another "true" story of vicious killers, bad liars, miserable cowards, and unexpected heroes to offer up in the age of peak TV.
This teaser doesn't introduce any of the new cast members, but it really does sum up the tone of the show in a 15-second nutshell: a jolly, gaudy inflatable Santa Claus watches over a quaint neighborhood while we hear (but don't see) two individuals fighting to the death. A gunshot rings out. Christmas dies.
Here's what we don't see in the teaser: a jaw-dropping cast including Ewan McGregor (playing twins!), The Leftovers star Carrie Coon, Mary Elizabeth Winstead, David Thewlis, Jim Gaffifan, Michael Stuhlbarg, Scoot McNairy, and Shea Whigham. No show on television can cast quite like Fargo – each season's mixture of movie stars and noteworthy character actors has been sublime.
Fargo season 3 premieres on April 19, 2017. If you need something to help with the wait, may I recommend Legion, Hawley's other FX series?
Here's the official synopsis for Fargo's new season:
Set in 2010, the third installment of Fargo centers on Emmit and his slightly younger brother Ray Stussy (Ewan McGregor). Emmit, the Parking Lot King of Minnesota, sees himself as an American success story, whereas Ray is more of a cautionary tale. Forever living in his more successful brother's shadow, Ray is a balding and pot-bellied parole officer with a huge chip on his shoulder about the hand he's been dealt – and he blames his brother. Their sibling rivalry follows a twisted path that begins with petty theft but soon leads to murder, mobsters and cut-throat competitive bridge.
Carrie Coon stars as Gloria Burgle, the steady chief of the local police department. A newly divorced mother, Gloria is trying to understand the new world around her, where people connect more intimately with their phones than with the people around them. Mary Elizabeth Winstead stars as Ray's girlfriend, Nikki Swango, a crafty and alluring recent parolee with a passion for competitive bridge. David Thewlis stars as V.M. Vargas, a mysterious loner and true capitalist whose bosses plan to partner with Emmit, whether The Parking Lot King likes it or not.