'Guardians Of The Galaxy Vol. 2' Will Feature A Rob Zombie Cameo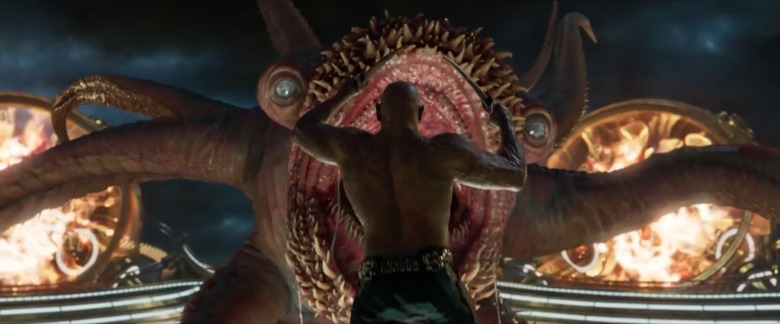 The news here isn't that musician and film director Rob Zombie is now a part of the Marvel Cinematic Universe – the news here is that musician and film director Rob Zombie is once again a member of the Marvel Cinematic Universe. Following his brief cameo in 2014's Guardians of the Galaxy, Zombie has confirmed that he'll be back for the sequel, which arrives in theaters in just a few months.
If you missed Zombie's cameo in director James Gunn's original film, don't worry about it – you are not alone. Zombie was never actually on camera, instead lending his voice as an unseen "Ravager Navigator" on board Yondu's spaceship. This cameo may seem a little odd until you realize that Zombie has made a vocal cameo in several of Gunn's movies, having provided the voice of "Dr. Karl" in Slither and the voice of "God" in Super (and you need to check out both of those movies if you haven't seen them – they're deranged and gross and just plain great).
Zombie revealed that he'll be back for Guardians of the Galaxy Vol. 2 on his Instagram page, posing with Gunn while noting that he is "recording a voice" for the film. Does this mean we're getting the exciting return of Ravager Navigator or is Gunn placing his good luck charm elsewhere?
With @jamesgunn at Disney recording a voice for Guardians of the Galaxy 2! #robzombie #jamesgunn #guardiansofthegalaxy2 #godblesstinytim
A post shared by RobZombieofficial (@robzombieofficial) on
For the record, Zombie wasn't the only voice cameo in the original film. Nathan Fillion (who previously worked with Gunn on Slither and Super) provided the voice of an alien inmate and Seth Green provided the voice of Howard the Duck in the post-credits scene.
And also for the record, Zombie has brushed against the superhero world before his brief turns in the Guardians of the Galaxy movies. He played Dr. Kurt Connors (a.k.a. the Lizard) in a short-lived animated Spider-Man series that aired in 2003 and the otherworldly villain Ichthultu in an episode of the Justice League cartoon. Eventually, someone has to actually put him on camera in a comic book movie, right?
Guardians of the Galaxy Vol. 2 is set to arrive on May 5, 2017. Chris Pratt, Zoe Saldana, Dave Bautista, Vin Diesel, and Bradley Cooper will return as Star-Lord, Gamora, Drax, Groot and Rocket, with Michael Rooker (Yondu), Karen Gillen (Nebula), Pom Klementieff (Mantis), and Kurt Russell (Ego the Living Planet) rounding out the cast.