Cool Stuff: John Wick 2 Pencil, Gremlins, Back To The Future, Star Wars, Alien & More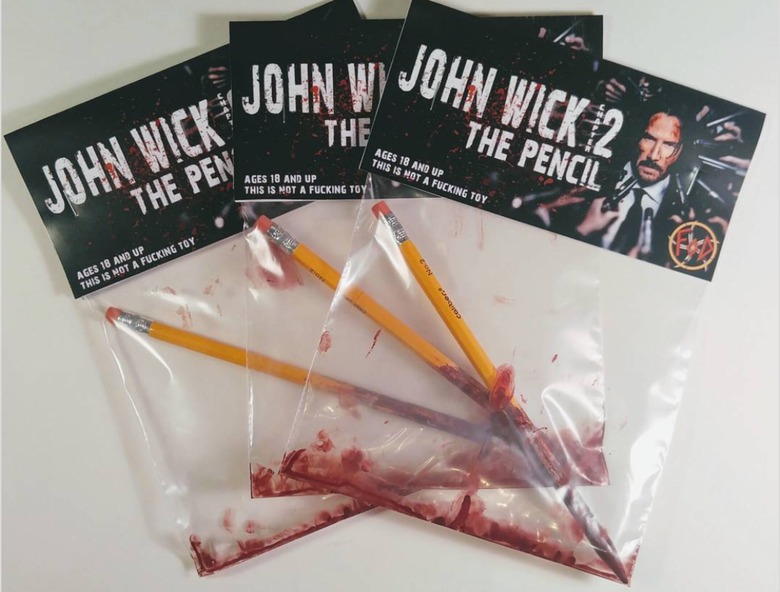 Cool Stuff is your geekarific holiday shopping guide published all year round. In today's edition we take a look at Paul Shipper's fantastic Star Wars Celebration poster, NECA's Gremlins Ultimate Gizmo 7-Inch Action Figure, Ian Glaubinger's Back to the Future screenprint set, an Alien Xenomorph crochet pattern and the pencil from John Wick: Chapter 2 action figure.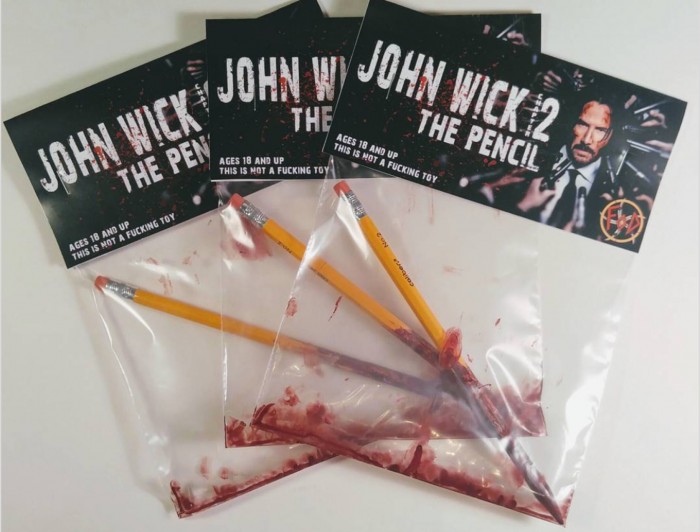 The Pencil From John Wick: Chapter 2
Previously we've featured The Forces of Dorkness' cremated remains of the cast of Rogue One: A Star Wars Story action figure. The Forces have returned to bring you another release: The Pencil from John Wick: Chapter 2. This is not a prop from the movie, but an unofficial toy collectible.
"That fucking nobody is John Wick." said Viggo Tarasov as he told the story about John killing 3 men in a bar with a pencil in John Wick and *spoiler alert*...in John Wick Chapter 2 you get to see him kill some bad guys with one. (Bad Guy is subjective in this case, who really is the bad guy you may ask yourself, me...I consider anyone trying to kill me the bad guy, and I bet John does too). This is a tribute to an amazing action-movie franchise. It's a real pencil, coated is resin for durability, and custom painted to look like it has entered someone's skull and then been retracted. Each one is hand made so there is some variation between each so no two are alike. Call it a toy, call it a collector's item, call it a weapon, just don't call John and expect him to say anything on the phone or to use more that 3 words as a response in a conversation."
The standard sized No. 2 pencil in a custom bloodied bag is being sold for $16.95. The release is limited to 20 pieces.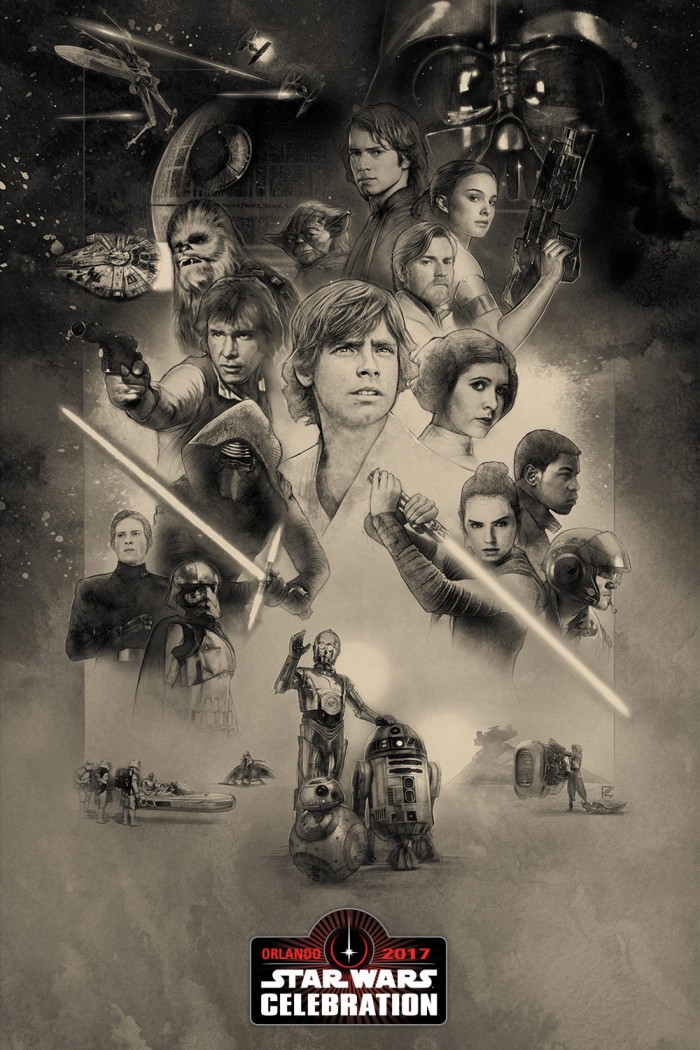 Paul Shipper's Star Wars Celebration Poster
Gremlins Ultimate Gizmo 7-Inch Action Figure
NECA is released the Gremlins Ultimate Gizmo 7-Inch Action Figure later this month.
The adorable Gizmo makes its way tot the Ultimate action figure line from NECA! Fans of the Gremlins movies know the rules: keep them out of sunlight, don't get them wet, and never feed them after midnight. Follow them and you'll have a cute and friendly little Mogwai, like this deluxe 7-inch scale Gizmo action figure! Gizmo is fully poseable, including ears and eyes. There is a small ball carefully concealed on the back of the head allows you to move the pupils in all directions to create many different expressions. Gizmo comes with four swappable faces so you can customize his expression! This Ultimate edition comes with Santa hat, trumpet, bow, pencil arrow and more. Packaged in a collector-friendly window box with opening flap.
Available for preorder on Amazon for around $35.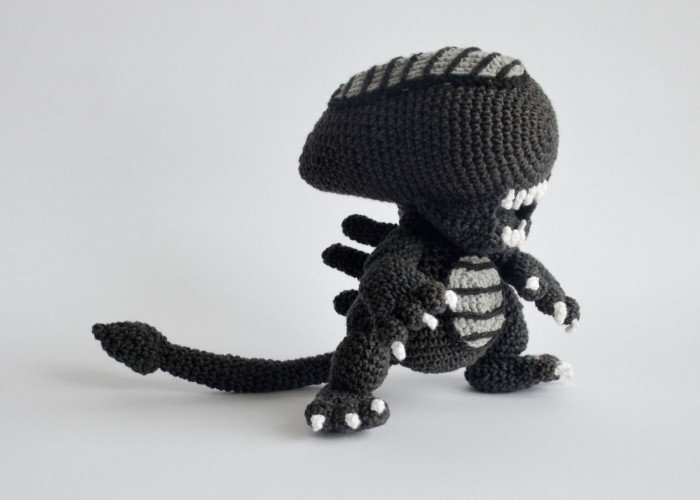 Alien Xenomorph Crochet Pattern
Etsy seller Krawka has added  this 8? Alien Xenomorph to her line of character crochet patterns. It only costs $5 but requires "medium to advanced" crochet skills..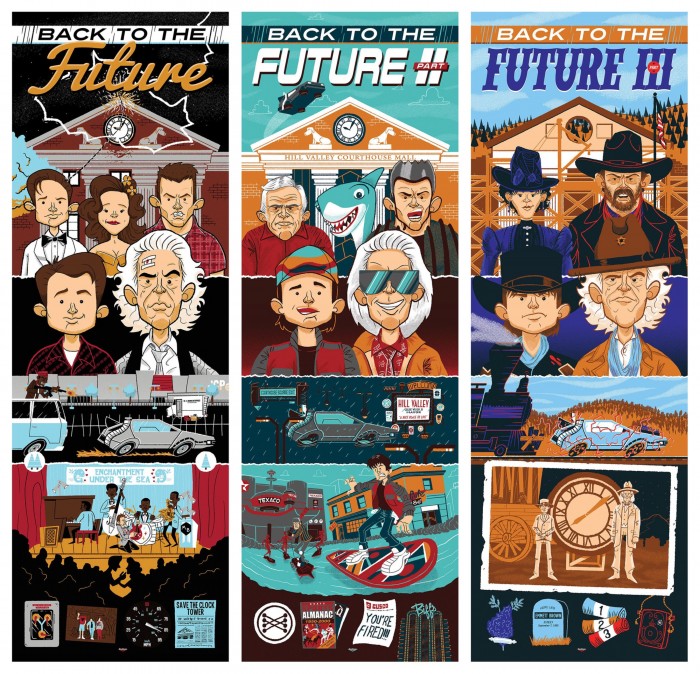 Ian Glaubinger's Back to the Future Print Set
Ian Glaubinger released his Back to the Future trilogy screen print at a past convention, but the leftovers will be sold online this Friday, February 24th 2017 at 1:00pm EST. Each movie is presented in a 7-color screenprint on 12 x 36 inch paper. The sets will be in very limited quantity and sold for $150 plus shipping.